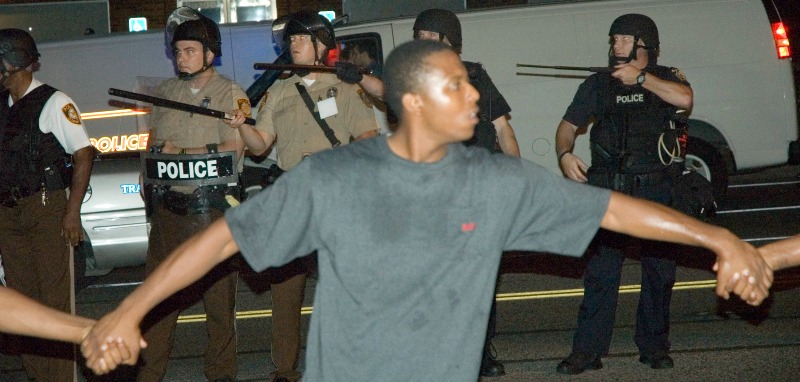 This August, events unfolding in the previously unremarkable city of Ferguson, Missouri, have reignited debates in the USA concerning entrenched racism, and police impunity. On the afternoon of August 9, an unarmed Black teen was shot and killed by a White police officer. His body was left in the street for hours while family, friends and neighbours were denied answers to ostensibly simple questions: Who did this? Why? By nightfall, gathering crowds became protesters who were met by an arsenal of militarised police units. Riots followed. Then further crackdowns. Within days, the world began to take note.
Timelines of the events have proliferated online. Yet, as many of the articles listed below suggest, there are different ways of interpreting the 'facts'. An alternative timeline could focus on the authorities 'missteps'. Another could demand reply to unanswered questions. Yet even which 'unanswered questions' are asked reveal pervasive media bias. The decision to ask: 'Was Brown a gang member, or a thief?' presupposes that his murder was justifiable. This is a view, it should be noted, that right-wing bloggers have pursued relentlessly.
Articles published from outside the mainstream have provided better in-depth analysis, highlighting a broader reality in which the shooting of an unarmed Black teen anywhere – not just Ferguson – is entirely unsurprising. Jamelle Bouie offers a solid entry point to the what, and the why of Ferguson, Greg Howard, writing in The Concourse, that America is not for Black people likewise offers background, but with more pointed commentary.
Recognising structural racism
Ferguson, a city with a 67 percent Black population and a 53-strong police force with only three Black officers is, for Dr. Gabriela D. Lemus, A case of structural racism.
Ta-Nehisi Coates further explains how, and why, Black bodies in the USA are under total police control. He writes: 'This summer in Ferguson and Staten Island we have seen that dominion employed to the maximum ends—destruction of the body. This is neither new nor extraordinary… The destroyers of your body will rarely be held accountable. Mostly they will receive pensions.' Amid the lists of young Black men who have faced harassment, bodily harm and death at the hands of the police, Dame Magazine issued an important reminder that Black women are killed by police too, but their names are far more often forgotten.
Despite seemingly broad consensus among Black commentators that Brown's murder and the subsequent fallout hinge on racism, Kareem Abdul-Jabbar caused both ripples of frustration and nods of agreement when he argued that race was not the main issue. He wrote: 'we have to address the situation not just as another act of systemic racism, but as what else it is: class warfare.' David Kirin, while appreciative of Abdul-Jabbar's essay, draws attention to its 'major problem': 'If [Michael Brown] was white, no matter how poor, he almost certainly wouldn't have died. If that is not your starting point, then you are lost without a compass.'
The hashtag campaign, #BlackLivesMatter and various supportive writings have reaffirmed the centrality of racism in incidences of police brutality and impunity, and illustrated the selectiveness of media coverage and the public descent that ensues. Although the statement Black Lives Matter should be unnecessary, the reverse is true. Refusal to accept the reality of racism in the USA is astoundingly common. Dani McClain's analysis of news coverage demonstrates how, and why White America views Ferguson from 'a Parallel Universe.' McClain reports: 'four in five black Americans believe that the shooting of Brown by Darren Wilson 'raises important issues about race,' compared to 37 percent of white people polled.' Furthermore, in an outpouring of support for Wilson, members of the public have donated over $400,000 to the officer and his family, despite being given paid leave. A petition has been launched to remove the campaign from GoFundMe.com.
Despite the attempts of activists including satirists John Oliver and Jon Stewart to address the widespread denial of racism through their segments which have gathered millions of views online, it feels too little, too late. The fact remains: if White America needs to be reminded that Black Lives Matter (undoubtedly this campaign is not directed at Black people), logic will not get in the way of prejudice any time soon. Yet the quantity of writings aimed towards educating Whites how to recognise, accept and address their privilege – or, rather, their complicity in a White Supremacist society – are proliferating.
The riots
It seemed for a while that the narrative of unlawful riots might be adopted as the most pressing issue, with Brown's murder secondary. An unexpected source – television actor Jesse Michaels – chastised CNN anchors for doing just that. Predictably, most major cable channels set their focus on the riots and, as seen with London in 2011, early leftist defences of the Ferguson protests stuck to the same narrative, asserting their urgency, predictability and righteousness only while condemning looting and destruction of property.
Robert Stephens II's compelling repost, points out the political thrust of the riots, and the dangers of valuing 'respectable' appearances over the cause of the protest. For Stephens, this insurrection is an uprising of the oppressed – no caveats required. Likewise, Willie Osterweil reminds us in The New Inquiry that: 'For most of America's history, one of the most righteous anti-white supremacist tactics available was looting.'
Writing for Vice, Natasha Lennard argues that calls for a 'peaceful' response are irrational – and obscure the fact that violence did not begin with protesters, looters or militarised cops. She argues: 'to urge that citizens remain 'peaceful' all-too-wishfully asks for a peace that does not exist. Does it worsen such a situation to riot, loot, to be unruly and threatening? Black unarmed kids get shot dead and killer cops keep their jobs; it's already the worst.'
However, images of tanks patrolling Ferguson's streets, and paratrooper-esque police units firing tear gas canisters from bazooka-like arms, has prompted much-needed analysis of how military grade equipment is reaching local forces. Medea Benjamin, co-founder of peace group CODEPINK, wrote a breakdown of how 'police departments [have] become dumping grounds for weapons makers looking for new clients to replace sales for waning wars abroad.' Matthew Harwood of the American Civil Liberties Union (ACLU) offers a much more in-depth exploration of 'one nation under SWAT,' to argue that US police are now counter-insurgency forces. Harwood notes that, 'being the police means never having to say you're sorry.' His insight is evidenced by the alarming Washington Post article penned by former LAPD officer, Sunill Dutta, who argues: 'It's not the police, but the people they stop, who can prevent a detention from turning into a tragedy.' Mike Ludwig explores how this pervasive mentality has played out in Ferguson.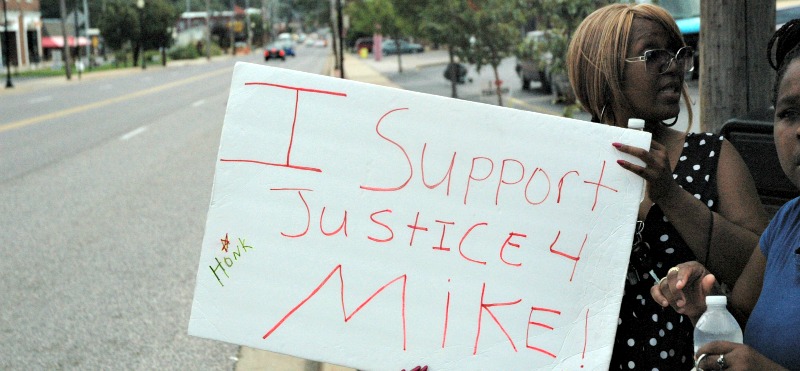 Whose voices?
Shortly after the first riots erupted, Rembert Browne wrote a detailed, moving report from the front line. He went to Ferguson, Browne writes, '[n]ot as a journalist, but as a black man fed up with the idea of black boys who are unable to become black men.' He was promptly followed by a wave of journalists eager to offer similarly compelling accounts – but motivated by other concerns.
When the arrests of journalists began to dominate the air, the question of the First Amendment and press freedom came to the fore, along with urgent calls for reporters – but not protesters – to be released from custody. While an important issue, the prioritising of largely White, professionals' rights over those of Black protesters only emphasised the structural racism at play in the national psyche. As veteran Civil Rights activist Dick Gregory notes: 'When they slapped them White reporters, that's when it changed.'
The behaviour of mainstream news crews has come under scrutiny, and they have been found wanting. Al-Jazeera reporter Ryan L. Schuessler explained: 'There are now hundreds of journalists from all over the world coming to Ferguson to film what has become a spectacle. I get the sense that many feel this is their career-maker… We should all be ashamed.' This criticism prompted much needed calls for more diverse newsrooms and in particular for Black journalists to be covering Ferguson. Yet it may be more beneficial that insider insights and voices – whether trained to speak journalistically or not – command closer attention, and respect. St. Louis Today collected neighbourhood voices shortly after the murder, and continues to be an excellent source of local news.
When For Harriet highlighted Seven Black women to follow for updates on #Ferguson they notably included both journalists and social media commentators in their list. Focusing on analysis rather than live updates, Colorlines has also collated an excellent list of Black feminist voices on Ferguson, White supremacy and racism. Among those highlighted is The Audre Lourde Project, that points to the murders, arrests and violations of LGBTQ people of colour as an extension of the same conditions and systemic oppression. Others, such as Lauryn Hill, have used songs of protest to express their emotions and Ashley Yates' poem 'Ferguson' tells a story of solidarity and pain.
Despite the seemingly obvious source of rage in Ferguson, fingers were soon pointed at 'outside troublemakers' for fuelling discontent. Samir Chopra, in defence of protesters who had flocked to Ferguson in a show of support, replied succinctly: 'There are no 'outside agitators' in Ferguson. There is no arbitrary boundary that can be drawn around the problems of racism and police brutality; the stench of those wafts easily across one county line to the next.'
Gawker, however, singled out members of the Revolutionary Communist Party for 'trying to incite a riot.' Such anti-communist scaremongering, replied Douglass Williams, has long been used to quell Black power movements in the US. Williams lambasts Gawker: '…liberals today excel at aping leftist aesthetics in order to earn trust into a community while simultaneously resurrecting anti-leftist slurs like 'outside agitator.'
Read on for Ferguson: What next?
(Images from peoplesworld)