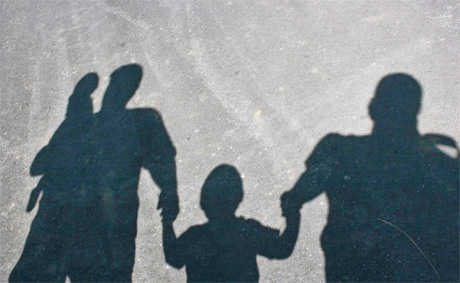 Theresa May has set herself an ambitious deadline. By the end of the summer, she has pledged to end the 'abuse of the right to a family life' by 'people who should not be here'. She has been egged on by the Daily Telegraph campaign to 'End the Human Rights Farce'. Along with the Daily Mail and the Sun, the paper has been publishing a flood of stories about foreign rapists and murderers supposedly roaming free, living in penthouses in Chelsea, while their lawyers invent ever more bizarre definitions of 'family life', which are then upheld by bleeding-heart liberal judges. These stories are being used by the government as evidence for a full frontal attack on human rights law.
When May first mooted her plans at the Tory party conference, she cited as a salutary example the story of a man who was allowed to remain in the country because he owned a cat. Justice secretary Ken Clarke said at the time that he was willing to place a bet that it was not true. Lawyers corroborated that he would win the bet, but no red-faced retreat was forthcoming from May.
Instead she has announced that by July she will have changed the immigration rules (the UK Border Agency's policies, which are not binding in law) to state that foreign ex-offenders will only be able to avoid deportation because of the right to family life in 'rare and exceptional circumstances'. May says she will then order judges to follow these guidelines, rather than the national, European or international law. So not only is she willing to bypass human rights law but also the independence of the judiciary, considered by most to be a cornerstone of the constitution.
Yet so long as the right to family life exists in law, judges can't disregard it. If they do, it will be immediately challenged in the British High Court and the European Court of Human Rights. May's response is to say that if that happens she will change the law, although throwing the Human Rights Act into the shredder will not quite be as easy as she suggests. The international ramifications of the UK essentially abolishing a fundamental human right aside, the Liberal Democrats remain committed to the Act, and civil liberties organisations, although often quiet on the rights of foreign offenders, will be forced into action.
If May does succeed, the effects will be greater than a few orphaned cats. Bhavan's is a typical story. He came to the UK with his family as a refugee at five years old. He considers his home to be Harrow, in north London, where his entire family lives and where he grew up. He did well in his GCSEs but in the summer holidays went off the rails, started hanging out with 'the wrong crowd' and got into drugs and crime to pay for them. Despite constant nagging by his mum, he never got round to filling in the papers to become a British citizen. He did stints in a young offenders institute and prison for shoplifting and robbery.
At the end of the last sentence, his friends were released, but he was taken to an immigration detention centre and he realised that he wasn't quite as British as they were. He received a letter from the home secretary stating that because he is a risk to the public, he will be deported to Sri Lanka. Without a judge who was independent of the Home Office and able to consider Bhavan's right to family life, he would have been forcibly deported a few months ago to a country he left 27 years ago.
The judicial decision in his favour depended on something else too: legal aid. Theresa May is likely to miss her summer deadline, with the right to family life remaining intact for now and judges will probably snub her orders. But from April next year, access to legal aid funding will be removed for people who are fighting deportation on the basis of a right to family life. The vast majority of people do not have the resources to pay the legal fees to fight their cases. Making it too expensive to afford human rights is a very effective way of removing them.
The people I work with are not trying to scam the system. But they are fighting tooth and nail to stay in a country where they have families. They want to watch their kids grow up, and grow old with their husbands or wives. And they want to be at their grandmother's funeral. The only people who are abusing the right to family life are those who are working to scrap it.
Kate Blagojevic is a caseworker and campaigner with Detention Action