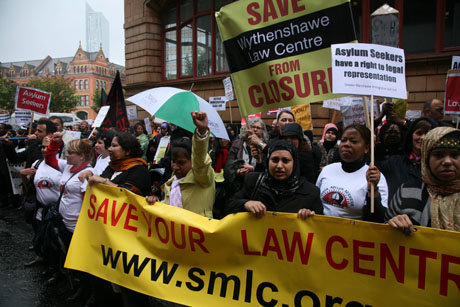 It's difficult to conceive of a section of society more vulnerable, more in need of 'access to justice', than children separated from their parents seeking refuge in the UK, thousands of miles from home. This was one reason why the shock closure of Refugee and Migrant Justice at the start of the summer was such a wake-up call to campaigners about the grim times ahead for legal aid.
RMJ, formerly the Refugee Legal Centre, was Britain's largest single provider of specialist immigration advice, employing 336 people in 13 offices across the UK. It was forced to close its doors on 10,000 asylum seekers, including 900 children who had arrived by themselves in the UK, mainly from Afghanistan, Iraq and Somalia. It had an excellent record of achieving results for its clients, who often had their cases mishandled by private firms of immigration solicitors. But three years ago, the Legal Services Commission (LSC), which runs legal aid in England and Wales, changed the way it pays so that, instead of receiving regular instalments, the likes of RMJ are only paid when a case is concluded. RMJ claimed that it was forced to close because it ran out of cash, despite being owed £1.8 million by the government.
This sorry story reveals much about the precariousness of the threadbare safety net of legal aid provided by a mix of privately-run law firms, citizens advice bureaux, law centres and advice clinics. It also illustrates the vital lifeline that is 'legal aid' and what it means when that safety net fails. Three-quarters of asylum seekers are turned down by the Home Office, but one quarter of the cases that go to appeal are overturned by an independent tribunal. If our criminal justice system had that kind of failure rate, it would be a national scandal.
Picking up the cases
So what happened to RMJ's ex-clients, many of who would, in the words of former RMJ caseworker Andrew Jones, face 'a return to torture and persecution'? A ministerial statement declared that the new government was 'confident' that there was 'widespread provision of legal advice in this area' to pick up the cases. The justice secretary Ken Clarke was unsympathetic and said that RMJ's problems were of its own making. He told MPs that 'every other organisation' had coped with legal aid changes.
Six months down the line, though, caseworkers at other agencies report that they have seen only a small number of those who were being represented by RMJ. Maurice Wren, director of Asylum Aid, says that RMJ was 'a bulwark against the erosion of asylum and refugee rights'. 'We took on as many RMJ clients as we could, prioritising those with the most critical needs, including children and trafficking victims,' he says, 'but we could only pick up a tiny fraction of the 10,000 files that RMJ estimated needed attention.'
Andrew Jones fears that his former clients have been lost in the system. 'We were told that their files would be transferred to other providers without the client having any say in where their files went. The government assumed that it would be OK for those clients just to be sent a letter by the new providers at some point. They assumed that their cases would just be picked up seamlessly,' he says. That assumption was 'complete rubbish. It was outrageous. Everyone was just totally stunned.'
Rights mechanism
Currently, we spend £2.1 billion on legal aid in England and Wales. In the October spending review, ministers announced they want to slash £350 million from an already impoverished scheme. Most people would accept that central to any notion of a decent democratic society is that we not only have basic rights and protections, but that those rights should be capable of being enforced. Legal aid provides a mechanism for people to go about enforcing those rights.
The Attlee government introduced our present system of legal aid in 1949. Its architects decreed that state funding shouldn't be restricted to people 'normally classed as poor' but should also include those of 'small or moderate means'. But eligibility for legal aid dropped from 80 per cent of the population in Attlee's day to around two-thirds by the mid-1980s. The steepest decline was under New Labour, which capped the legal aid budget in 1999. That capping created a crisis in the system because Labour also combined the civil and criminal budgets. So social welfare law – that is, welfare benefits, immigration, employment, housing, discrimination – has been effectively smothered by a spiralling criminal budget. Fewer than one in three of us now qualify for help.
The coalition government's cuts could (depending on how they fall) deliver the deathblow for the civil scheme. We will find out more when ministers release the promised green paper flagged up in the spending review, but the finances of legal practices dependent on public-funded law are so precarious that the smallest of shocks to the system can have a terminal effect, as seen with RMJ. A 2008 survey by the Law Centres Federation revealed that almost one in five of the then 54 law centres lived with the threat of closure and almost half were in serious debt.
This is not to suggest that there isn't or hasn't been waste. In the 1980s solicitors were fleecing the system through what was known as 'green form' fraud, and some of our learned friends at the criminal Bar have been making £1 million-plus a year from the legal aid fund. Often it can seem that legal aid is run for the benefit of lawyers (indeed, until 1988 the Law Society used to run the scheme).
But while there are legal aid fat cats, there aren't many of them. A recent survey by the National Audit Office found that 16 per cent of legal aid providers made zero profit and another 14 per cent made 5 per cent or less profit. The legal services market is undergoing a radical liberalisation programme under the Legal Services Act 2007. From next October non-lawyers will be able to run law firms and this will see major retailers such as the Co-op and banks such as the Halifax moving into the field. Inevitably those law firms still doing legal aid work will start jettisoning loss-making legal aid practices as they feel the pressure of the competition.
Market-driven
Legal aid has been reviewed countless times in the recent past. Lord Carter of Coles, following a 2007 review, argued for a 'market-driven economy' in the system. This meant two things: the introduction of competitive tendering between providers and moving from hourly rates to fixed fees.
It's hard to argue against fixed fees, provided they are set at the right level and there are reasonable escape clauses for exceptional cases. The single payment for the kind of asylum case that RMJ did is £459, whether it takes one or ten hours. But fixed fees incentivise hard-pressed practitioners – and the downright dodgy – to cut corners (you only get paid as much for an hour as you do for ten). At the same time, they penalise those diligent advisers (like RMJ) committed to securing access to justice for vulnerable clients. For RMJ, income per client over their last two years fell by 46 per cent as a result of fixed fees. Not everyone was struggling, though. A Legal Services Commission (LSC) response to a Freedom of Information request found that almost one third (29 per cent) of asylum legal providers were 'making massive profits' from the new scheme.
The recent implementation of the second element of the Carter reforms – competitive tendering – descended into farce over the summer with a series of legal challenges as law firms took the LSC to court. The Carter vision was for fewer, larger providers delivering economies of scale. The apparent crudeness of the tender system whereby firms had to bid for civil legal aid contracts has shocked a broad collection of firms and advice agencies.
The LSC received an excruciating drubbing at the hands of the High Court when the Birmingham-based housing specialist, the Community Law Partnership (CLP), challenged its loss of a contract. The CLP argued that the LSC's scoring was irrational because it rewarded firms that took more appeals to the upper tribunal and penalised those who were more successful in the lower tribunal. Mr Justice Collins in the High Court questioned the LSC rationale on the grounds that surely that was the point (i.e. to prevent cases going to appeal)? It was 'a dreadful decision', the judge said.
Shortly afterwards the High Court dismissed the LSC's family tender entirely as 'unfair, unlawful and irrational' following a Law Society-backed challenge. The results would have seen a 40 per cent reduction in the number of offices carrying out family legal aid work (from 2,470 to 1,300), prompting fears of 'legal aid advice deserts'. Worryingly, some of the most expert firms and lawyers had lost out in the tender. They included Solace Women's Aid (the amalgamation of Camden, Enfield and Islington Women's Aid) and the family law specialists Dawson Cornwell, both of which failed to get contracts. Anne-Marie Hutchinson at Dawson Cornwell is well‑known for defending hundreds of women and young girls from being trapped in violent forced marriages. She has been consistently recognised as a pioneer in a difficult area of law (an OBE in 2002, inaugural Unicef child rights lawyer, legal aid lawyer of the year in 2004), but not by the Legal Services Commission.
The legal aid sector was already demoralised and over-stretched before the spending review. Now it will take an even bigger fight to save the service.