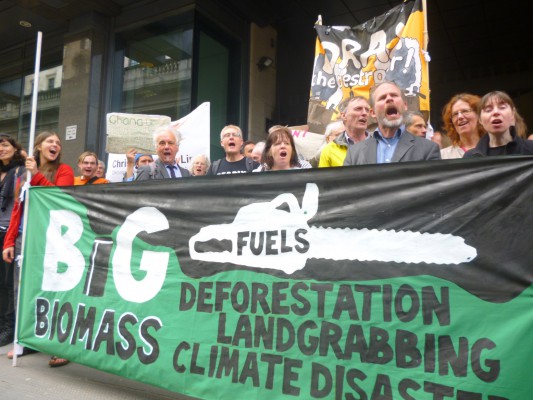 On the 9th and 10th April the biggest corporate names in Europe's biomass energy industry will get together in London. With a full conference fee of over £2,500 per delegate, this is exclusively for energy companies involved in large-scale industrial biomass – including E.ON, RWE and GDF Suez – to discuss how to further increase their profits from environmental destruction and social injustice.
Think of renewable energy and you probably think of wind turbines and solar panels. But think again. Under the UK's and EU's misleading definition of 'renewable energy', energy companies are given billions in annual renewable energy subsidies to effectively burn millions of tonnes of wood in power stations.  Energy companies burn pellets made from up to 5.5 million tonnes of harvested wood a year – equivalent to more than half the UK's total annual wood production.  And they're planning to triple their wood-burning capacity, whilst continuing to burn millions of tonnes of coal too.  The so-called Renewable Energy Association consistently lobby for ever greater biomass and biofuel subsidies, skewing the subsidy rules ever more in favour of big biomass and against onshore wind and solar.
On the evening of the 9th  April industry representatives will treat themselves to a Gala Dinner, at which they will present awards for the most 'outstanding contribution' to their industry.
Biofuelwatch has decided to mark this Gala Awards Dinner with an alternative awards ceremony outside – the Biomess Awards.  Anyone is invited to come along to the Gibson Hall (13 Bishopsgate, London EC2N 3BA) at 7pm on Wednesday, 9th April.  We will have banners and placards and an award for the Biggest Biomass Baddie. Join us in showing contempt for this celebration of the profits of a few at the expense of many.
There are six candidates shortlisted by Biofuelwatch to chose from – although there are many different energy companies who deserve a Biomess Award too. You can see the shortlist and help decide who that award should go to by voting on the biofuelwatch website www.biofuelwatch.org.uk/biomess-awards
You can also help spread the word about this protest by tweeting with the hastag #biomessawards