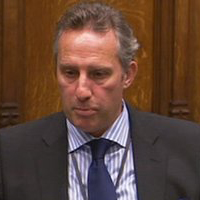 Finally – marriage equality has cleared the House of Commons. There can be some glee for those who enjoyed the rabid witterings of homophobic Tories while watching their party split down the middle.
But what wasn't quite so funny was the behaviour of the Democratic Unionist Party MPs as they got to their feet to oppose the Marriage (Same Sex Couples) Bill. Their opposition is a grim reminder that they will seek to hold back marriage equality from nearly two million UK citizens.
The last few months have seen many parliamentary speeches from the DUP that shame the majority of people in Northern Ireland. Pathetically, Ian Paisley Jr (North Antrim, pictured) sought assurances from Maria Miller that gay marriages that take place in England will not be recognised in Northern Ireland. During the second reading of the bill in February, Paisley Jr also stated that since same-sex marriage was introduced in Spain and Portugal, the number of heterosexual couples marrying had declined – implying somehow that legalising same-sex marriage would stop heterosexual people from marrying. Meanwhile, Strangford MP Jim Shannon claimed to be speaking for quite literally all of his constituents, who are all allegedly opposed to gay marriage. Willie McCrea (South Antrim) also rose to make the no-holds-barred assertion that just as 'we are sending troops across the world to fight for freedom, we on the verge of losing ours.'
Some of their speeches drew laughter from other MPs. It drew less laughter when the 38 DUP MLAs in the NI Assembly – and MLAs from other parties – shuffled through the voting chambers last month to block a motion in support of equal marriage in the Northern Ireland Assembly.
This is only the latest chapter in a long list of anti-gay pronouncements the DUP have made. Some of the highlights include Ian Paisley Jr calling for David Trimble's aide to be sacked because he had a civil partnership, health minister Edwin Poots calling a gay rugby team 'apartheid,' Iris Robinson saying homosexuality was worse than child abuse, the expulsion of a MLA outed as gay, support for 'gay cures', and, of course, the famous 1982 DUP campaign 'Save Ulster From Sodomy,' to attempt to stop the legalisation of homosexual intercourse in NI. Not to mention the DUP councillor who said that Hurricane Katrina was a punishment from God to the gay people of New Orleans. It goes on and on. They are a party pathologically obsessed with a fundamentalist Christian view on homosexuality – and not at all obsessed with the bible's much stronger views on the evils of poverty.
The DUP's actions portray a picture of a Northern Ireland full of bigots, and shame us all. The abstentionism of the five Sinn Fein MPs amplifies their voice. So many of us – particularly young people – sat listening, watching, reading the reports of the debate, cringing. They represent a minority view preaching about the supposed evils of those who just want to have the same rights as heterosexual people have.
For the majority of the Northern Ireland populace who don't vote for the DUP, we have long since got used to their ridiculous medieval sideshow. But we are too quick to laugh about them. Laughing belays the very real harm that their views do. Jim Shannon's very dangerous prouncement during the bill's second reading that gay people 'already have equality' is complete rubbish and shows the DUP's willingness to overlook any LGBT issue, as well as the vast amount of hate crime against gay people – their constituents – which is a serious and increasing problem in Northern Ireland. In fact, their ever-so-public opposition to gay people living their lives is actively enabling and legitimising that hate crime.
And now they will oppose equal marriage in the Assembly. It was only 1982 when same-sex activity between adults over 21 was legalised in NI – compared to 1967 in the UK. And even then, it was only legalised on the back of a successful European Court of Human Rights ruling. A gap of fifteen years.
There cannot be a fifteen year gap between marriage equality in different parts of the UK this time round. Equal marriage must come to Northern Ireland – by the Assembly floor or by the courtroom.
Adam McGibbon is from Belfast and works in London training student activists