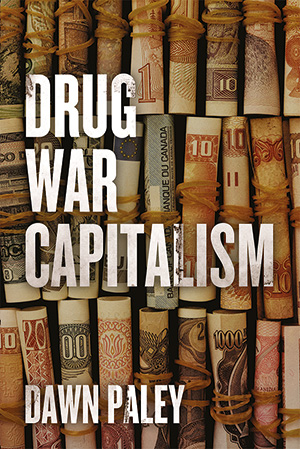 Canadian journalist Dawn Paley's first book is an extraordinary look at the on-the-ground reality of the US-backed war on drugs. Paley persuasively argues that the drug war has very little to do with stopping the flow of illicit substances across Latin America. Instead, she posits an alternative motivation: the militarisation of resource-rich areas and greater social control helps advance corporate interests in the region.
Paley takes us on a chilling journey through the aftermath of decades of US drug policy in Latin America, starting with the disastrous impacts of Plan Colombia, which, apart from instilling terror in local populations, also displaced narco‑trafficking beyond Colombian borders. A similar model of militarised control has since been adopted in Mexico and Central America.
The book looks at the increasingly blurry line between state forces and narco-traffickers, an unholy union that has tragically led to widespread violence and a staggering number of civilian deaths in many parts of Latin America. A climate of fear has taken root as a direct result of the war on drugs, which Paley argues could more accurately be called 'a war against people'.
Paley deftly weaves together personal experience and investigative reportage, anecdotes and government data. While at times there is some conflation of top-level statistics, on the whole the book is meticulously researched and creates a compelling narrative in support Paley's main thesis: 'This war is about control over territory and society, much more so than it is about cocaine or marijuana.'
A weakness of the book is that it doesn't do more to highlight the fierce resistance that has sprung up among communities. Although this could easily form another chapter in its own right, accounts of some of the campaigns could help counteract the gloomy statistics and emphasise the agency of local communities to effect change.
More than just useful reference material, Paley's writing style and use of first-person narrative help bring the book to life. This is compulsory reading for anyone interested in this challenging yet critically important area.