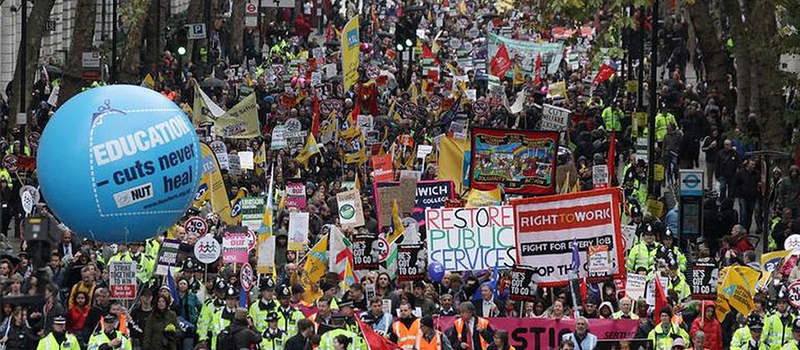 The rise of UKIP in the European elections this summer—confirmed at recent by-elections in Kent and Manchester—is the starkest indication yet that the present political system is dying on its feet. The three major parties find it increasingly difficult to differentiate themselves from each other, reinforcing what can fairly be termed as a crisis of democracy.
Increasing numbers of people are alienated from a politics that is too often regarded as self-serving and unrepresentative. This is no small matter for working people, who were at the forefront of the struggle for political representation through the vote in the 19th century and the building of the Labour Party in the 20th.
In this light, Croydon Trades Union Council decided to sponsor an assembly, taking place on Saturday, November 15 (10am-4.30pm). The aim is to give local trade unionists, activists, environmentalists, community groups and campaigners across the board an independent, collective voice. They are being invited to take part in a working organisation: a gathering that goes beyond simply sharing the disturbing experiences of life in Cameron's Britain.
The all-day event will be built around working groups, while guest speakers will be asked to set out the challenges we face in building a movement for change. John McDonnell MP, Mark Serwotka (General Secretary, PCS Union), Philipa Harvey (NUT) and Nero Ughwujabo (Croydon Black and Ethnic Minority Forum) will be among those on the platform.
We want people to participate fully in developing policy ideas and strategies that go further than the usual shopping lists. The plan is that the working groups will continue to meet after November 15 and take their ideas into the broader community. The assembly is designed to give working people confidence in their ability to create change for themselves.
The Scottish independence referendum showed a massive appetite for debate and discussion when people saw they had a possibility of changing an entire political framework. Initiatives such as ours, together with the People's Assembly Against Austerity and movements like Occupy, can help towards bringing about the fairer, more democratic society we all want.
Please lend the assembly your support, whether you live in the borough or not.
Croydon Assembly: 10.00am – 4.30pm, Saturday November 15, 2014
Ruskin House, 23 Coombe Road, CR0 1BD
To register interest, sign up on Facebook or register on Eventbrite
Ted Knight is an executive member of Croydon Trades Union Council; picture credit BBC