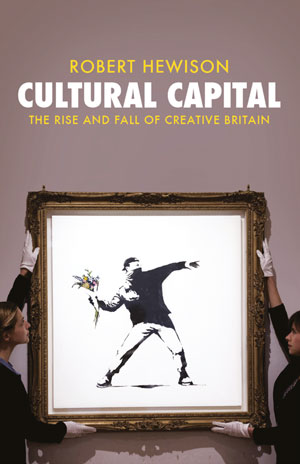 Robert Hewison's Cultural Capital: the Rise and Fall of Creative Britain is an accessible look at the economic implications of neoliberal policy on British culture since New Labour. Hewison walks the reader through governmental changes, financial structures and white/green paper materials for the purpose of understanding the co-option of culture for economic gain in Britain today.
He begins by asserting the timeliness of his analysis in the face of the opportunity in 2015 to 'pass judgement' on the experiments of the coalition government in withdrawing public funding for the arts and abandoning 'any expectations of arts-driven social regeneration'.
Hewison exposes the reality of New Labour's ambitions for culture as a tool for social change-turned-social instrumentalism, resulting in an unprecedented managerialism that stifled creativity in the arts. The book constructs a narrative through the empirical evidence, while also telling a story of infighting, redundancies, name changes and complete failures, all soap opera‑worthy.
Through detailing the various papers, policies and changes of governmental departments, Hewison shows how New Labour adopted the same neoliberal hang-ups from its Tory predecessors. One such inheritance was the Millennium Dome (the focus of chapter two) with its spectacular public failure. In contrast, the coalition government may hail its inherited project, the Olympics (and its Olympiad) – in particular its spectacular opening and closing ceremonies – as its success story for the arts. However, amidst an enduring art market, the extensive cuts to arts funding paints a different picture of Britain in the 2010s.
Cultural Capital makes clear the real problem with each of the governments' focus on culture: the age-old problem of trying to qualify (and then quantify) the value of the arts. The ideological use of language, from 'culture' (stuffy, elitist) to 'creative' (cool, young, hip) to 'public value' (for the people), is brilliantly exposed and examined in this well-timed analysis. Hewison concludes in the present, with a call for a true engagement in the arts if they are to survive co-option. Cultural Capital asks us to rethink our position in the face of another election bringing its own cultural agenda.