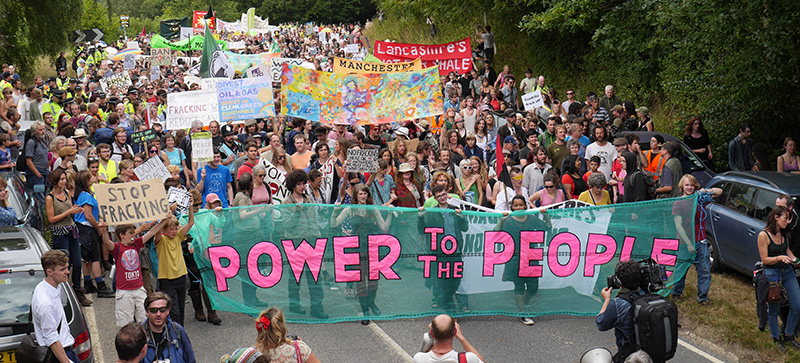 Anti-fracking protesters march on the Cuadrilla drilling site in Balcome, August 2013. Photo: Frack Off
Following protests at Balcombe last summer, anti-fracking activists are preparing to set up camp at another active drilling site this August. They'll run educational workshops, build links between social movements and train for a national day of action against the unconventional gas and oil industry. The location for the 2014 Reclaim the Power camp had not yet been disclosed when Red Pepper went to press.
Secrecy is a tactic that the anti-fracking movement has wielded successfully. Last year's Reclaim the Power camp was originally going to be held at West Burton, but at the last minute organisers moved it to Cuadrilla's drilling site in Balcombe, West Sussex. This allowed participants to join up with another event, the Great Gas Gala, called by the Frack Off network of local campaigning groups. More than a thousand people took part in the protests, which resulted in considerable delays to Cuadrilla's drilling, increased security costs and a drop in national support for fracking.
Since Balcombe, resistance has grown, causing the industry and government to resort to more desperate tactics.
In the past year, the fight against fracking saw protest camps at Barton Moss near Manchester, Daneshill near Nottingham, Farndon in Cheshire and Crawberry Hill and West Newton in Chester. While these did not attract the same media attention as leafy Balcombe, they did feature ongoing direct action and likely contributed to the drop in public support for fracking. According to a University of Nottingham survey in May, less than half of people in the UK supported fracking, down from a high of 58.2 per cent in July 2013.
Several sites have been squatted before the industry has even had the chance to prepare them for drilling. So companies find themselves with costly and lengthy eviction processes before any work can begin.
As the resistance has ramped up, so has the police response. The Barton Moss camp in particular saw some of the most aggressive policing yet at any site of anti-fracking protests. Reports of police violence came in every day: from a pregnant women being violently thrown to the ground, to a legal observer having his eye socket broken and a man being thrown from his wheelchair, shattering his kneecap. The heavy-handed tactics of the Greater Manchester police was in stark contrast to the hands‑off approach that was taken at Balcombe.
There have also been changes in the ways the industry operates sites. Unlike the drilling at Balcombe, which lasted for several months, companies are now operating within a six to eight week window. This reduces the time in which camps can establish themselves and grow to the numbers seen at Balcombe.
Activists in turn have demonstrated their ability to adapt and change tactics. At Balcombe, where the local council approved Cuadrilla's application to start flowback tests despite 899 objections, Frack Free Balcombe Residents Association is launching a legal challenge. Community members are also at work building alternatives through Repower Balcombe, a renewable energy co-operative aiming to meet the village's energy needs.
In January, campaigners scored a victory when the village of Fernhurst, just up the road from Balcombe, with the help of Greenpeace's Wrong Move campaign, surrounded a drilling site with a legal blockade. The blockade uses current trespass laws that require companies to obtain permission before drilling under a homeowner's land. Celtique Energie, the drilling operator in the area, had to temporarily withdraw and consider lodging a legal challenge to the blockade, which would be costly and take years to resolve. If used successfully across the country, the tactic would make it almost impossible for the unconventional oil and gas industry to operate. Cuadrilla CEO Francis Egan admits the law would have to be changed to enable large-scale fracking.
In the Queen's Speech in June, the government proposed doing just that: changing the trespass law so that fracking companies can drill under a homeowner's property without obtaining prior permission. A poll taken after the announcement revealed that 74 per cent of the public are against the proposal. It is currently at the consultation phase, and people have until 15 August to respond, or can write their MP to voice concerns.
With public support for the industry below 50 per cent, and anti-fracking becoming the fastest growing environmental movement in Britain, the pro-fracking lobby faces an uphill battle. Using a combination of legal challenges, opposition to planning applications and direct action, the movement can win.