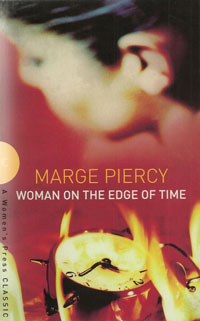 A journey through resistance and revolution, Woman on the Edge of Time expresses the personal in the political by exploring the body as a site of resistance. Like many of Marge Piercy's page‑turning works of fiction, her well-crafted narrative is led by affectionately observed and likeably flawed characters. Piercy gives space in her work to women's experiences and relationships, often, as in this novel, to queer women and women of colour.
Woman on the Edge of Time depicts parallel stories: 1970s New York, where incidents will fate a potentially utopic or dystopic future, and the year 2137.
Piercy's utopia elaborates on contemporary political and scientific experiments in horizontal living/organising and computer technology. No one bears children and male‑bodied people produce milk. Pronouns are non‑gendered and every child has three co-mothers until they turn 13 and pick their own name, off in the forest.
Everyone's in functional polyamorous relationships. Each has a room of their own, creating a rhizomatic network of closely related individuals, with no nuclear or hierarchical relationships, intimate or familial. We meet a young teenager playing a harp to a room of sleeping babies. For the big party, everyone gets dressed up in fabulous Gaga-esque biodegradable outfits. Neighbouring communities consider their respective needs and debate until consensus on how to live with each other and the land. It's delightfully politically idyllic.
Is this the utopia I would go for? Well, in many ways no. Utopic visions are only useful insofar as they shed critical light on the present and open imaginative space around alternative futures. They will always have limitations, and Piercy's future utopia of Mattapoissett has its flaws.
The utopia is brought to us via the dreams and hallucinations of Consuelo Ramos, incarcerated in a New York hospital mental health ward. Connie is tough and hurting, imprisoned when she needs to be supported, abandoned to a place potentially more life-threatening than the one she inhabited before. Piercy does not create a utopic vision as a polemic, but as a counterpoint in constant dialogue with the experience of individuals marginalised in a capitalist society. She does not use this utopia to tantalise or drug the reader but rather as a tool to critique social crises of the present. Her science fiction delights in technological potential while also questioning medicine turned technically tyrannical.
Connie is a Hispanic woman, poor and sidelined. She retains a deep warmth and care for her unreliable niece, and nurtures the strength in the women around her on the psych ward. Here we meet resistance to oppression in their sheer resilience to physical violence. Connie and her ward-mates fight against the doctors' abusive scientific experiments as the people of utopic Mattapoisett hold off the encroachment of the corporations' attack at the frontiers of their enclosure.
Connie's initial reaction to Piercy's utopia as depicted in Mattapoisett lets loose the potential disgust in the reader for this seemingly new-age hippy commune, which in fact shows itself to be a highly organised, technologically developed community that Connie grows to trust, embrace and be nurtured by.
Connie's passage to Mattapoisett is enabled by time travel sans fancy gadgets, on the arms of genderqueer Luciente, who wears trousers that re-size according to when the wearer gains or loses a few pounds. Where Luciente comes from, people are referred to as per and ze rather than her/him and s/he. Initially Connie reads Luciente as a gay man, and is shocked to find per to be what Connie would consider female-bodied. Piercy's writing in 1979 might seem trite now after 30 years of trans-activism that has both evolved and disrupted understandings and expressions of gendered bodies, yet her writing is part of that journey.
In this future, racisms of the past (for 2137) are healed into a Benetton-esque blur of under-explored ethnic references. As far as I can see, racisms that oppress to this day stemming from colonialism and slavery will not disappear into casual celebration of cultural differences, but will require a continued critique and struggle against white supremacy, and I would have liked to see some depiction of this process. That the war with the corporations is being fought on the one hand, while white supremacy is somehow fully dismantled on the other, betrays a lack of analysis of the intersection of capitalism and racism.
Nonetheless, the journey with Connie and her ward‑mates empathetically shows the brilliant resilience of a group of women labelled 'mad' and facing persecution. Marge Piercy's writing is to me like a long-awaited afternoon drinking tea with a close friend. Her characters, narratives and sensitive reflections on both intimate relationships and political organising engulf me in a sympathetic critical understanding. She is the most lent-out author on my shelf. With Piercy, do not expect a tidy neat denouement – life rarely offers an easily resolved ending, and neither does she.