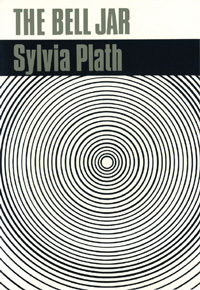 I first read The Bell Jar aged 16, eyes glued to the page until 3am. Judging from the discussions around the 50th anniversary of its publication, and of Sylvia Plath's death, I'm not the only one. The central character, Esther Greenwood, set a new standard in fictional heroines: honest, cutting, and disillusioned, with a dark, dry wit. Plath wanted to write high art and pop art at the same time, and the novel's enduring, intergenerational appeal demonstrates her success.
Readers argue over how far to read the novel as autobiography. For those hungry for more from a profound writer who died so young, seeing the book as the 'truth' of Plath's experience offers some kind of answer to her suicide. Others reject this as over-simplifying and urge allowing the character Greenwood to exist more freely as Plath's careful creation. Either way, The Bell Jar provides a stark portrait of 1950s America's options for young (white) women, and conveys the conditions that 1960s second wave feminism (mainly centred on the experience of white women) rose in response to.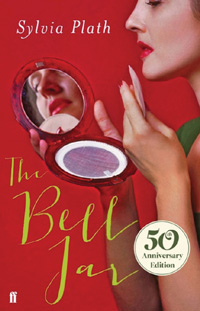 Esther Greenwood is torn between modelling herself on Doreen the sexy slut or Betsy the wholesome virgin. She is disgusted by the lifestyles of affluent young women, as someone who had never been to a restaurant before spending the summer on a writer's scholarship in New York – that in fact funnels the young women into secretarial work or marriage rather than nurturing their creative paths. Esther compares her own incarceration in a mental health clinic to the restrictions on young women like her in the outside world: 'What was there about us, in Belsize [hospital], so different from the girls playing bridge and gossiping and studying in the college to which I would return? Those girls, too, sat under bell jars of a sort.'
Plath lays bare the connections between society's norms and oppressions and her protagonist's journey through suicidal depression. Esther repeats how it is various things around her that 'made me sick'. Esther's rejection of being told that 'what a man is is an arrow into the future and what a woman is is the place the arrow shoots off from' crystallises Plath's critical analysis of 1950s US patriarchy as stifling, suffocating and indeed sickening. Esther instead notes that she 'wanted change and excitement and to shoot off in all directions myself, like the coloured arrows from a 4th of July rocket', but the barriers to her doing that are clearly internalised nonetheless.
I first came to read this book because it was on the A-Level curriculum, with a young teacher drawing out the finer points of feminist critique for the class. Plath lacked role models herself, but certainly raised expectations of female characters for other women readers. Amidst the 50th-anniversary debates some Plath fans fantasise over who would Sylvia be if she were a young woman today.
Some imagine her as a fervent blogger dissecting the world she sees post-radical feminism, post riot grrrl, post Prozac. Maybe links would be drawn to the impact of current cuts to Disability Living Allowance to people with mental health problems like Plath, who made little money as a writer while she was living. Or perhaps in 2013, after numerous backlashes against gains made by feminist movements, and women still suffering issues like the large pay gap and the 6 per cent conviction rate in rape cases, the outlook for women is simply another kind of depressing.
With the recent release of the anniversary edition has come a new cover and a new controversy over the meaning and purpose of the book. Faber & Faber's original 1966 cover design, by Shirley Tucker, is a dizzying set of concentric circles, but the new edition is the reflection in a compact mirror of a woman powdering her face (see above for both). Fatema Ahmed in the London Review of Books rightly challenged this switch in focus: 'The anniversary edition fits into the depressing trend for treating fiction by women as a genre, which no man could be expected to read and which women will only know is meant for them if they can see a woman on the cover.' F&F contends that the 'mass appeal' design could bring in new readers – and it is selling fast.
Several editions of The Bell Jar have covers showing a young woman staring back at the reader. Well, read her, hear her, and share the book with others who might find solace or new understanding in this novel of a young woman's battle with patriarchy, exquisitely described. I'll leave it to readers of this review to act on widening the readership of such an important novel, significant to history, feminism, and the potential for political organising of understanding the roots of depression.
If I were to compare The Bell Jar to contemporary literature, perhaps The Thing Around Your Neck by Chimamanda Ngozi Adichie comes closest. In telling of the restricted situation Nigerian women find themselves in now, socially and politically, it is akin to Plath's rendering of the predicament of white women in 1950s in the US. Plath is held in rightful renown and her story resonates today.