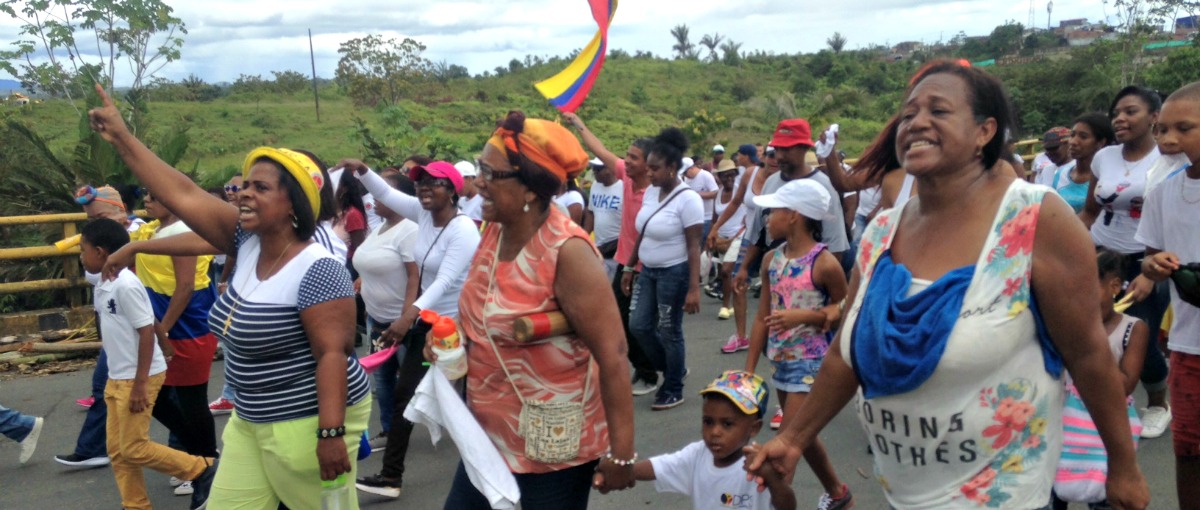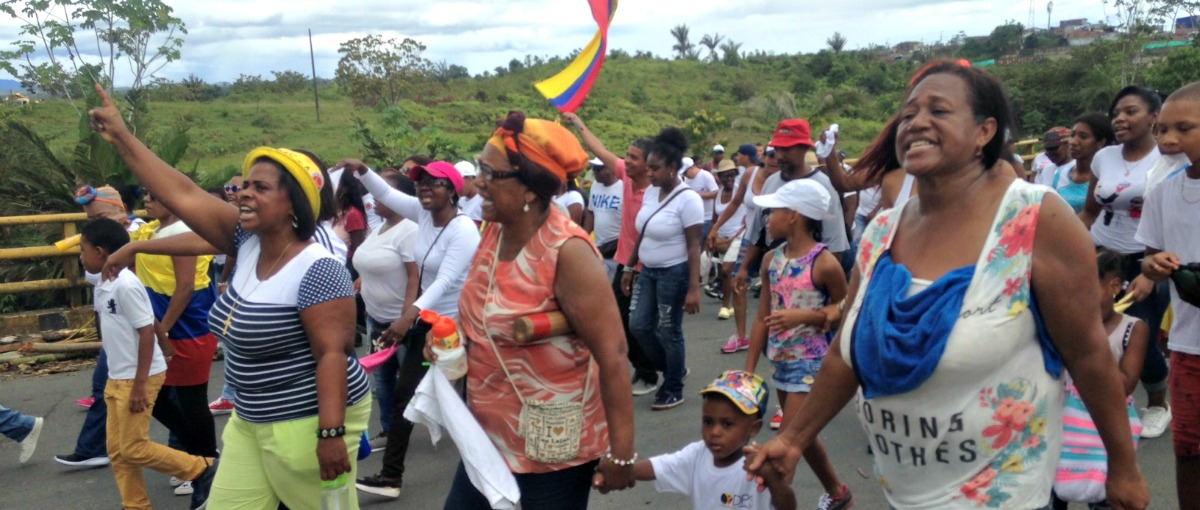 Communities and social movements in Colombia's most important port city, Buenaventura, are engaged in an indefinite civic strike over the Colombian state's historic neglect of the city's majority Afro-descendent population, as protest continues to spread across the Colombian Pacific. From early on Tuesday 16 May, 2017, community roadblocks around the city shut down key routes for trade and commerce, in a momentous popular uprising. Traffic in and out of the city was paralysed, other than agreed exceptions, whilst virtually all businesses remained closed. Participation in strike activities snowballed during the first days, and took on an almost festival-like atmosphere. Roadblocks were staffed by communities playing football and music. Roadblocks were also set up by rural indigenous and Afro-descendent communities on the main highway out of Buenaventura, one of Colombia's most important trade routes.
Originally organisers had planned 8 blockades of key roads, but by the end of the first day an estimated 30 had sprung up around the city as more and more communities mounted their own roadblocks: clear evidence of the levels of social discontent with conditions in Buenaventura. Mass marches have taken place across the city. Infused with chanting and traditional music, the marches are a sign of defiant hope and determination . Entire families, young and old have taken to the streets to tell the government and the world that Buenaventura is more than just a port. Danelly Estupiñan, of the Proceso de Comunidades Negras (Black Communities Process), one of the organisations involved in organising the strike, said 'today, after 30 years of institutional violence and murderous policies, the people of Buenaventura are raising our voices to say that we will not yield, no matter how long it takes or whatever it may cost, we will fight for our rights'.
The response of Nobel peace prize-winner President Juan Manuel Santos has been vicious. On Friday 19 May, he ordered a military-style attack upon the city in an operation by land, sea and air involving thousands of police, military and navy units, and the city has been placed under a state of emergency, with the security forces imposing a curfew. The city is currently flooded with heavily armed military units and ESMAD anti disturbance units, renowned for their willingness to use lethal force to put down protests. State forces have used live bullets and tear gas against protestors on an almost daily basis in order to force the passage of large convoys of lorries into and out of the port. Despite this repression, mass protests have taken place in defiance of the state of emergency, including a march of historic proportions on Sunday 21 May in which over 150,000 people participated, whilst the phrase, 'we don't have weapons but we have dignity' has become a slogan of the strike."they took so much from the people of Buenaventura that they took away our fear"
The strike's list of demands include the provision of a hospital; a decent, clean and reliable water service, employment that provides for a dignified existence, and an end to environmental destruction in the area. An alliance of over 100 community and grassroots organisations came together to organise around 8 demands (see list below), under the banner 'to live with dignity in our territory'.
Buenaventura is the port through which it is estimated 75 per cent of Colombia's imports and exports pass, generating huge corporate profits and a large chunk of the country's tax revenue. The wealth that passes through the city and the world-class port facilities, make for an uncomfortable contrast with the city's social realities.
The population of Buenaventura live with shocking levels of poverty (80.6 per cent) and unemployment (68 per cent), lack of access to basic services, and the silent fear created by years of militarisation, armed conflict and paramilitary violence. In 2015, the city's public hospital was closed, leaving the population of around 400,000 without a hospital capable of delivering anything more than primary care services. Clean water and basic sanitation services are lacking in many areas of the city (despite the city being in one of the most water rich areas on the planet), and tens of thousands of children do not have access to education. In 2014, after mass mobilisations in the city, the government of Juan Manuel Santos committed the government to taking concrete steps to address many of these issues- but these promises remain unfulfilled.
To understand the current uprising, and the government's violent response, it is important to look to the 17 Free Trade Agreements which Colombia has signed to date, including with the EU and the USA. A common feature of all of these is the creation and expansion of further infrastructure to allow for the export and import of goods to and from Colombia (and in particular the export of natural resources). Government development plans for Buenaventura, designed with the support of Spanish and British consultancy firms, envisage a huge expansion of the port to increase its capacity, as well as the construction of a corporate tourist zone, requiring the displacement of large chunks of the population over the coming decades.
Since their arrival in Buenaventura at the turn of the century, paramilitary death squads have terrorised communities and committed mass human rights violations and crimes against humanity. The violence has displaced over a hundred thousand from the city, and made Buenaventura the capital of forced displacement in Colombia, a country with the highest number of internally displaced people in the world (6.9 million according to UNHCR, 2016). Community leaders argue that paramilitary violence in zones corresponding to the expansion of the port and other proposed developments is not a coincidence, but in fact are related to specific economic interests, intimately tied up in those trade agreements. This pattern is one all-too common in Colombia: economic development of this type accompanied by displacement and violence.
Negotiations began this week in Buenaventura between representatives of the strike organising committee and the government, as protests in predominantly Afro-Colombian Pacific regions of Colombia continue to grow. At the heart of these uprisings are demands for recognition of the Colombian state's historic debt to the Afro-Colombian populations after generations of neglect, exploitation and discrimination.
Despite the military response to their legitimate demands, almost two weeks into their Civic Strike the people of Buenaventura are more determined than ever to take their destiny into their own hands. In the words of one leader this week, "they took so much from the people of Buenaventura that they took away our fear".
Demands of the Grand Civic Strike to 'live with dignity in our territory':
quality healthcare and hospitals with secondary and tertiary care capacities
quality and relevant education
water and basic environmental health
our territory- because this territory is ours
healthy environment and the preservation of our natural wealth
dignified employment and a decent life for our working population
justice and attention for the victims of violence
the right to recreation and spaces for leisure, sport and culture.