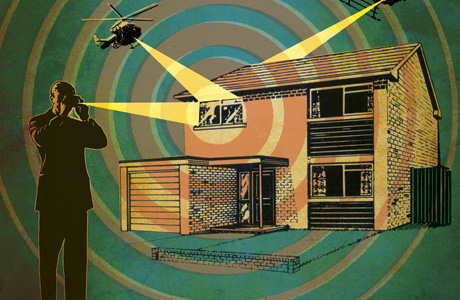 Illustration: Matt Littler
London: 'This has opened my eyes'
In freezing temperatures during the February half term, the young Counihan family and their supporters stand outside City Hall protesting for truly affordable housing in London. Led by 15-year-old Sarah Counihan and her mother Izzie, the group chant and sing the campaign song 'You can't kick this family out of Brent' non-stop for two hours, attracting curious looks and support from passing tourists. In a letter they deliver to Boris Johnson, the Counihan children highlight their experience of homelessness and the need for affordable housing, and call on the mayor to stand up against the forthcoming housing benefit cuts.
The Counihans know only too well the consequences of these cuts, which will see tens of thousands of people evicted from their homes, dumped in dilapidated and extortionate emergency accommodation and even sent out of the city entirely. Last April the family were made homeless by Brent council after declaring £18 a week income from a piece of land they had inherited in Ireland. Council blunders in dealing with their case saw the housing office cut their housing benefit completely, forcing the family from their home and into emergency accommodation.
Izzie speaks incredibly openly about the enormous mental and physical strain this has placed on the family. Her 14-year-old son has a constant fear of being made homeless and her younger son has begun biting his hands and holding his breath. Her partner Anthony had to take nine weeks off work because he was only sleeping for three hours a night. Izzie herself has had to postpone an urgent hip operation because of living in temporary accommodation. She has been on valium and anti-depressants since last June.
'Today is a good day,' she tells me, 'but I can just envision so many thousands upon thousands of people either with depression or suicide [because of the housing crisis], you can really just feel what they're going through.'
A very low point was when the family was told they should leave London – a reality that will soon face thousands of families across the city. Izzie shows me an email from the housing office, which suggests that they look into 'reconstructing a home on the land in Ireland'. The distress caused Izzie to overmedicate on valium. 'I couldn't believe it was even suggested, I found it very cruel.'
Determined to stay and fight for a home in their home borough, the family started their campaign under the slogan 'Housing for the Counihans, housing for all'. It is this campaign, which has built a strong network of people across Kilburn who provide practical and emotional support for each other, that has kept the family going, Izzie says. The Counihans have supported other local families with housing issues and are campaigning more broadly for truly affordable housing in London and against the forthcoming policies that will see people evicted from their homes.
'In terms of politics, before this happened I wasn't aware, but this has opened my eyes to what's going on,' Sarah says. 'In a way I'm happy that it has because now I feel like I've got a purpose to fight for something.'
Leeds: Hands off our homes
When Liz received a letter last year telling her that she would be charged for what the government considers a spare room but is in reality used for her grandchildren to come and stay, she describes how she broke down into tears. She told her friend John about it, who said: 'We'd better get Hands Off Our Homes up and running again.' Leeds Hands Off Our Homes group began in 2006 to campaign against a PFI scheme in the Little London neighbourhood. The campaign fights for decent, secure and genuinely affordable homes for all. With the bedroom tax due to completely undermine this aim for 10,000 social tenants in Leeds the group has started up again, with the aim of creating a strong network of people to support each other and defend their homes.
An old social club in Armley fills up with 50 local residents, aged from 20 to 80, waged and unwaged, disabled and able bodied. They sit down holding onto posters they had picked up at the entrance that say 'Keep calm and stay put' – a subversion of the near ubiquitous slogan that urges us to accept the status quo. The meeting begins with John providing background, listing the 'options' that people have been presented with in their letters from the council – downsize to a smaller property, take in a lodger, get more hours at work, pay the money. None of these are real options for anyone here, he states; the only realistic option for most people is to stay put.
In Leeds, as is the case across the country, there are simply no one-bedroom properties for people to downsize to. Liz, following on from John, confirms this fact. She has looked every day for a one-bedroom flat in Leeds but they do not exist. She passionately describes her personal situation – the distress about possible eviction, which has turned into anger and a determination to keep her home and help others keep theirs. She suffers from numerous disabilities and describes how every day is a struggle for her; the 'spare' room allows her grandchildren to visit, which 'keeps my spirits up'.
The meeting is opened up for others to share their stories. People are hesitant at first, but take confidence listening to others speaking openly and honestly about their situations and what the bedroom tax will mean for them; soon a diversity of experiences are being shared. For many, this is a moving and significant experience as the individualising and isolating experience of reading the letter from the council becomes a collective problem that can be dealt with together. As well as describing their personal situations, links are made with the other welfare cuts and the long term housing and economic crises not of their doing. People resolutely assert their human rights to their homes regardless of what the law will say come April.
Carole O'Keefe describes how she now feels 'even more determined to maintain what I've got'. She was given her flat 12 months ago by the council after a four-year period of homelessness. She had been given a two-bedroom flat because nobody wanted to live in high-rise, the council told her. This, she says, was her 'lifeline' that she had been given when she had reached a point when she saw no reason to carry on. 'It's hard to keep warm, to get by, but I've made it my own home and I'm not prepared to give it up . . . I'll barricade the doors,' she says.
But what can be done? The mass refusal of payment is raised: 'If people en masse don't pay because they can't pay the council won't be able to move 5,000-10,000 people. If people individually stay in their homes, the council will evict, if people stay around together like they are tonight – they won't be able to.' There was a unanimous vote for a further meeting, same time, same place, the following week, to get organising. The meeting ends and the room feels buoyant and determined from the emerging network of people that has just been created.
I speak with Jeanette Sunderland, who worries that she will be forced to move twice. Her daughter is 18, so if they were to move to a two-bedroom house, Jeanette may face another move when her daughter moves out. This stress and upheaval of two moves at a time of life when she should be 'chilling out and spending time with my grandchildren' has been causing her sleepless nights and depression.
'I feel better now coming and talking to people,' she says. 'I was really getting depressed, really depressed and not wanting to go out or talk to anybody, but I feel a lot better coming and speaking with everybody . . . Even by talking you're easing that pressure and you're getting it out of your system as well. You talk and hopefully you're helping other people as well.'
Crawley: Nail in the coffin
Back down south, a full meeting of Crawley Council sees a packed public gallery mobilised by the Crawley Independent Tenants Association, which has begun organising on the bedroom tax. So far the association has held a series of meetings and is trying to make contact with the 1,000 people affected in the area. Although small in number, the group is growing rapidly as people affected by the tax look for ways they can do something about it. Crawley didn't have an anti-cuts movement, Robin Burnham, their secretary, tells me, but this is changing now.
Tonight, they are here to have their concerns heard and questions answered by their councillors, but a motion to extend the public question time due to the large audience is only just passed. Most councillors show little interest in hearing, let alone acting on behalf of their constituents on this issue. It is a national policy, which they cannot act on, they argue.
Queenie, whom I meet in the foyer with her friend Yolanda, whispers angrily to me as she waves her hand in the air. Later, she remarks that the councillors are 'slippery like fish' as they avoid answering questions. She points to one of them: 'When I told that woman that I was worried about being evicted, she told me to go to charity – she didn't even say which charity, just "go to charity".' As the crowd attempts to hold their councillors to account, the mayor decides he has had enough of what he describes as 'disorder'. He walks out of the chamber before the session is due to end, only to return ten minutes later to reluctantly answer four more questions.
As the meeting ends, Yolanda says to me, outraged, 'They didn't answer any of our questions, I am so angry!' Her outrage reflects the desperate situation she and Queenie are now in. Both women are on jobseeker's allowance of £72 a week and, as Yolanda points out, since they are both over 50, they have had little luck in finding a job: 'Nobody wants to employ us at our age.'
Queenie is on JSA because she recently 'failed' an Atos test for her disability benefits. She was left without any benefits for a period of time and her friends had to pay her electricity bills. Why has the bedroom tax made people so angry, I ask, when the benefits system has already been failing you? 'This is the nail in the coffin,' she replies.
Liverpool: Direct action gets satisfaction
Like Leeds, there have been regular meetings across Liverpool for tenants to come together and organise a network of tenants in the city. The Combat Bedroom Tax group makes its approach clear: 'direct action gets satisfaction,' its blog declares. At the group's first public meeting in January, the message was 'Can't pay, won't pay!'
Adam Ford, who has been organising with the group, explains the importance of this approach: 'Direct action has always been the way that working class people have been able to improve their living standards, or defeat attacks on their living standards. In the case of the bedroom tax, it is going to happen. Writing a letter or marching from A to B means nothing when people on the breadline are one month away from losing tens and hundreds of pounds per month. People have no choice but to say "can't pay, won't pay", and collectively prepare for the consequences of that.'
Since its first public meeting the network has been busy organising to turn this slogan into action. The group has already held a number of protests in the city. In February, 50 people took part in an occupation of Liverpool Mutual Homes against their complicity with the bedroom tax and their proposal that tenants could do 'volunteer' work to make up the shortfall of their rent. A march of hundreds, starting outside the One Vision Housing office, took over the streets of Bootle against the bedroom tax in what one participant described as 'the first mass demonstration in Bootle for many years'. The network also paid a visit to Liverpool Mutual Homes' welfare reform roadshow to correct any misinformation. Their emphasis on community organising, solidarity, and direct action has set the tone for the UK-wide campaigns, inspiring many other groups across the country.
Glasgow: Like the poll tax
In Glasgow, the Govan Law Centre is pursuing a legal avenue to challenge the bedroom tax in Scotland. The centre's 'no evictions for bedroom tax' campaign is petitioning the Scottish parliament to use devolved powers to amend housing law. This would mean that rent arrears caused by the bedroom tax are treated as an ordinary debt and therefore cannot be used as grounds for eviction by social landlords. Oxfam Scotland and Shelter Scotland are both supporting the campaign.
As well as this legal route, public meetings have been organised in Glasgow where there has been 'an awful lot of "can't pay, won't move" and talk of phone trees, which is what it was like in the poll tax,' Jaki Paterson, who is involved in the campaign, told me. Paterson, her partner and their friend set up a Facebook event for a march in Glasgow. They had never been involved in a campaign before but were so angry about the injustice of the bedroom tax that they wanted to do something about it. She has been spreading the word about the march at the petrol station where she works: 'Lots of my customers will be personally affected and it certainly makes working at the petrol station more interesting . . . Glasgow – it's one of those places, isn't it? Sweet talk through a lot of things, but then when something gets under your skin, that's it.'
But it isn't just Glasgow – 'that's it' is a feeling that can be felt across the UK. The bedroom tax is bringing people together and inspiring action in ways that go beyond the tax. As many of those involved in fighting the bedroom tax have said, this is just one aspect of the punitive welfare reforms and one exacerbating factor of the housing crisis. It's not just about one 'spare' room, it's about 'housing for all'.
---
Where the cuts bite
Bedroom tax
The bedroom tax, or the 'under occupancy penalty' as it is referred to by out-of-touch politicians, will see social housing tenants of working age with so-called spare bedrooms lose 14 per cent of their housing benefit for one room and 25 per cent for two or more. On average those affected will lose £14 a week in housing benefit. The bedroom tax greatly undermines the security and affordability of social housing.
This tax will affect the poorest and most vulnerable sections of society. A recent Joseph Rowntree Foundation study found that 29 per cent of people renting social housing are living in poverty before paying housing costs. Of the 660,000 people affected by the tax, two-thirds of households include a person with disabilities.
Council tax
In April the government will abolish council tax benefit and shift responsibility for the new 'council tax support' regime, along with a 10 per cent cut in funding, to local authorities. Council tax benefit is claimed by 5.9 million families. However, under the new regime, many of the poorest households will be forced to pay the tax when previously they had been exempt, while others will see the amount they must pay increase.
A study by the Resolution Foundation has shown that those not in employment may face paying between £1.80 and £4.90 a week from their benefits. Even the architect of the poll tax, Patrick Jenkin, has warned the government against repeating the mistakes of the past. Speaking to the BBC, the Tory peer admitted: 'The poll tax was introduced with the proposition that everyone should pay something… We got it wrong. The same factor will apply here.'
Benefits cap
Household welfare payments will be restricted to £500 per week (those receiving disability living allowance, working tax credit or war widow pensions will be exempt) from April 2013 for Bromley, Croydon, Enfield and Haringey, and autumn 2013 for the rest of the country. This will particularly affect those with three or more dependent children who are entitled to higher levels of benefits to reflect their additional needs.
As well as not taking into account family size, the cap also does not make allowances for where people live. Larger families in urban areas, particularly London, where rents are particularly high, will be hit hardest. Councils are already looking at relocating some families to cheaper areas.