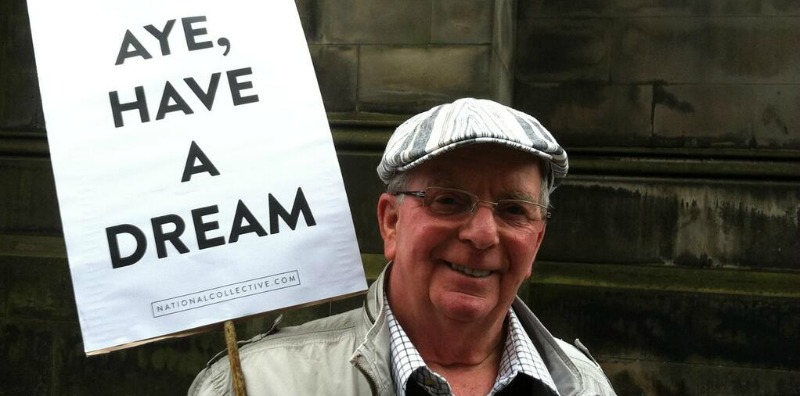 (picture via @Aye4Scotland on Twitter)
Hannah Mitchell, the renowned democratic socialist and feminist, once said 'We must work as though we live in the early days of a better nation.' She would have been excited by what is happening in Scotland at the moment. The ferment of ideas goes way beyond the SNP. It is coming from a wide cross-section of society that includes Greens, the Scottish Socialist Party, many Labour Party members and a huge number of people who have not been involved in 'politics' before.
As things stand, people in the north of England are watching events in Scotland with mixed feelings. I don't detect any 'anti-Scots' sentiment despite the intense London media hostility to Salmond and the nationalists. Quite a few people I speak to here say 'good luck to 'em'. A few even express the idea of moving the border a hundred miles further south!
Here in the North there is a growing sense of grievance about the widening economic and social divide from London and the south-east. As yet it hasn't really developed a political expression, but it's going that way. Only weeks into its existence, the Yorkshire First party won nearly 20,000 votes in the 2014 European elections on a tiny campaign budget. Similar moves are afoot in the north-east and there are signs of interest in a pan-northern political movement.
As a Labour Party member, I want to see my own party embrace the idea of directly elected regional government on similar terms to those enjoyed by Scotland, Wales, Northern Ireland and London. Handing some money over to unaccountable 'combined authorities' based in the cities is not an adequate response. We need a real vision for the English regions within a federal Britain.
Fears of the northern left
Within the Labour Party there are quite a few of us at the grassroots who support independence. Most are against, for two main reasons. One is the electoral maths: an independent Scotland would mean fewer Labour MPs and the possibility of a permanent Tory majority. In fact the experience since the war has shown that in most general elections when Labour won, it would still have had a majority without its Scottish MPs.
The second reason perhaps has more resonance: a Scot-free England would become even more unbalanced, with the North being abandoned as the south-east 'powerhouse' steams ahead. This is a very real risk, regardless of who wins the election next year. Labour seems concerned to demonstrate it is not just 'the party of the North' even though that is where most of its support lies. It wants to win votes in the south. There is a certain irony that while the Tories (who need to win seats in the North) are suggesting major investment projects like the east-west HS3 rail line, Labour is silent or cynical.
The issue of an unbalanced England, with an increasingly rebellious Wales, will become more and more pronounced, driving demands for real regional devolution. A highly centralised England with only London enjoying its own regional government will be unsustainable. Change will have to come and it will be driven by a new coalition of political forces.
We can learn much from the tactics of the radical independence campaigners in Scotland who have mobilised new forces and adopted new tactics. They have found thousands of people who want change and feel disempowered by politics south of the border. It is for the people of Scotland to decide on their future, and whichever way the vote goes, we should strengthen our links with radical campaigners north of the border.
The recent 'love bomb' from 200 celebrities organised by Dan Snow was, on one level, laughable. In fact quite a few comedians, ranging from Bruce Forsyth and Ronnie Corbett to George Galloway figured strongly. I wouldn't take guidance from any of them. But one of the things Snow said did make sense. He wanted to retain 'the bonds of citizenship' which unite us.
In reality however, the bonds between Scotland and England are invariably mediated by London and the Westminster bubble. Citizenship is not an abstract idea. It is about real, living links between people. These can, and do, cross national borders. I have more friends in the Irish Republic than Northern Ireland: the border is irrelevant. I very much hope over the coming months we can strengthen our bonds of citizenship with the people of Scotland, whatever choice they make.
Some on the left have argued that independence is either irrelevant or an obstacle to class solidarity. Why? We've seen precious little of this solidarity in recent years anyway. I would welcome more collaboration between trade unionists across the UK. But again, the border is irrelevant. It is interesting that a growing number of union activists have embraced the 'yes' campaign even if the London-based leaderships are against. It is a reflection on how our political elites – the unionist Tory, Liberal Democrat and Labour parties, plus the media commentariat – are largely anti-independence. No wonder, they stand to lose power and status. That can only be a good reason to vote 'yes'.
Another world is possible
A vote for independence will have a major impact on the British state, showing that another world is possible. Yes, it is a leap in the dark. Nobody really knows how an independent Scotland will perform, though the experience of other emergent nations is that after a possibly bumpy start they will blossom. The alternative is to continue with the status quo, perhaps a bit more devolution, but continuing with the neo-liberal agenda shared by the main parties.
I think Scotland really would blossom – politically, economically and culturally – and encourage some shoots of radical growth in England.  We need to develop a debate with our friends in Scotland, Wales and Ireland about what a future democratised British Isles would look like. That debate needs to take place outside and beyond the London-based elite.
Thomas Paine, key to an earlier independence struggle for what became the United States of America, said 'We have it in power to begin the world over again'. Over two centuries later those words still ring true. We should reject the politics of fear and conservatism and embrace radical change in these isles. The first step for a new federal Britain is a 'yes' vote on 18 September.
This article is based on a speech delivered at a radical independence event hosted by Red Pepper and the Hannah Mitchell Foundation, Preston, 12 August, 2014. Views are the author's own. The Hannah Mitchell Foundation was established to generate interest in democratic and inclusive regional government for the North. As a body they are neutral between the 'yes' and 'no' campaign. Red Pepper are organising a Yes train to Glasgow to support and learn from the radical independence campaign.