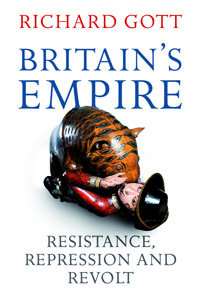 Richard Gott describes his fascinating book as 'not so much a history of the Empire as a history of those who did not wish to participate in the imperial project'. In absorbing detail he catalogues the relentless tide of opposition and resistance that confronted the British effort to extend their sway across Asia, Africa, Latin America and the Middle East.
Generations of British schoolchildren and adult newspaper readers have been brought up on a diet of complacency about the empire. And as the empire itself recedes into the distance, the tone has become more self-congratulatory rather than less. The BBC and the commissioners of newspaper op-ed pieces routinely turn to historians such as Niall Ferguson and Andrew Roberts, who praise Britain's imperial past and distinguish it from that of allegedly less efficient continental rivals like the French and Spanish. Jeremy Paxman produced an affectionate best-seller, Empire: What Ruling the World Did to the British, replete with stiff‑upper‑lip generals and public-school notions of duty and quiet resolve.
By contrast, Gott (a former colleague of mine at the Guardian) has written an original book of great scholarship. His 500 closely annotated pages only cover one century of empire, from 1755 (the Black Hole of Calcutta) to 1857 (the Indian Mutiny). But it is more than enough to rip up the comfortable quilt under which this country has covered its long legacy of armed policing, overseas gulags and extermination.
Slave revolts and uprisings by indigenous people were put down with appalling brutality. In India mutineers were tied to the front of cannons and blown apart. Conquered villages were burnt to the ground and their women and children shot. Gott argues that the rulers of the British empire will one day rank with Stalin and Hitler as authors of crimes against humanity on an infamous scale.
His message is stark but Gott is never shrill. He writes as a scholar, not an accuser.
Rather than look at each part of the empire story separately and by regions, Gott works in batches of time. He takes, for example, the period of Britain's war against revolutionary France from 1793 to 1802 and shows how it included a great Irish rebellion, the final resistance of Indian forces in Mysore, and fierce efforts by slaves in the French islands of the Caribbean to block their subjugation by the British.
While this approach sometimes makes for a jumpy read as he moves back and forth between different territories, Gott conveys the sense, as seen from London, that every day some crisis was coming to the boil somewhere. Troops and the ships to carry them were needed to help in India but were already on active duty in the Caribbean, or vice versa. Imperial expansion was a matter of constant improvisation and over-stretch (shades of Britain's involvement in Iraq and the current Afghan war), even as the strategy of seizing foreign land for settlement or to deny it to rival European powers remained firm and unbending.
Some of the book's most interesting chapters concern the American war. The white settlers of the 13 eastern seaboard colonies wanted independence, not primarily for reasons of democracy and republicanism but because London was thwarting their ambition to occupy the vast territories of Indian tribes in the interior. A royal proclamation of 1763 had decreed that the land rights of native Americans west of a line from Quebec to New Orleans were to be recognised and respected. White settlement was forbidden.
This was compounded a few years later when the British governor of Canada, in a bid to keep the predominantly French Catholic population of Quebec from rebelling, extended the frontiers of British Canada well to the south. The American settlers were not going to allow this, even if it meant breaking with the British crown.
In general, white settler rebellions were more successful than those of indigenous people, Gott points out, in large part because they had the same weaponry as the British. Successful indigenous revolts included Toussaint L'Ouverture's defeat of the British in Haiti and the Indonesian resistance to Stamford Raffles' attempt to bring the island of Java under British rule.
Ignored in Britain, some leaders are remembered in their own countries. India and Sri Lanka honour their anti-imperial heroes. South African schools now tell the story of men who tried to keep the Dutch and British out – such as Makana, a Xhosa leader in the Eastern Cape, who led 10,000 fighters against Grahamstown. He was captured in 1819 and sentenced by the British to life imprisonment on Robben Island, the same fate that befell his Xhosa descendant, Nelson Mandela.
Gott's book brings hundreds of men like Makana back into view. It deserves to be the definitive record that other scholars will build on for years to come, even if, as is likely, the conventional media initially give it a wide berth.