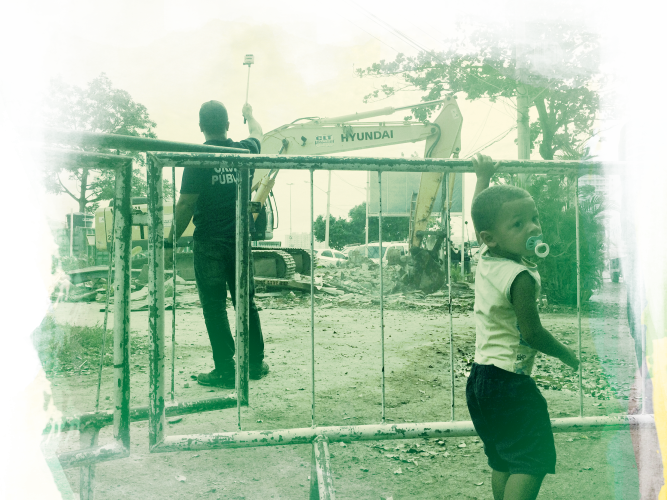 Brian, age 2, watches as the Residents' Association is demolished. Brian and his family were living in the building after he and his family were evicted.
This article was originally published in the June/July issue of Red Pepper. Try our pay-as-you-feel subscription.
When Rio de Janeiro was awarded the 2016 Olympic Games back in 2009, Brazil was widely seen as a global success story, the country of the future. President Luiz Inácio Lula da Silva, who went to Copenhagen personally to make the case for Rio, was enjoying record levels of popularity. At home, he was credited with lifting 20 million Brazilians out of poverty. On the global stage, Brazil had been acting with increasing confidence; winning the right to host the Olympics seemed like a logical progression. Thousands gathered on Copacabana beach to celebrate.
Even the global financial crisis, which Lula blithely dismissed as a marolinha (a little ripple), could not spoil the party. Brazil was one of the first countries to recover and in 2010 registered GDP growth of 7.5%, surpassing pre-crisis levels. Lula eventually stepped down with approval ratings above 80%. Barack Obama called him 'the most popular politician on earth'. It seemed that Lula, and Brazil, could do no wrong.
Tidal wave
How much has changed, in little over five years. The marolinha that lapped at Lula's ankles has become a tidal wave that threatens to sweep his chosen successor Dilma Rousseff from office. Brazil is mired in its worst recession in a generation. The economy shrank by 3.8% in 2015 and growth is not expected to return until 2017 at the earliest. Rousseff blames external factors, and while there is some truth to this, the economy has also suffered from the government's own mismanagement, especially as a result of fallout from Operation Lava Jato, an ongoing investigation into a multibillion-dollar corruption scheme at state oil company Petrobras. Rousseff's approval ratings have been hovering around the 10% mark and Lula's reputation has also taken a bad hit.
Worse still, on 17 April, the Chamber of Deputies authorised the opening of impeachment proceedings against the president for alleged massaging of government accounts ahead of the 2014 elections. Rousseff's supporters are calling it a coup, which is understandable: these are flimsy grounds for the removal of a head of state less than two years after she was re- elected.
Exploiting popular discontent with a weak president, Brazil's conservative opposition have spied an opportunity to kill two birds with one stone. They have long resented the social progress made under the Workers' Party and it is likely they will attempt to reverse much of it. More immediately, though, they want to scapegoat Dilma for their own sins. Over half the Chamber is implicated in crimes ranging from conspiracy and money laundering to torture and murder. The two main figures behind the impeachment, House Speaker Eduardo Cunha and Brazil's vice president Michel Temer – who will become president until 2018 if Rousseff is impeached – are up to their necks in the Lava Jato scandal and there are concerns they will bury the investigations once in power (at least those concerning themselves and their allies).
So what impact will this have on Brazil's preparations for the Olympics? Rousseff's fate now depends on a vote in the senate in May. If she loses, which looks likely, she will be suspended from the presidency for up to 180 days while the senate determines her guilt. It is uncertain how long this will take; in 1992, the senate took nearly three months to deliver a verdict on the impeachment of then president Fernando Collor. Were it to take this long again, the final verdict on Rousseff's impeachment would come in August – the same month the Olympics are due to start. Talk about washing one's dirty linen in public.
Crumbs of comfort
There are, however, some crumbs of comfort for the Olympic organisers. During the wave of protests that began in June 2013 and continued into early 2014, much ire was directed towards FIFA and the 2014 World Cup. Some of the later demonstrations were even single-issue anti-World Cup marches organised under the slogan 'Não vai ter Copa' ('No World Cup'). But there has been no comparable anti- Olympics movement in Brazil, not even as the event draws closer. In Brazil, as elsewhere, FIFA is perceived to be corrupt, arrogant and domineering in a way that the IOC is not, and the more recent wave of mass protests (since early 2015), is anti-government, pro-impeachment and largely unconcerned with the Olympics. That is not to say there have been no protests against the event. There have, particularly in and around favela communities in Rio.
The city has been undergoing its largest and most ambitious urban reform in decades, with billions of reais spent on new infrastructure. This has entailed rehousing over 22,000 families, according to government figures. While mayor Eduardo Paes denies that anyone has been rehoused against their will, videos posted on social networks suggest otherwise, as do denunciations by the UN and the Displacement Research and Action Network at the Massachusetts Institute of Technology. Residents claim they have been forcibly relocated in new housing complexes far from their workplaces and former homes, often with poor transport links. Critics argue that in keeping with Rio's housing policy throughout much of the 20th century, this is just another wave of gentrification aimed at sweeping poorer residents from valuable land.
Alright on the night
And then there are the inevitable concerns about infrastructure. The state of Rio de Janeiro is in the midst of a serious financial crisis and has had to borrow R$980 million from the Brazilian Development Bank to fund the completion of work on Line 4 of the Metro, which links the Olympic Park at Barra da Tijuca with Ipanema in Rio's fashionable Zona Sul. It is due to be finished in July – just a month before the Games begin.
The velodrome and the tennis centre are also still incomplete, while on 21 April, an elevated cycle path collapsed into the sea, killing at least two people. Unveiled little more than three months previously, and built at a cost of nearly R$45 million, mayor Paes called it 'the most beautiful cycle path in the world'. That said, Rio is currently further ahead in its preparations for the Olympics than Brazil was for the 2014 World Cup, when, 100 days before kick-off, four of the twelve stadiums were still unfinished. In spite of all the problems, the World Cup was considered a success. So once again, it will probably be alright on the night.
If there is potential for disruption to the Games, or at least for a messy, rancorous and unwelcome sideshow to them, it is in the current political crisis. Naturally, both the Brazilian and International Olympic Committees have released statements playing down its impact. 'These kinds of political issues have much less influence than at other stages of organising the Olympic Games,' the IOC has said.
But in private, the Olympic bosses must be worried. No matter how rigorous the preparations – and Brazil's have been far from perfect – no major event can be entirely immune from the social and political context in which it occurs. And in Brazil today, this context is turbulent, unpredictable and potentially explosive.