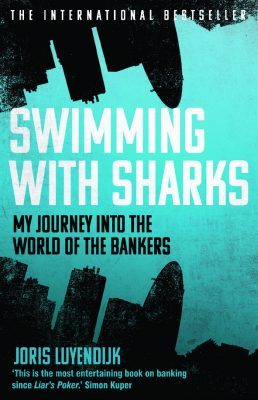 Forget Hollywood films about bad‑guy bankers – this book will satisfy any curiosity you have about the real working world of high finance. Investigative journalist Joris Luyendijk had little knowledge of the City until he interviewed 200 workers there. At first he is won over by the charm of these apparently decent people, but he is soon chilled by elements of their culture that alarm and disturb.
There is a cool acceptance of 'amorality' – an underlying principle that guides their work and dismisses questions of ethics. Some of his discoveries are expected, such as the casual use of aggressively macho or sexist language. Others are more surprising: when high-frequency trading screens display bad results, a low-tech solution involves frantically pulling the plug from its socket.
Despite the specialist nature of the subject matter, this book is quick and easy to read because it draws from a collection of the author's blogs. The identities of the interviewees are protected but they reveal enough personality to add a human face to the otherwise shadowy and lofty finance industry.
Luyendijk argues that 'casino capitalism' is an inappropriate slur because at least in a casino the odds on all risks are calculated with precision. In the City, however, complex products hinged on obscure debt obligations are still being traded despite a lack of detailed understanding from the majority in the sector, including company executives.
The financial crash of 2008 is discussed, with disappointing results. Nobody feels implicated or can point to a suitably accountable hierarchy, leading the author to imagine a plane in flight with an empty cockpit. He describes the industry as a 'time bomb at the heart of our society' – and less than a year since the book was published there are indications that another crash may be looming.
Raising awareness of problems in the finance industry is not enough to bring about change, the book concludes; the sector has become 'immune to exposure' and needs a complete structural overhaul. The simplistic dismissal of 'greedy' bankers is therefore unhelpful and the writer begins to suggest what substantial changes might look like – clearly an area for further work.