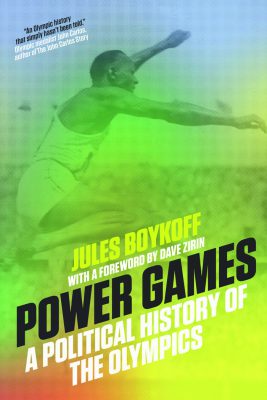 Like many forms of popular culture, sport has its own distinctive forms of history telling, but few are as powerful as the myths that dominate discussion of sports mega-events, especially the Olympic Games.
Jules Boykoff's Power Games, an engaging revisionist history of the modern Olympics, builds on his recent explorations of Olympic protests in Vancouver and London. It is particularly timely, as the Rio Games show clear signs of militarisation, an intensifying clampdown on civil society and the reinforcement of Rio's power elite. Boykoff places Rio in a history of struggle, as the most recent example of what he calls 'celebration capitalism'. This is akin to Naomi Klein's 'disaster capitalism', with a sport-induced state of exception encouraging a euphoric condition accompanied by public guarantees of expenditure, transfer of public assets to private control through public-private partnerships, and new technologies of surveillance and securitisation. This is not neoliberalism in action, but a ground-clearing exercise for neoliberal policies and practice.
'Celebration capitalism' adds power to this investigation of the Olympics' imperialist basis, the challenge from the women's and workers' games of the 1920s and 1930s, cold war tensions, civil and human rights in the 1960s, Denver's 1972 plebiscite rejecting the Winter Games on cost and environmental grounds, and dissent over growing corporatisation and the Games' role in social cleansing of host cities. This history links the Rio Games with its football World Cup as celebration capitalism in action. It concludes with a clear agenda for reform of the Games, addressing issues of hosting, athletes' rights and the Olympics committee's democratic deficit.
Recent Olympic hosting discussions have seen several cities' bids halted by citizen-based resistance campaigns. As sporting mega-events become the focus of a growing number of activists, Power Games provides the basis for those campaigns to be better informed and more effective in building transnational, persistent activist links. For the rest of us, celebration capitalism is a vital lens through which to better read the world.