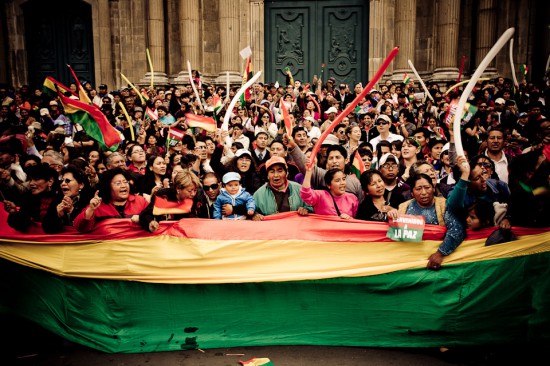 Photo: Szymon Kochanski
The profit motive which underscores the neoliberal paradigm is one of the greatest sources of both environmental degradation and spiralling economic inequality, which has resulted in the richest 200 individuals having more wealth than the poorest 3.5 billion. That last statistic alone should consign neoliberalism's 'trickle-down theory' to the dustbin of history. Its other great tenet, infinite growth, can be refuted with the simple common-sense fact that we live on a finite planet with dwindling resources. In order to tackle the problems of sustainability and inequality, what is required is not simply material innovations but a wholesale paradigm shift.
South America, so rapaciously ravaged by the strictures of neoliberalism, is at the forefront of this shift. At the turn of the millennium in Bolivia, a wave of popular protests led by grassroots democratic groups successfully ousted foreign water companies. They were protesting against a typical neoliberal structural adjustment policy, whereby institutions like the World Bank and IMF pressure developing nations into selling off their assets to foreign investment at bargain-basement prices. In this case it was the water supply, which quickly became so prohibitively expensive that poorer sections of Bolivian society could not access water.It proved to be the catalyst for Evo Morales's political career, culminating in his historic election as President in 2006, becoming the first democratically-elected indigenous president in Latin America since 1858.
Since coming to power, Morales has achieved the enviable feat of reducing inequality whilst securing economic growth; Bolivia's poverty rate fell by 26% between 2005-2011, yet growth has been averaging more than 4% a year since 2007. Whilst this has been far from a green revolution, with growth and income redistribution heavily reliant on the extraction of Bolivia's natural resources, Morales's long-term vision is centred around the notion of Suma Qamaña, or "living well".
This concept is not merely about material prosperity, rather it encompasses equilibrium between people and nature, a holistic wellness; to live well but not at the expense of others or the environment. It is enshrined in the new Bolivian constitution and can be seen in direct opposition to the neoliberal concept of progress, which amounts to unfettered exploitation of populations and resources for the good of a transnational elite. As Morales puts it: "We don't believe in the linear, cumulative conception of progress and of an unlimited development at the cost of other people and of nature. To live well is to think not only in terms of per capita income, but of cultural identity, community, harmony among ourselves and with Mother Earth." Central to the strategy is empowerment of the subjugated indigenous majority by disseminating economic surplus resulting from nationalisation of 34% of the economy.
As part of Suma Qamaña, Bolivia took the unprecedented step of recognising the environment as a legal actor. Law of Mother Earth grants Mother Earth, her constituent life systems, including human communities specific rights, including: the right to life; freedom from genetic alteration; the right to clean air and water; the right to equilibrium (continuation of cycles and vital processes); the right to restoration for life systems affected by human activities; and freedom from pollution and contamination. This is in sharp contrast to most common law countries, where nature and the environment are afforded very little legal protection from the insatiable appetites of polluting corporations.
Knowing better than most the devastating effects climate change can have, Bolivia is not content with passing a few domestic laws. Morales has been an outspoken critic of the richest nations' emissions, calling for cuts of 50% rather than the measly few offered up by the worst offenders.
Whilst Suma Qamaña and the Law of Mother Earth are heavily influenced by the Andean spiritual worldview centred around the earth deity, Pachamama, their principles still seem eminently exportable. One doesn't have to believe in a deity to cherish nature and the environment, and enshrining their protection into the political and legal systems makes intrinsic sense from both a survival and sustainability perspective. But it's not as simple as other countries just emulating a single law, if we are to achieve the wholesale paradigm shift needed we must also take heed of how Bolivia got to this point: true democratisation, led by the subjugated indigenous population, with meaningful participation by the majority, who are aware of the issues and actually shape the political agenda; rather than just crossing a box on election day and retreating for another five years.
Perhaps it's a hangover from the white man's burden that our leaders would be loathed to follow the example of the indigenous peoples of an 'underdeveloped' nation, or perhaps it has something to do with all the vested corporate interests that incestuously infest our democratic processes. Either way, it seems it's now the indigenous peoples' burden to make us see another more sustainable and equal way is possible.
Joe Turnball is a freelance journalist. This article is the runner-up entry in our young writers' competition, which asked entrants to write about a project or policy that addresses the environmental crisis and social or economic injustice at the same time. The judges were journalist George Monbiot and Red Pepper's environment editor Kara Moses. Thanks to everyone who entered. This competition was kindly supported by the following organisations: People & Planet, Shake!, Woodcraft Folk and the Young Greens.