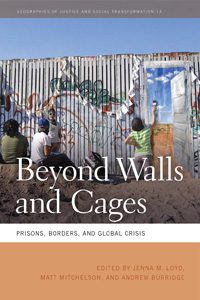 'Abolition not reform' is what best describes the political scope of this collection of essays and interviews about the incarceration policies of nation states and beyond. Telling tales of the criminalisation of both national 'criminals' and foreign 'illegals', the editors draw a precise and unsettling picture of the interconnections between national and international policies, ideologies and political economies of incarceration and migration.
Beyond Walls and Cages examines the disruptive and controlling nature of prisons and detention centres as well as border walls and the racist politics of nation states. The sharp increase in prison construction in the United States testifies to an increasing criminalisation and securitisation of civil society, justified by the 'wars' on drugs and terror.
The stories are local and global at once, bridging geographical distances to expose how space and its political use can no longer be neglected in the fight against the voluntary exclusion of people of colour. Topics range from apartheid – South African or other – to colonialism, from anti-racist struggles to the spread of Aids.
The editors' carefully assembled texts show how the clampdown on illegal migration and the 'war on drugs' (both predominantly targeting people of colour) complement one another in perpetuating white hegemony. Contributors demonstrate the deep impact of such policies on memory, communal and sexual identities, and health. They highlight the repercussions of such a brutal system not only on those in prisons, but also on the communities they eventually return to as well as the communities that become the increasing target of prison sites.
While academic in nature, Beyond Walls and Cages is at the same time a political manifesto calling for international solidarity. Its politics are directed against the regimes that long ago started to exploit post-colonial political, social and racial realities for the purpose of maintaining inherently exclusionary and discriminatory regimes and societies. Far from being solely directed at academia, this book is a political tool to be picked up, read and put to use.