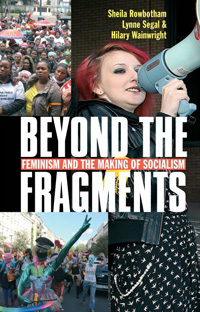 Jane Wills is right to identify Beyond the Fragments as 'a historic document', which 'reflects the state of the English left at the time'. But the importance of the book goes beyond the contribution its description and analysis of the British left in the 1970s makes to our understanding of the past.
When I first came across the book a few years ago, two of its main themes resonated strongly, and continue to do so. Firstly, as someone active over the past few years primarily in the anti-capitalist feminist collective Feminist Fightback, but having also been involved in a local housing group, a discussion group for radical teachers and my union branch, the question referenced in the book's title of how to move 'beyond the fragments' raises important questions about the form and function of revolutionary organisation.
Beyond the Fragments does not advocate broad-based community organising which sidelines political differences and leaves capitalism and patriarchy unchallenged. As Hilary Wainwright writes in the original introduction, what we must grapple with is how we go about 'gathering together all the different sources of strength, uniting the social power of the community with the industrial power of those in production, and pitching this popular power against the existing state'.
Secondly, the critique of the male-dominated Leninist left, developed particularly in Sheila Rowbotham's piece, is not a relic of the past but a reality of the present. Recent events in the SWP are a stark example of this, and her essay is well worth revisiting in this context.
Though the women's movement challenged the accepted orthodoxy of how revolutionary socialists should organise – critiquing the idealisation of the 'professional revolutionary', challenging hierarchy, seeing personal relationships as political issues, putting experience at the heart of politics, foregrounding questions of social reproduction – this struggle remains one which we are engaged in as feminists today. Beyond the Fragments remains essential reading for those interested in forging a different approach to revolutionary politics, one in which our forms of organisation prefigure in some way the imagined world beyond capitalism.
---
Red Pepper is volunteer-led and we rely on your support to be here. We strive to counter right-wing myths, to provide a space for debate across and to put forward alternative ideas for a more just society. Please support independent media at this crucial time while we face environmental crises and the destruction of the welfare state, become a Friend of Red Pepper today.
In return, you'll receive a subscription to the magazine plus invitations to events. To claim your free book email jenny@redpepper.org.uk to arrange delivery.