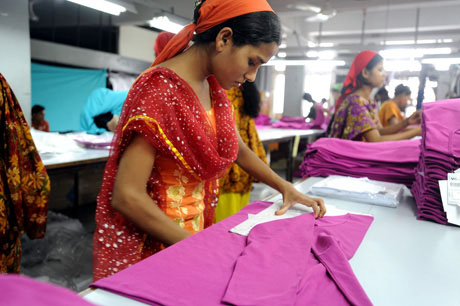 Britain is familiar with headlines decrying the sweatshop conditions in which high street clothes are made. Sweatshop workers are often presented simply as victims. Yet last year in Bangladesh, workers organised through the National Garment Workers Federation (NGWF) won an 80 per cent increase in the minimum wage in the garment industry. In a country where women are often expected not to take part in political life, more than half of the union's 27,000 members are female, a proportion that is reflected in its executive committee.
War on Want has worked in close partnership with the NGWF for many years, exposing the conditions in supply chains serving British retailers such as Tesco, Asda and Primark, as well as securing funds to help with the NGWF's organising on the ground. This partnership, along with that of other allies such as Labour Behind the Label, has made sweatshops an important issue in both the UK and Bangladesh.
The NGWF was founded in 1984. How has the union gone about improving the lives of garment workers?
Since 1984, the NGWF has been campaigning to ensure fair wages, equal rights, dignity and the empowerment of women garment workers. As well as organising workers in the factories into trade unions and factory committees, we have provided training and education, undertaken campaigning and lobbying in Bangladesh, and put pressure on garment factory owners, the government and multinationals. We have also won legal aid for victimised workers, as well as taking dispute resolutions through the established legal mechanisms. Mobilising solidarity between garment workers, retail workers and consumers in the North, and with trade unions in the South, has also been a priority.
What elements of the NGWF's work proved most successful in winning the minimum wage increase?
The most important strategy has been organising the garment workers themselves. Since our inception, the NGWF has been organising garment workers to fight for their rights, establishing 1,000 factory committees and more than 30 factory-affiliated unions. We have also been coordinating and gathering support from other unions and labour rights organisations to increase the minimum wage and campaign for a living wage.
However, another strategy which has become increasingly important has been putting pressure on factory owners, the government and companies by ensuring that a fair price is paid for garments made in Bangladesh. International connections have been crucial here – with other unions in the sector, and with labour and human rights organisations. We have also lobbied democratic and leftist parties which stand for workers' rights.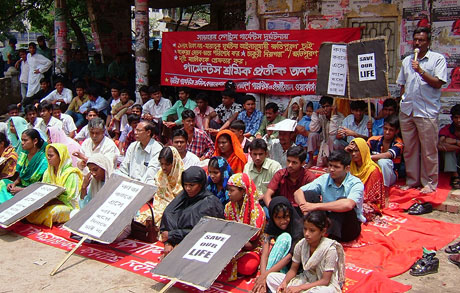 How has the involvement of women garment workers grown in significance over the NGWF's lifespan?
First of all, 85 per cent of the three million workers in Bangladesh's 4,500 garment factories are women. The garments those factories produce make up 70 per cent of the country's total exports, yet the workers are highly exploited. The size of Bangladesh's garment sector has grown significantly since the NGWF started, but the percentage of women workers has remained more or less the same. However, initially the percentage of women members in the NGWF was very low. Now our total membership exceeds 27,000, and more than 50 per cent are women.
Within the NGWF, the executive committee consists of 30 people, 17 of whom are women. Many of the leading positions, like vice-president, general secretary and treasurer, are held by women activists. In 1984, when we organised different types of demonstrations – rallies, meetings or protests – the number of women participating was low. Now, if you see a demonstration or a protest, the majority, probably around 80 per cent in fact, are women activists.
The third thing to say is that in 1984 the participation of women activists was met with negative comments by society in general. 'You are women, you are in a job, you are getting money and yet you are protesting,' they would say. Nowadays, these types of negative comments are not heard. In fact, the same type of people who were disparaging before are now clapping when there is a big demonstration of women workers. Finally, in 1984 there were lots of barriers imposed on women workers by their families – their fathers, brothers, husbands and mothers. Although this type of barrier still exists, it is not like before.
What are the barriers to organising garment workers?
There are lots. The legal system is the main one. The Bangladeshi government has ratified ILO Conventions 87 and 98 [guaranteeing freedom of association and collective bargaining]. However, according to the 2006 Bangladesh Labour Law, to be able to organise a union you need at least 30 per cent of the factory workforce. Secondly, when the union activists gather 30 per cent of the workforce, the union list is disclosed to the factory owner before registration with the labour ministry. Thirdly, other provisions in the labour law allow employers to dismiss staff when they are seen organising other workers; and often when factory workers organise, managers simply close down the factory. Nothing in the law can protect the workers from this. So there's a lack of protection for workers organising unions.
Besides the legal barriers, many of the owners of garment factories are civil servants and members of parliament. In fact, it is estimated that nearly 100 out of 300 MPs are directly or indirectly involved in the garment business. MPs have a lot of influence in all government bodies – police, inspectors and the law enforcement departments. The law is in favour of businesspeople and not garment workers.
Then there are issues around organising the workers themselves. Most come from marginalised communities. They are from rural areas, so aren't accustomed to urban life and their educational background is poor. Bangladesh is a male-dominated society – women are treated as second-class citizens. In the organising process women face a lot of prejudice from their families and from society as a whole when they engage with trade unions. This is why rights awareness education and campaigning is very important.
What are the most urgent campaigns and actions in this coming year?
There are several campaigns going on. Many people in the UK know that we managed to win an 80 per cent wage increase for the lowest paid jobs in the factories. This was agreed by tripartite negotiation and confirmed by the government, but it is yet to be fully implemented. In many countries of the global South, especially Bangladesh, the level of implementation is very low. The ratification and implementation of many international conventions is also lacking; the same can be said of the 2006 Bangladesh Labour Law. The minimum wage would not have been increased without the NGWF. So our current campaigns focus on the implementation of the new minimum wage and on improving health and safety conditions at the workplace to avoid factory fires and workers' deaths.
If people in the UK want to show solidarity with Bangladeshi garment workers, should they be boycotting multinationals that source clothes from factories with poor working conditions?
I don't think boycotting is the right way. If consumers want to show solidarity with the garment workers who produce their clothes, they should put pressure on the multinational companies that source from Bangladesh and other developing countries to ensure they respect workers' rights and pay a fair price for the clothes they buy. Putting pressure on governments in the North also has an important role to play in making multinationals responsible for their business practices in the developing world.
Laia Blanch is War on Want's international programmes officer on sweatshops and plantations