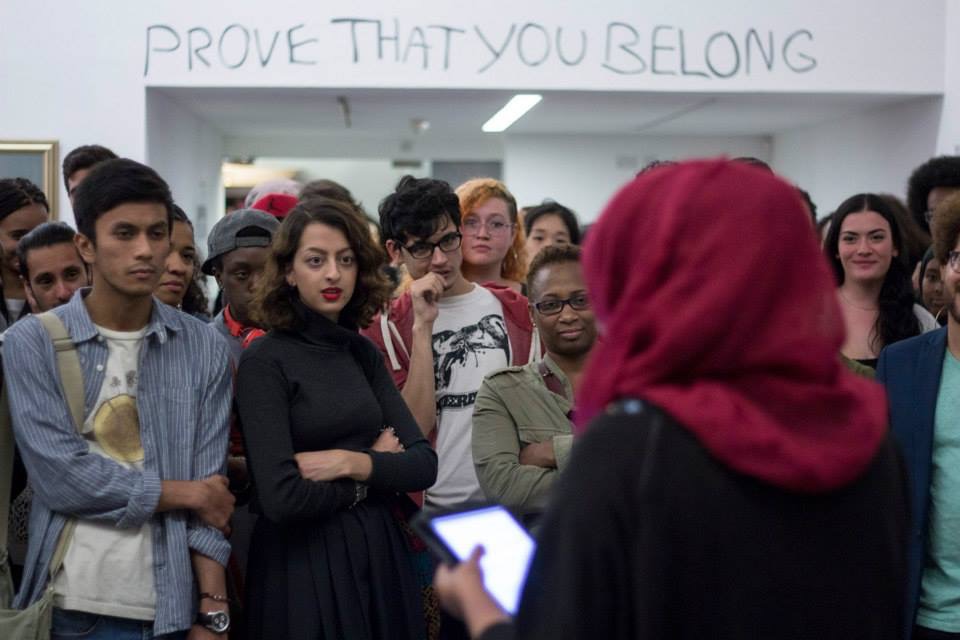 "Any citizen of this country who figures himself as responsible – and particularly those of you who deal with the minds and hearts of young people – must be prepared to go for broke." (A Talk to Teachers, or A Negro Child and his Self Image, 1963) 
RELOADING BALDWIN'S NIGGER by Barby Asante
Baldwin's Nigger Reloaded is a project I developed in collaboration with sorryyoufeeluncomfortable, a collective of young artists, writers and activists that I mentor and collaborate with.
Produced by agency for agency's Teresa Cisneros, the project begins with Horace Ove's 1969 film Baldwin's Nigger, which records a dialogue with James Baldwin and Dick Gregory at the West Indian Student Centre in London in 1968.
Hosted by members of the Caribbean Artists' Movement, Baldwin's polemic covers timely topics such as the legacy of slavery, black power and integration, the political conditions that led to race riots, religious extremism, American Imperialism and the Vietnam War.
With questions posed from people present in the room, the dialogue following his speech opens into an experience of the British post-colonial experience of the world and being black.
A provocative question is posed asking, where does Baldwin think the black man will be in 50 years time?
Baldwin's answer is optimistic, speaking of a black state of mind, a future sense of pride that could in turn bring forth a new kind of identity.
Baldwin's Nigger Reloaded is a performance work that reflects on the question posed by that audience member nearly 50 years down the line.
By transcribing and rewriting Baldwin's provocation with a variety of people in different places and at different times, each new iteration invited people to bring their ideas, experiences and views to the table to rescript the text.
Below is an extract is from Baldwin's Nigger Reloaded at Eastside Projects, Birmingham (2015), written and performed by Barby Asante, sorryyoufeeluncomfortable's Laurel Hadleigh, Anni Movsisyan and Deborah Findlater, with Karen McClean, Chantal Pitts, Albert Smith and Nathaniel Grant:
I have no specific ancestral home other than the place I was born. 
Which is England. 
England 
Part of the United Kingdom
King- Dom! 
Part of Great Britain
The  island in the surrounded by sea
The English Channel and North Sea separating us from mainland Europe 
And the Atlantic Ocean the gateway to the world
My arrival at this place is a series of complex journeys and connections. 
Which began somewhere before documented herstories began
Somewhere in the gateway
In the oceans 
On ships that carried the ancestors of my father
To the auction block
And my mother's people worked the land 
And their births and deaths were not registered until they needed to use their bodies 
To labour in factories 
Turning iron ore into steel!
And I tell you that story, to dramatise the problem of racial identity, 
I am black/mixed race British, 
but the rejection from a significant portion of the white British community 
whilst growing up here has left me feeling unable to be proud of my Britishness. 
So I have searched elsewhere for my authentic racial identity. 
Trying to find a place of acceptance.
Britain seemed to forget its colonial and industrial past
It seemed to not wish to own it's vociferous need for power, wealth and land
Taken from people considered lesser than them
It seemed to forget the blood shed
The women violated 
The children 
Deformed and desperate
Left without parents 
For me the work comes out of a number of questions about how to speak about our presence as people of colour in the UK.
How do we speak about our histories, when they are erased and not officially taught?
How do we connect the stories and experiences of the different generations to develop a strong community that can move forward powerfully asserting their right to be here?
 How do we speak about our histories, when they are erased and not officially taught?
The speech in Baldwin's Nigger, as with many of Baldwin's writings, seemed to offer an opportunity to reflect, reassess and create propositions as Baldwin always seems to leave us with a call to arms, a question, a proposition.
His London speech ends with the words "We should figure out what to do". This is what our young people are attempting to do and as a teacher and an artist who walks upon the shoulders of artists like James Baldwin I take the call from him I used at the beginning of this piece about working with our young people very seriously.
Click here to listen to the sound piece created by G-Marie as an intro to Baldwin's Nigger Reloaded:
WORDS THAT RING LIKE REVOLUTIONARY TINNITIS by Rabz Lansiquot
Since first hearing them, in Baldwin's simultaneously soothing and arresting rhythmic intonation, these words play at the forefront of my consciousness. They ring like revolutionary tinnitus. When silence overwhelms they remind me of my own voice. When I submit to making myself small they remind me to take up space. When I am drowning in the total climate of anti-Blackness, when I feel hopeless and terrified, Baldwin teaches me to breathe, to swim, that I am the weapon of mass destruction so feared.
 "When you try to stand up and look the world in the face, like you had a right to be here…you have attacked the entire power structure of the Western world."
The last 4 years have been historic. Black and brown resistance is fresh, fierce, unapologetic and unrepentant. It is more radically inclusive than ever. Young Black and brown folk are doing just as Baldwin says. They are staring white supremacy right between the eyes and they are saying, 'You do not know us. You do not define us. You will not rule us.'
And as the last 18 months in Global politics have shown, white supremacy is feeling very, very, attacked.
We, as Black, queer subjects are, to borrow Moten's term, in a state of "ceaseless fugitivity". Baldwin asks us to embody this state as a praxis of collective action. To rip the rotting heart out of the beast while it attempts to devour us. To be ourselves. For each other. And always with love. He reminds me that I am enough. That we are enough. And that we will win.
PROPHET OF INTERSECTIONALITY by a member of sorryyoufeeluncomfortable
I came to James Baldwin in 2011 when a friend 'had a breakdown' and left school. Following this, his roommate moved to New York City where he made a living stealing books and selling his time as research participant to New York University's department of psychology. When I visited he gave me a copy of Giovanni's Room, saying it was the nearest explanation of what had transpired that year in their room.
Young Black and brown folk are doing just as Baldwin says. They are staring white supremacy right between the eyes and they are saying, 'You do not know us. You do not define us. You will not rule us.'
After moving to Baltimore I reread Andrea Dworkin's Intercourse looking for answers to personal questions. I thought she had damned the book but I was wrong and she was into it. I went through Notes of a Native Son and The Fire Next Time that spring on the commute to work. Relationships were dissolving so I switched texts, returning again and again to this passage as though it could account for something or give a program for what should be done:
The white man's unadmitted, and apparently, to him, unspeakable private fears and longings are projected onto the Negro. The only way he can be released from the Negro's tyrannical power over him is to consent, in effect, to become black himself, to become a part of that suffering and dancing country that he now watches wistfully from the heights of his lonely power and, armed with spiritual traveller's checks, visits surreptitiously after dark. (The Fire Next Time, 1963)
That summer I drove with my family to Memphis, Tennessee under the twin influences of my father's love for Graceland and my mother's for If Beale Street Could Talk. Like any good road trip, like Baldwin himself, it unsettled the question of what (and why) America is. The answer gained from the trip was that Americana was deathly.
 "But white Americans do not believe in death, and this is why the darkness of my skin so intimidates them. And this is also why the presence of the Negro in this country can bring about its destruction."
From London, Baldwin appears retrospectively to crystallise my political education: an unrelenting announcement of this intractable antagonism– but, at the same time, revealing this founding to be a doggedly persistent "myth". From here and at this moment, the movement toward the receding horizon of its dispelment (as constitutive as transcendental illusion) appears as the movement of freedom – what he would elsewhere call the "means of liberation".
Marvelling with Baldwin:
"Once I was able to accept my role— as distinguished, I must say, from my 'place' — in the extraordinary drama which is America, I was released from the illusion that I hated America" (The Discovery of What it means to Be an American, 1959)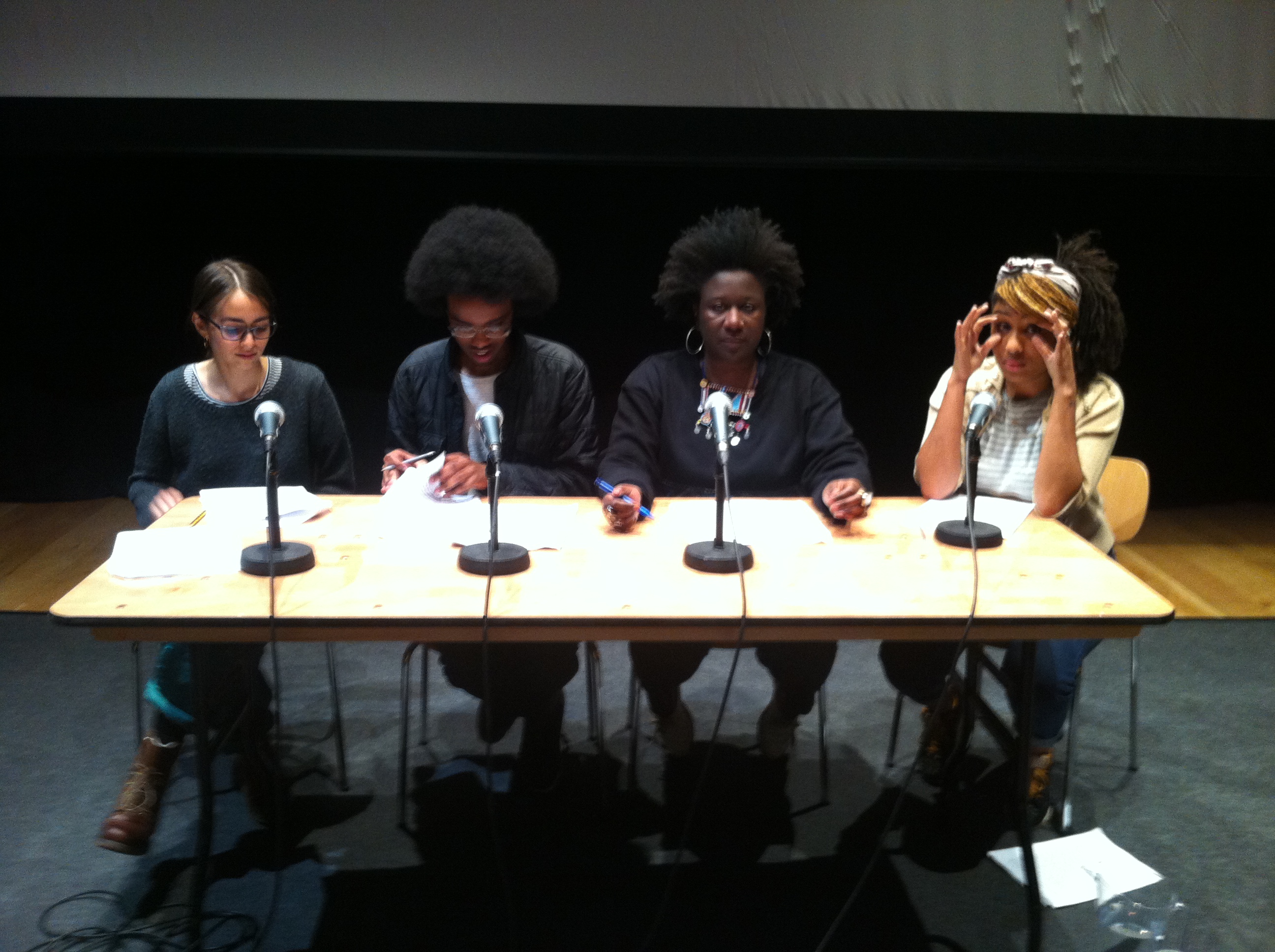 TEACHER OF LOVE by Imani Robinson
Sometimes when I am sleeping or when I am minding my own business or when the music is very loud and very black and I am scheming about the revolution with the bridge of my back, Jimmy's face pops up with its wise creases and wide smile and those big round eyes that make you rethink where you are and what your name is and the shapes you make with your mouth when you try to let somebody know who you really are.
James Baldwin, queer-Black-gift-unto-the-universe; vessel from God or some other unholy place. Have you read him? Read him again, or read him for the first time and dwell for a while in your transformation. Take some time for your eyelids to part and for the cocoon that wraps you now to gently loosen. Embrace infancy.
Jimmy says 'Love does not begin and end the way we seem to think it does. Love is a battle, love is a war; love is a growing up.' I think I have only ever found the love Baldwin is speaking about in freedom dreams, and even then I have to re-member it often. I dream about freedom, feel it on my skin. I watch as it jumps across my face. Sometimes I miss it completely.
I think I grow up every time I hear his words, and at precisely the same moment I feel just like a child – a child of all the Black revolutionaries whose existence came before me and who rewrote the meaning of life with their living.
Barby Asante  is a London based artist, curator and educator whose work explores place and identity through creating situations and spaces for dialogue, collective thinking, ritual and reenactment. @barbyasante
Formed out of the Baldwin's Nigger Reloaded Project initiated by artist Barby Asante and curator Teresa Cisneros, sorryyoufeeluncomfortable is a collective united by a rejection of the idea that we are living in a post-racial, post-patriarchal, post-heteronormative and post-colonial society, and a desire to challenge and critique these dominant structures. @SYFUCollective