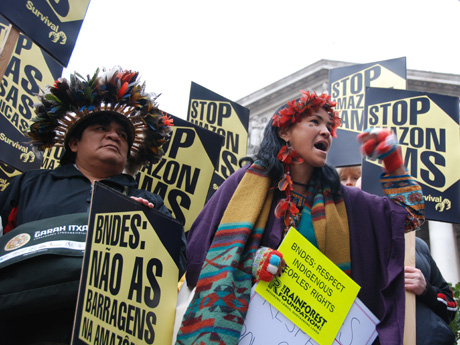 Each year, news about climate change gets more alarming. Greenhouse gas emissions from energy generation reached their highest level ever in 2010, according to the International Energy Agency (IEA), with a record 30.6 gigatonnes (Gt) of carbon dioxide pouring into the atmosphere, mainly from burning fossil fuel – a rise of 1.6 Gt on 2009. Early indications suggest that the figure will be even higher this year.
IEA scientists believe that it is now all but impossible to prevent a global temperature rise of less than two degrees Celsius, the threshold for 'dangerous climate change'. So it is now almost certain that we – or our children and grandchildren – will have to live in a world where food and water supplies are severely disputed, where sea levels will rise massively, flooding the homes of hundreds of millions of people, and where thousands of plant and animal species will be exterminated.
Unless action is urgently taken to reduce greenhouse gas emissions dramatically, it could get much worse. As 'positive feedbacks' are triggered, the world could face runaway global warming. More than ever before, the earth needs a courageous nation, big enough that its voice cannot be drowned out, to work with social movements and activists to put an end to this senseless slide into self-destruction, caused above all by the inability of corporate capitalism to focus on anything but short‑term profit.
No country seems better placed than Brazil to take on this role. Luiz Inácio Lula da Silva, a charismatic working-class president, recently completed eight years in government, in which he won widespread respect for his success in lifting 20 million Brazilians out of absolute poverty and for his willingness to confront the US and Europe over their financial irresponsibility.
President Lula used his huge prestige in Brazil to get his protégée, Dilma Rousseff, elected as his successor. Dilma, a guerrilla fighter in the 1970s who risked her life in the struggle to create a more just Brazil and was tortured by the military government then in power, is the country's first woman president.
In June 2012, a big global conference will be held in Brazil. Formally called the UN Conference on Sustainable Development, the event is known as Rio+20 because it is taking place 20 years after the first Earth Summit, held in Rio de Janeiro in 1992. It is an extraordinary opportunity for Brazil to lead the world in taking stock of where it has gone wrong over the past 20 years and in suggesting new ways forward, outside the tortuous and ultimately doomed UN negotiations.
Reasons to be fearful
Will it happen? Straddling the equator, Brazil has more reason than most nations to fear climate change, with many scientists predicting that tropical countries will be the first to be affected. Its rich farming land, which has turned Brazil into the world's leading exporter of many crops, is already being affected by serious droughts. It is also suffering from severe flooding, storms and even hurricanes, which is something new for the country. After two severe droughts in five years, of the kind that are supposed to hit the region only once in a hundred years, there is now a real risk that the Amazon basin could change from being an important carbon sink into a net emitter of carbon dioxide, thus making global warming much worse. It is one of those possible positive feedbacks that are worrying scientists so much.
Despite these growing signs of an environment under stress, government policy has been slow to respond. Both Lula and Dilma belong to the Workers Party (Partido dos Trabalhadores – PT), set up by left-wing trade unionists in 1982. Although social welfare has long been a PT concern, the party has failed to grasp the seriousness of the environmental crisis.
When Lula eventually became the country's president in January 2003, the PT took important policy initiatives on some fronts. Along with its policies to combat poverty, it increased the role of the state in the economy, putting an end to the privatisations and state-sector cutbacks that had occurred under the neoliberal government of Lula's predecessor, Fernando Henrique Cardoso. But rather than building up the state as an autonomous power that would defend the interests of the people, Lula's government decided instead to pour huge sums of money into a tiny, carefully selected group of Brazilian companies, so that they could become powerful multinationals, competitive throughout the world.
The big corporations, most of which work closely with foreign multinationals, have pushed ahead with huge projects in mining, ethanol, paper and pulp, oil and gas, hydroelectric power and farming. To provide them with energy, the government is building or planning to build 60 hydroelectric power stations in the Amazon basin. This model of development, which was strongly promoted by Dilma Rousseff when she was minister of mines and energy in Lula's government, is doing a great deal of harm to ecosystems.
To start with, contrary to widespread belief, hydroelectric power stations are not environmentally friendly, particularly in tropical regions, largely because of the methane, a deadly greenhouse gas that is far more damaging than carbon dioxide, that is emitted from the reservoirs and the turbines. Philip Fearnside, a scientist at the National Institute of Amazonian Research (INPA), found that greenhouse gas emissions from the hydroelectric production of the Curu-Una Dam in Pará state were 3.5 times higher than they would have been if the electricity had been produced by a fossil fuel-burning counterpart.
Then there is the impact of the big projects themselves. As yet, the Brazilian authorities have never managed to prevent a disorderly and environmentally destructive influx of loggers, cattle companies, agribusiness and peasant farmers when it has opened up a region for development, and, despite efforts to protect large areas of forest by creating reserves and parks, few Brazilian environmentalists are confident that they will be any more successful in the future.
Refusing to listen
Will anything change under Dilma? The signs are not good. The government is refusing to listen to the concerns of local people, including indigenous groups, over the construction of the giant Belo Monte hydroelectric power station along the Xingu river in eastern Amazonia. It is now pushing ahead with construction, even though Brazil's independent state prosecutors and 18 institutions, including the Brazilian Academy of Sciences, have been highly critical of the project. Even the Inter-American Commission on Human Rights at the Organisation of American States has called for work to be suspended, pending further consultations with civil society.
Equally worrying has been the government's inability to stop the House of Representatives in Brasilia approving a bill that would radically reform the country's 50-year-old Forest Code, even though the code is widely regarded as an inspiring piece of early environmental legislation. The bill is the brainchild of a deluded leftie, congressman Aldo Rebelo of the Communist Party of Brazil (PC do B). When Lula came to power, the PC do B found itself out in the cold, as the PT aligned itself with centrist and right-wing parties to maintain a majority in congress. Aldo Rebelo's response was to team up with the communists' class enemy – the landowners and agribusiness capitalists who form one of the most powerful and virulent lobbies in congress, which has become known as the bancada ruralista.
The bill, which still has to be approved by the senate, would drastically reduce conservation areas and open up fresh swathes of the Amazon to farming. The bill also offers an amnesty to farmers (including, of course, many in the bancada ruralista) who have illegally cleared protected areas. Brazil's scientists have protested en masse, warning of increased soil erosion, reduction of rainfall and an increase in greenhouse gas emissions.
The response of Rebelo and the rural lobby, however, has been to ignore the scientists, and claim that the protesters are all 'eco-terrorists' in the pay of foreign governments, who want to sabotage Brazilian commodity exports. Even before it has been approved, the bill has had a disastrous effect. Deforestation in the Amazon rainforest has soared, because landowners are now confident that protected areas will be reduced and they will be amnestied. Several peasant farmers, including a married couple, have been ambushed and shot dead, apparently by the illegal loggers they were denouncing, who now feel empowered.
There is, however, one encouraging new development – a change in public opinion. The campaign against Belo Monte is gaining momentum, with the involvement of many different social groups. A recent opinion poll carried out by the Folha de S Paulo newspaper found that 85 per cent of the public believed that any change to the Forest Code should give priority to the protection of the forest, even it means a decline in agricultural output. Twelve carnival schools in Rio carried out what they called a desfile-manifesto (roughly translated as a 'dancing demo') along Copacabana beach in protest against the changes to the Forest Code and the decision to push ahead with the construction of Belo Monte.
Small beginnings perhaps, but indicative of the way many Brazilians are realising that it is not enough to vote into power a left-of-centre government. Popular pressure must force that government to rule in the interests of everyone, not just big corporations.
Change could happen
Will this new awareness turn Rio+20 into an event that really changes the way Brazil deals with environmental problems, particularly climate change? It could happen. The government is planning scores of activities around the gathering. If these are to be more than greenwash, then activists and NGOs must work with those within government who are sympathetic to their cause – and there are a lot of them – to obtain meaningful advances.
Xingu Vivo Para Sempre, an alliance of indigenous and fishing communities that is fighting to prevent the hydroelectric projects destroying their traditional way of life, clearly believes that Rio+20 gives it an excellent opportunity to shame the government into giving in to their demands. It recently published a press release in which it asked: 'What moral authority will the government have when, before the whole world represented at Rio+20, it is publicly denounced for the crimes against the environment it has permitted, encouraged or committed?'
Greenpeace Brasil is talking about using the conference to get the Brazilian government to commit to a 'zero deforestation' law. A new organisation, Sociedade Civil Brasileira para a Rio+20, has been formed to get social movements and NGOs to take part in what is hoped will be gigantic mobilisations in Rio to call for radical action on climate change and a new approach to development.
Change is underway in Brazil and it should gain momentum from Rio+20. Whether it will force the government to rethink its disastrous pro-development policies quickly enough to prevent catastrophic climate change is, unfortunately, another question. n
Sue Branford is a freelance writer and an editor at the Latin America Bureau (www.lab.org.uk)