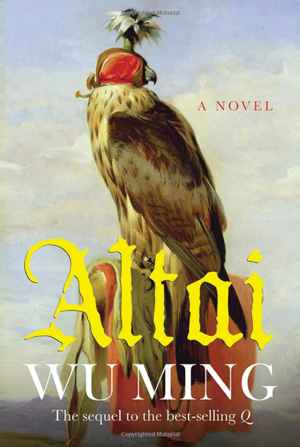 Altai is the latest novel by the radical Italian writing collective, Wu Ming, to be translated into English. After having explored the cold war ('54) and the American war of independence (Manituana), Wu Ming return to the 16th-century world of their first novel, Q. Written under the previous nom de plume of Luther Blissett, Q was a sprawling epic set within the borders of Christendom during the reformation and its accompanying political upheavals. Altai takes us further east to the Ottoman empire of Selim II during a period of intense inter-imperial struggle within the Mediterranean, which would soon culminate with the naval battle of Lepanto.
The central protagonist, a Venetian secret policeman hiding his Jewish heritage, is forced to flee the city state after he becomes a convenient scapegoat for an episode of sabotage. Ending up in Constantinople, he finds himself drawn into the intrigues of the Ottoman court as a wealthy merchant seeks to carve out a homeland for Jewish refugees.
Whereas Q focused on the class struggles of peasants and artisans, Altai takes us into a different political realm. Through this shift in perspective the authors ponder familiar questions anew: the meaning of victory and defeat and how we come to struggle, as well as continuing an engagement with imperialism most thoroughly covered in Manituana.
Despite the significant shift in perspective, the authors keep their left libertarian sympathies visible. A character who first appeared in Q serves as the authors' voice to remind us that, 'Freedom . . . never stays the same; it changes according to the way you hunt [it]. And if you train dogs to catch it for you, you may just bring back a doggy kind of freedom . . . Over the years, I've learned that the means changes the end.'
Altai is the shortest novel Wu Ming have written and this helps to keep it focused and purposeful throughout. It is well written, packs a political punch beneath its strong narrative and brings the complex, hybrid nature of the 16th‑century Mediterranean to life.