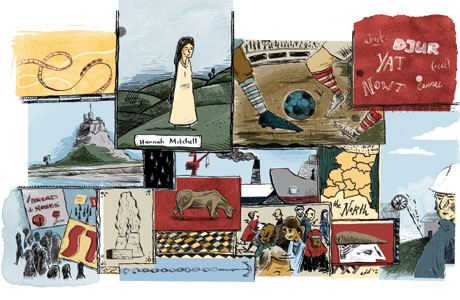 Illustration: Hey Monkey Riot (Edd Baldry)
The political shape of the United Kingdom is changing rapidly. The debate over Scottish independence is only the most obvious sign of a major shift, together with last year's overwhelming vote for more powers to be given to the Welsh Assembly. In addition to Scotland and Wales, both Northern Ireland and London have substantial devolved powers. That leaves the English regions.
Some cities are having referenda on elected mayors and police commissioners are to be voted for later this year. Both are little more than political window-dressing and solve none of the problems of the continued dominance of centralised 'London' government over the English regions. While Scotland and Wales assert increasing control over a whole swathe of services, including health, education, social care and transport, Whitehall remains very much in control in England, despite posturing about 'localism' and the 'big society'.
This isn't just a northern problem, it affects all the English regions; but the impact of coalition policies is being felt disproportionately in the north. There is increasing evidence that the 'north-south divide' is back with a vengeance. Research by IPPR North has shown a widening social and economic divide within England. The north is experiencing higher unemployment, more business failures, lower life expectancy and less investment in basic infrastructure such as transport. Property prices, a good indicator of economic well-being, continue to fall in the north while rising in the south east.
Few of these problems can be solved by a top-down approach from central government. A growing number of people are recognising that regional government for the north could help redress these inequalities and give a major impetus to the revival of economies that have never fully recovered from the battering of the Thatcher years. England remains one of the few nations in Europe not to have some form of elected regional government and a large body of evidence shows that regenerating declining industrial areas needs a strong regional focus, with accountable politicians working with industry, unions and the wider community (summarised in my book Socialism with a Northern Accent – see below).
Disastrous referendum
Among the Labour politicians who supported regional devolution, some have yet to recover from the disastrous 2004 referendum in the north east, which sent a very clear 'No thanks' to Tony Blair and John Prescott. It was seen as another layer of bureaucracy with little power. Devolution in Wales and Scotland was still in its infancy and had yet to prove itself. As one Yorkshire MP, Angela Smith, said recently, 'This time we have to do it – no half-baked proposals with few powers!'
There are important lessons to be drawn from the 2004 experience. There are good arguments to look at 'the north' as a whole and include Yorkshire, the north east and north west in a 'super-region' with powers similar to those enjoyed by the Scots. This should emphatically not be about taking power away from the local level but gaining a range of powers from Whitehall and Westminster. The slide into serious economic decline will not be reversed by under-resourced local authorities on their own, and there is a desperate need for strategic intervention at the regional level to develop a vibrant northern economy.
The regional development agencies (RDAs), despite enjoying strong cross-party and business support, were abolished by the coalition government, leaving regions such as the north even more vulnerable to the vagaries of London civil servants. What was promoted as a measure to 'cut bureaucracy' was more about taking power back to the centre and replacing effective, albeit unaccountable, RDAs with the under-resourced and equally unaccountable local enterprise partnerships (LEPs).
A pan-northern regional development agency, as part of an elected northern assembly, could make a huge difference, including for transport infrastructure and sustainable development. The north has an almost colonial-style transport infrastructure, with the main transport corridors mostly running north-south, rather than including strong east-west links. A northern transport agency, working as part of an elected Assembly, could bind the north of England together through improved rail links and support city‑regions through funding for tram, train and bus schemes.
On the economic front, George Osborne's idea that all the jobs being stripped out of the public sector will be automatically replaced by private sector growth will condemn many parts of the north to years of stagnation and decline. Intervention – at the right level – is needed. A northern assembly could establish a northern development agency to work with local authorities and businesses to promote balanced regional development, including support for new business initiatives such as co-ops and social enterprises. The agency should have resources to commission research and development and work closely with the university sector. We had a glimpse of this in the days of Ken Livingstone's GLC in the 1980s, and we need to re-capture some of that energy, radicalism and innovation today. Elsewhere in Europe, regional governments have led the renaissance of former textile, mining and steel-producing areas with investment in new manufacturing jobs, grants and loans to emerging businesses, training and research.
New vision
The Hannah Mitchell Foundation – an ethical socialist campaign for elected regional government in the north – has recently been established with the aim of re-shaping English centre-left politics and developing a new vision for a distinctive democratic socialism rooted in the struggles of northern working class people, epitomised by Hannah Mitchell (see right). We have to get away from the lingering prejudice that socialism is about top-down solutions and a 'one size fits all' approach to the UK.
Nobody would underestimate the difficulty of moving towards regional government for the north, or for that matter other English regions. Yet the need to counter the economic and political dominance of the south east and build strong economic and cultural relationships with the increasingly confident and autonomous Scots and Welsh is becoming clear. There is much that the left in England can learn from the experience of Scotland and Wales, in particular Labour's imaginative reconstruction of a socialism that puts 'clear red water' between Wales and London.
An 'English parliament' is not the answer to the north's problems, since it would only reflect and consolidate existing inequalities. The north needs its own voice, as part of a more democratic England within the UK. We hope other English regions will want to go down the same road – but that is for them to decide.
It's early days but the foundation has already attracted lots of interest and could become the catalyst for a new approach to progressive English politics. People's identities operate on many different levels and we're starting to find a reawakening sense of 'being northern'. That isn't about being anti-south; it's being pro-north.
Paul Salveson's Socialism with a Northern Accent – Radical Traditions for Modern Times is published by Lawrence and Wishart. Red Pepper readers can get the book at a reduced price of £11.99 on 020 8533 2506 or email info@lwbooks.co.uk
---
The Hannah Mitchell Foundation
The Hannah Mitchell Foundation has been formed to campaign within the labour movement for a new approach to regionalism that learns the lessons from past struggles and moves forward with a radical agenda. Its steering group includes Labour Party members, Greens and non-aligned socialists.
We are becoming a forum for the development of a distinctive democratic socialism in the north, rooted in our ethical socialist traditions of mutuality, co-operation, community and internationalism. Our focus will be to build the case for directly-elected regional government for the north based on the principles of democracy and subsidiarity, social equity and justice, and sustainable development.
The foundation is named in memory of an outstanding northern socialist, feminist and co‑operator who was proud of her working class roots and had a cultural as well as political vision. Born in rural north Derbyshire in 1871, Hannah Mitchell was an activist in the fledgling Independent Labour Party and the women's suffrage movement. Her socialism was of the ethical, humanistic kind, which became so popular across the north where the ILP was strongest.
This kind of politics, in her words, 'attracted a type of socialist who was not satisfied with the stark materialism of the Marxist school, desiring warmth and colour in human lives: not just bread, but bread and roses too. Perhaps we were not quite sound on economics as our Marxian friends took care to remind us, but we realised the injustice and ugliness of the present system. We had enough imagination to visualise the greater possibility for beauty and culture in a more justly ordered state.'