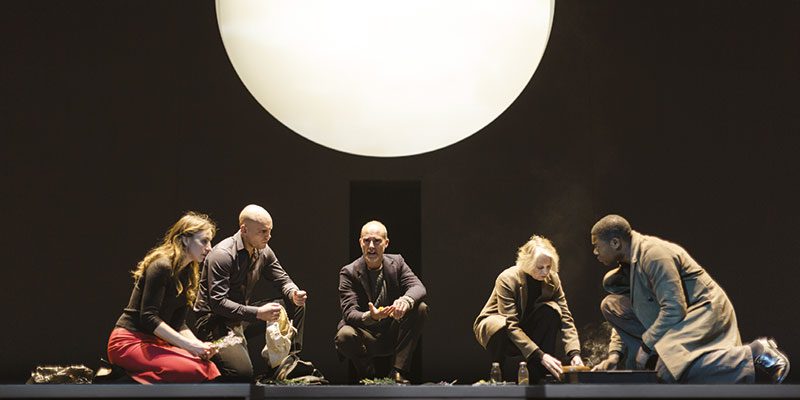 Ivo van Hove's production of Antigone at the Barbican. Photo: Jan Versweyveld
It's hard to imagine what Sophocles would have made of Stink Foot, Jeff James's adaptation of his play Philoctetes at The Yard, Hackney, recently. Staged in a pool of treacle, which ends up splattering actors and the front row of the audience alike, it boasts of being a 'bold and messy retelling' of the play first performed at the Festival of Dionysus in 409BCE during the Peloponnesian War between Athens and Sparta. The treacle was supplied by Tate and Lyle, taking Tate sponsorship of the arts to a whole new level of stickiness.
Philoctetes was dumped on an uninhabited island by Odysseus and his mates on their way to the Trojan War after his leg started to fester from a snake bite and they couldn't stand the smell any more (hence 'stink foot', hence the treacle). Nine years into the war, though, an oracle tells them that they'll never win until Philoctetes joins them with his magic bow. Odysseus dispatches Neoptolemus, the son of Achilles, to trick Philoctetes into giving up his bow and coming along to bail out his former comrades.
The production gives a modern twist to the ancient Greek practice of having only male actors, even for female parts, by casting a woman as Odysseus and Heracles, the deus ex machina who sorts everything out at the end. And it opens with Neoptolemus working out to a loop of Meghan Trainor's hit 'All About that Bass' – a song that offers a different take on the usual modern attitudes towards the female form: 'You know I won't be no stick-figure, silicone Barbie doll.' You get the feeling that if Jeff James had been curating the new British Museum exhibition about the body in ancient Greek art (26 March-5 July), he'd have titled it 'Defining booty' rather than beauty.
It was all about the bass at the start of the Theatre Royal Stratford East's production of Sophocles' Antigone too. Produced in collaboration with the Derby Theatre, where it opened in September 2014, it went on tour before its run in London this spring. Super subwoofers had the building vibrating for the concrete-basement, warehouse-wasteland stage set that gave a gang-culture angle to the old tale of Oedipus's daughter defying the new king Creon to provide her brother Polynices with a proper burial.
The Theatre Royal has a glorious history of reaching out to new audiences going back to when Joan Littlewood and her Theatre Workshop company turned a decaying Victorian structure in London's east end into a 'people's theatre'. Its output has ranged from Oh What a Lovely War! and Barbara Windsor to Five Guys Named Moe and The Big Life, the first black British musical to transfer to the West End.
There's a little-known tribute to Littlewood engraved on the fence around an electricity substation next to the Olympic stadium. Caroline Bird's poem was one of five commissioned for the Olympics:
'She wanted a university of the streets.
No cup and saucer hats. She chain-smoked.
She said, "To hell with them." She changed the world.'
Roy Williams' production with Pilot Theatre, aimed at teenagers and young adults, is a fitting heir to this tradition. There are CCTV cameras representing the watching gods, Antigone becomes 'Tig' and the love interest between her and Creon's son Haemon gets a more central role than in the original. But Sophocles would recognise his play here, and the ancient Greek audience would recognise the conflicts played out between the state and family (here gang and 'fam'), men and women, secular and divine.
Antigone was also playing at the Barbican this spring, with Oscar-winning Juliette Binoche in the title role and a sample from Lou Reed's Heroin building to a dramatic musical akmé. This was the second major production of the tragedy in London in less than three years, following the National Theatre in the summer of 2012 with Christopher Eccleston and Jodie Whittaker.
The Barbican used a new translation by T S Eliot Prize-winning poet Anne Carson. The National used Don Taylor's version, originally commissioned by the BBC for its 1986 Sophocles trilogy The Theban Plays.
Taylor has Antigone tell Creon:
'All these, these senators of yours,
They all agree with me in their hearts.
But there is no gag like terror, is there
Gentlemen? And tyrants must have their way.'
Creon responds that:
'You should be ashamed
Setting yourself up against the majority,
Disregarding the will of the people.'
This single exchange illustrates both the enduring relevance of Sophocles' work and the multiple interpretations it makes possible. 'There is no gag like terror' (another translation refers to 'lips . . . frozen shut with fear') could today be applied with equal effect in the context of the Charlie Hebdo and Copenhagen killings and in relation to state-sponsored oppression and violence.
Berthold Brecht's 1948 production opened the play in a Berlin air raid shelter, with Creon as a manic 'Mein Führer' and Antigone an anti-fascist hero. Prisoners on Robben Island turned it into an allegory of South African apartheid, with Nelson Mandela playing a cruel Creon and Antigone cast as a freedom fighter standing up against injustice. One of the reasons why the plays of Sophocles and the other Greek tragedians have been revived so often and in so many places is that even the most censorious of regimes tend to miss the fact that 2,500-year-old texts by ancient writers can still speak loudly and clearly to modern audiences.
With no one has this been more the case than with Sophocles' younger contemporary Euripides. More of his plays (18 or 19) have survived complete than those of Sophocles and the third great Greek tragedian Aeschylus (seven each) combined. Euripides' Trojan Women, written in the year that Athens sacked the neutral island state of Melos, killed all its adult males and sold the women and children into slavery, remains one of the most powerful anti-war plays ever written. As well as Katie Mitchell's brutal 2007 production at the National, it has drawn many recent interpretations, for obvious reasons, including Olympics poet Caroline Bird's version set in the mother and baby unit of a women's prison.
Coming from such a patriarchal society, it is striking how important women's stories and outlooks are in Greek tragedy. Another popular Euripidean revival, Medea, which was at the National last year, is one of three tragedies (this one a new version by Rachel Cusk) featuring in the Greeks season at Islington's Almeida Theatre later this year. It tells of the awful revenge exacted by Medea against her husband Jason (of Argonauts fame) when she murders their children. Set aside the fact that this is a crime most commonly committed by men. Euripides' Medea is no caricature devil-woman. She is portrayed with depth, even empathy; the transgressive nature of her action is the very thing that shakes up and challenges received notions of what women should be.
Euripides' The Bacchae, staged in March at Theatro Technis in Camden with masks specially created for the predominantly female cast, is also due to feature in the Almeida season. The sheer horror of the play has a freshly potent contemporary resonance in the light of Islamist and other religiously-inspired fanaticism. It culminates with Pentheus, the ruler of Thebes, being torn limb from limb by devotees of the god Dionysus led by his own mother because he has failed to show the god due respect.
His mother, entranced by Dionysus into thinking that she has killed a young lion, parades Pentheus's head through the streets of Thebes until eventually she is brought to her senses with the awful realisation of what she has done. Even then, Dionysus is not satisfied, imposing exile and unending misfortune on the whole family.
'Your actions against us are too severe,' protests Pentheus's grandfather Cadmus. 'I was a born a god and you insulted me,' says Dionysus. 'Angry gods should not act like humans,' argues Cadmus, to which Dionysus simply responds 'My father Zeus willed all this long ago' before turning Cadmus and his wife into serpents.
I have a proposal, if I can find a theatre bold enough to stage it, to produce a version of The Bacchae set in Raqqa or Mosul, with the chorus masks replaced by burkas and Abu Bakr al-Baghdadi, self-proclaimed caliph of the so-called Islamic State, standing in for Dionysus. I'm sure he'd appreciate the comparison.