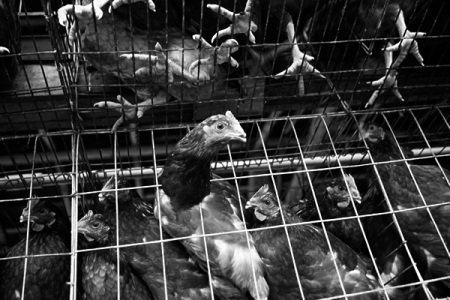 Jonathan Safran Foer , Eating Animals, Penguin 2010
Michael Pollan, The Omnivore's Dilemma: The Search for a Perfect Meal in a Fast-food World, Bloomsbury 2006
Jonathan Safran Foer is the successful author of Extremely Loud and Incredibly Close (2005) and Everything is Illuminated (2002). In his most recent book, Eating Animals, he turns to non-fiction. Michael Pollan's, The Omnivore's Dilemma is slightly older and was first published in 2006. Both give unflinching accounts of factory farming and the alternatives to it but in somewhat different ways. They discuss the United States and the specifics cannot necessarily be applied to Europe but the issues they raise are universally relevant – as Foer makes clear in his brief preface to the British edition: "A British reader who cares about the issues raised in this book should not find any peace in being British".
Eating Animals isn't simply an argument for not eating meat (though in the process of writing it Foer did become a committed vegetarian) it is instead a consideration of what it means to be human – and thus an argument against factory farming and all that that implies. And, in the American context, where 99.9% of chickens for meat, 97% of laying hens, 99% of turkeys, 95% of pigs and 78% of cattle are reared in in-your-face factory conditions, there is precious little else to eat if you want to eat meat.
Eating Animals once again finds Foer playing with form, as he interweaves horrific facts and figures with intimate dinner time memories. The first and the last chapters are both called "Storytelling". "We are," says Foer, "not only the teller of our stories, we are the stories themselves".
The book is wide ranging: from an infatuation with a puppy called George to the cruelty of long-line fishing, from breaking into a poultry factory farm to the genetics of modern farm animals. There is an interview with a factory farmer and one with a vegan who designs slaughter houses. There are reflections on avian flu and a chapter on the meaning (or meaninglessness) of so many of the words central to the discussion: animal, bycatch, cruelty, free-range and fresh (both of which Foer dismisses simply as "bullshit"). Foer visits farms that try to do things differently; Frank Reeves's poultry range, Paul Willis's pig farm, Bill and Colette Niman's cattle ranch nestle amongst the realities of the slaughterhouse and the dehumanisation of those who work there. All this is underpinned by Foer's moral frame of reference, which constantly calls into question what it is to be human, asking why we allow the cruelties of factory farming, or how we can feel whole while deliberately forgetting.
The factory farm provides animal protein at a historically cheap price. But it only does so by externalising the real costs. For instance, animal agriculture makes a 40% greater contribution to global warming than all transportation in the world combined. The health costs are also severe: all kinds of pathogens (like new strains of salmonella and e coli) are spread in factory farm environments, and indeed affect much supermarket meat. It is not for nothing that the Centres for Disease Control estimates there are 76 million cases of food-borne disease in the US each year. As Foer comments: "Your friend didn't "catch a bug" so much as eat a bug…in all likelihood… created by factory farming".
Factory farms contribute to the growth of microbial-resistant pathogens simply because of the vast quantities of antimicrobials they consume: compare the three million pounds of antibiotics given to people in the US each year with the industry estimate of just under six times this amount fed to animals (the Union of Concerned Scientists thinks it is probably between eight and ten times as much). It happens because animals fed antibiotics put on weight faster than they otherwise would, and because animals in the overcrowded conditions of the factory farm get ill, so it's better (for profit) to treat them prophylacticly.
There is every reason to believe that factory farms are creating the conditions for a new super pathogen. All flus have an avian origin, transmitted to humans either directly or via other animals, farm pigs being common. As recently as 2005 it was proven that the Spanish flu epidemic was avian in origin. The recent scares over SARS (severe acute respiratory syndrome) and 'swine fever' are harbingers of what is to come; 6 of the 8 genetic segments of the currently most feared virus in the world, reports Foer, have been traced directly to US factory farms. Due to factory farming another epidemic like the Spanish flu is waiting to happen.
Whilst slaughterhouses in the US are notionally inspected and controlled, Foer shows how little such controls mean. In the late 80s former inspector Temple Grandin witnessed " 'deliberate acts of cruelty occurring on a regular basis' at 32 percent of the plants she surveyed during announced visits in the United States". If this is observed during announced visits the mind-boggles to think what day to day practices are like. Drawing on Gail Eisnitz's interviews with workers in her book Slaughterhouse, Foer argues it is impossible for people to remain human when working in a slaughterhouse.
The known horrors of intensive meat production ought to be enough to radically transform the practice of the factory farm. Instead there has been only a tinkering at the edges. As Foer summarises "the factory farm industry (in alliance with the pharmaceutical industry) currently has more power than public-health professionals". Eating Animals give some insights into the political economy of the factory farm: how the mass producing monolith has almost eliminated the family farm, sometimes by outcompeting it, and sometimes by buying up and closing down the local hatcheries, slaughterhouses, grain-storage facilities and other services farmers require to survive outside the vertically integrated chains of the giant food corporations like Tyson, Smithfield, Monsanto and the handful of others that control the food industry in the States. Foer's account would have been strengthened by giving these elements further attention.
Despite these omissions Eating Animals is an important and unique book but it has to be acknowledged that Michael Pollan's The Omnivore's Dilemma, is the more comprehensive. Pollan's structure is simple: based on his own preparation of four meals that have their origins in radically different ways of raising food.
Pollan's first section on the industrial food chain is hard to beat as he follows the triumphal march of government encouraged cheap corn (maize) from the field to the feedlot, to the mill and eventually to the supermarket – where more than a quarter of the forty-five thousand items in the average American supermarket contain processed corn products. It's fascinating stuff and the short account of cattle being fattened on the feedlots is not for the squeamish.
In looking at alternatives, Pollan's analysis of what he calls 'industrial organic' is an eye-opener for anyone who is starry-eyed about pesticide free meat. Pollan critiques the use of the term organic when it is used to symbolise alternative in every sense – a diverse polyculture based on small-scale, local, non-exploitative social relations of production – as well as eschewing artificial fertilisers, pesticides, herbicides. A substantial section of the organic sector has been transformed into a capitalistically intensive, exploitative monoculture, often transporting its produce hundreds or even thousands of miles to its (super)markets. It is better (organic fertilisers, no pesticides), but it is very often not what you think it is.
Pollan then proceeds to look at the best of the alternatives he found, Polyface Farm, where Joel Salatin manages to produce a substantial output of chickens, turkeys and beef cattle on grass in "a food chain rooted in a perennial polyculture". Grass is once again the basis of the farm (as it used to be before the age of the factory farm which incidentally barely existed anywhere before the Second World War). Animals are brought up out of doors and rotated on pastures, living a healthy and as "natural" a life as can be for any animal whose purpose in being raised is eventually to end up as food for others higher up the food chain. If there is animal food production which we can accept, it should look something like this.
Pollan's writing is lucid, his storytelling rooted in a clear understanding of the economic underpinnings of the various choices farmers make, or are steered to make, in today's agribusiness-dominated system. I found it is a more analytically coherent book than Foer's fragmented and sometimes quirky form of presentation (though Pollan's final odyssey, cooking a meal entirely of ingredients he had gathered or hunted for himself, including wild boar, has a quirkyness all of its own).
In many ways Foer and Pollan end in similar places. They both agree that the factory farm is the enemy. It simply has to be stopped. Support for any animal-centred farming philosophy is vastly preferable to the industrial factory where animals are treated as things (as are the people who have to work in these monstrous enterprises). But while Foer is now a committed vegetarian, Pollan is not. (Curiously, Foer never explicitly explores the vegetarian-vegan divide; but the logic of his argument would seem to place him firmly with the vegans.)
Foer goes where Pollan doesn't really want to: asking why eat meat and what the real costs are to us, as human beings, of so doing. Of course Foer does express views – sentiments – but this is not, despite some reviewers' criticisms, a 'sentimental' book. He provides plenty of countervailing arguments made by interviewees who are meat eaters and even the odd factory farmer. Pollan isn't really troubled about eating meat in the abstract; Foer has become so. In a short, sharp snap at Pollan who claims that the moral clarity of the vegetarian depends on a denial of reality Foer asks simply which of them is denying the reality they both describe so graphically.
Pollan's book made me very angry about the feedlot and the factory farm, but Foer's sentiments got under my skin. I can no longer make sense of my own attitudes: an abhorrence of factory farming, a preference for organic meat which I eat occasionally, but a willingness, nonetheless, to eat factory-farmed produce, generally knowing-but-not-knowing that it is such – bacon and eggs, that stunning jerk chicken off a street stall at the Notting Hill carnival, food at friends where it wouldn't occur to me to upset anyone by asking about the provenance of the fodder.
I was struck while reading Foer by the connexions to a book I've long admired: Stanley Cohen's award-winning States of Denial (2002), a study about reactions to unwelcome knowledge, particularly the suffering that some people inflict on others – how people know but don't know or at least don't notice, process, digest, forget. Cohen was brought up in South Africa and lived for eighteen years in Israel so had plenty of primary material to underpin his enquiry. It ranges widely, but is focused on what people do to other people.
Foer (like Peter Singer, Tom Regan, J M Coetzee and many others) extends this enquiry to animals: "The secrecy that enabled factory farming is breaking down" he writes. "We can't plead ignorance, only indifference. We have the burden and the opportunity of living in the moment when the critique of factory farming broke into the popular consciousness. We are the ones of whom it will be fairly asked, What did you do when you learned the truth about eating animals?"