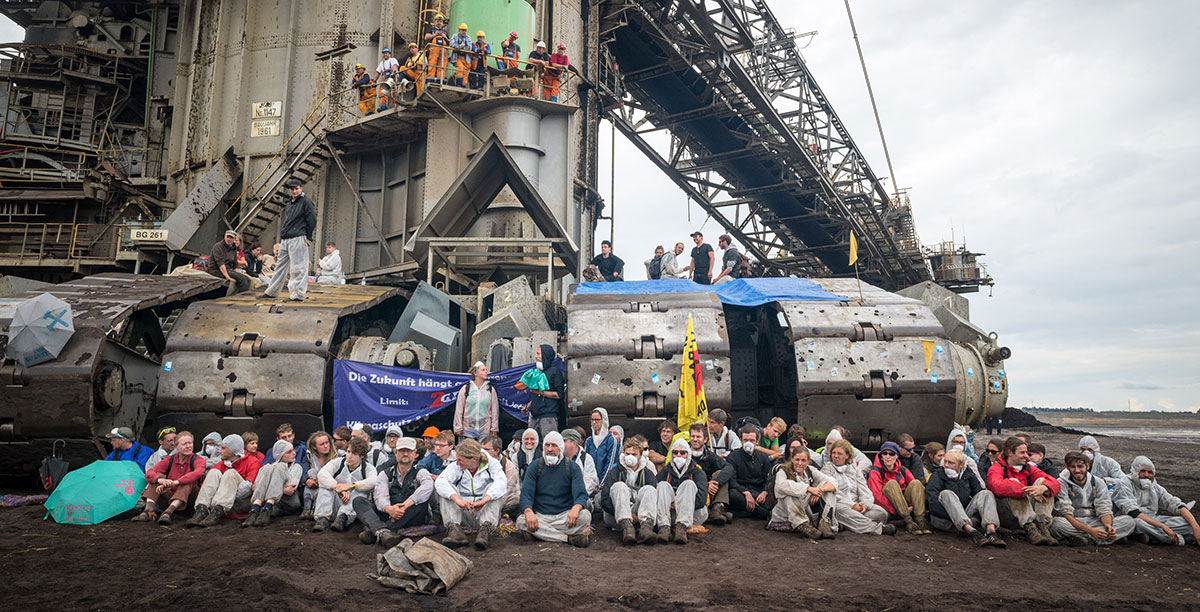 Ende Gelande – coal mine occupation in Germany
Climate change is acting as catalyst for growing inequality in an already unequal world. It's already increasing water shortages, food shortages and conflict. A study recently found that drought, worsened by climate change, led to the mass migration which helped spark the Syrian war. But if we seize the opportunity, climate change can be a catalyst for good too, bringing us together to take action.
Predictably, the recent climate negotiations in Paris ended with promises void of substance. It was another depressing attempt to kick the can down the road, condemning millions to hunger and destitution. This is exactly what was expected by anyone who knows anything of the history of our governments' inaction on this issue.
2015 might have been a bad year for climate negotiations but it was a good year for the grassroots. From direct action to divestment and community energy co-ops, the grassroots are leading the way. Our governments are inert and unable to react in the manner and to the degree that climate change calls for. We must therefore react ourselves, which is why 2016 must be a year where we reclaim the power from our politicians and from the corporations whose interests they promote.
This was always the vision, even before Paris. Knowing the deal would fail, and not wanting to repeat the mistakes of Copenhagen, mobilisations around COP21 were a vehicle for movement-building rather than influencing a broken process, to come out stronger, broader and bigger, ready for mass escalation in 2016. We drew our red lines in Paris, and marked the targets for 2016. Now it's time to hit them.
Global shutdown
In the week of 7-15 May there will be a wave of global mass actions, shutting down major, iconic fossil fuel infrastructure projects across the world. The week of action will be kicked off by frontline communities in the Philippines, followed by actions in Indonesia, Australia, North and South America, Europe, Africa, Israel, Palestine and more. Germany will see a mass direct action on a coal mine near Berlin, following the success of Ende Gelände in summer 2015 which involved 1,500 people taking direct action to shut down an enormous coal mine in the Rhineland for a day. This is no normal week of action. Being based on the principles of escalation, mass participation and linked, global action, this will be civil disobedience on a scale not seen before.
Meanwhile in the UK, direct action network Reclaim the Power is calling a year of climate action in 2016. 'Groundswell' is a structure that links, amplifies and encourages the escalation of the work already being done across the UK. It is a supportive framework for people and groups new to direct action. Acting together and in solidarity with grassroots movements taking action on climate chaos around the world, it's an invitation to share and learn from each another, to celebrate what the movement has already achieved and to encourage others to get involved in this year.
At the core of Groundswell is you and your friends, groups, and organisations. You can decide what your actions will look like. Reclaim the Power can also offer ready-made 'off the shelf' actions for those who want to build their confidence with greater support. Along with other groups, Reclaim the Power can offer help, training and support for teams who want it. Groups sign up to one action every three months, building towards collaborative large scale events as the year goes on.
Inspired by the ground-breaking Climate Games that brought together direct action and real life action adventure gaming in Paris via an online platform, the Groundswell website (coming soon) will have a secure, purpose-built media-sharing platform to update participants about other groups' actions as and when they happen, providing inspiration and motivation.
The global climate movement is gaining momentum. The groundswell is coming. We need to keep up this momentum to win this battle. It will need a lot of us working together. But if our governments won't make the changes we needed we must make it happen ourselves. Together, we can do more for climate justice in a year than our governments have done in the last 21.
www.reclaimthepower.org.uk/groundswell, www.breakfree2016.org