The so-called United Kingdom is on the verge of collapse. The Republic of Ireland led the way; the next break is only a matter of time. It could be Scottish independence or Irish reunification – only time will tell. But one thing we know for sure is that the Westminster elite will not quench our collective thirst for freedom, autonomy, and sovereignty. We are the Northern Independence Party – NIP for short – and this is our case for a new nation beyond the Humber.
Locating the North
It begins, as you might expect, with the North-South divide – a divide most Northerners recognise even if not everyone understands how deep its history runs. Barring a golden age sometime after the Romans left, which ended with the Viking invasions, for most of its history the North has been a militarised frontier. The industrial revolution transformed the North and then the world – a change that led to both progress and strife. But industry has come and gone, dropped as soon as it was no longer profitable for this country's ruling class. Now, after 40-years of Thatcherite economics, 10-years of austerity and a global pandemic, we believe it's time to rethink the North radically.
We do not believe the 'generosity' of Westminster will bridge the North-South divide – this tried and tested approach is destined to fail. The centrality of London, with its capacity to gobble-up all of this country's assets, is built into the very fabric of the so-called 'United Kingdom.' Infrastructure, people, resources, opportunities: all filter south by design. Only through a referendum – with a resounding 'yes' – will we solve, once and for all, that vast array of economic and social disparities that split this island in two.
The North, which we prefer to call by its historic name 'Northumbria', is vibrant and diverse. Yet mainstream media and Westminster continues to lump us together as a deprived, bigoted backwater. London-based journalists and politicians consistently pick out the worst of us and declare them our true representatives, demonstrating no understanding of the North's actual character.
NIP defines Northumbria on our terms. We acknowledge that Yorkshire, Lancashire, Cumbria, Merseyside, Greater Manchester, Durham, Northumberland and Cheshire are all distinct lands with long histories and strong cultural identities. As such, we refuse to be reduced to lazy stereotypes. It's also true that the North is a slippery concept. It is difficult to pin down on a map. For this reason, we respect the rights of anyone in 'border territories' to join us subject to a local referendum.
We know too that the struggles of Hackney and Blyth Valley are one. Stuart Hall famously wrote that 'race is the modality in which class is lived.' In a similar but distinct manner, the underdevelopment of the North produces a regionalised experience of class. We are not an exclusionary movement. We say to our allies in the South: join us! We need you – help us build a Free North!
We firmly reject the spatialisation of the North by the right (and some quarters of the left) as a monolithic block of working-class whiteness. Not only is this inaccurate, but it is offensive to the vast array of people who call Northumbria home. The North was, is, and shall remain international. Our fledgling country is home to the children of Irish migrants, Romani folk, Europeans from the continent and more recent migrants coming from India and Jamaica, among others. Our beautiful diversity is nonetheless often ignored, shrouded by a St George's Flag – a symbol for obnoxious racism and a fictitious 'white North'.
Leading from the North
The 'United Kingdom' was created by a handful of elites, and what kept this artificial construct together was always oppression and force. Centuries of struggle gave the working class the vote, then the welfare state, and with it an increased standard of living. The North has contributed more than its fair share to a wide variety of progressive struggles. We can point to the Mackem Leveller John Lilburne or Thomas Spencer the Geordie radical who inspired Thomas Paine, the French Revolution and the Chartists. Nor should we forget the Mancunians who led the fight for universal suffrage, the pioneers of Rochdale that worked towards a cooperative future, or the Hull-native that led the English struggle to abolish the slave trade. Our modern history of resistance includes defining moments like the Miners' Strike, the Jarrow March and the long struggle for justice for Hillsborough.
But under Thatcher, capital gained the upper hand. We watched the Tories destroy our industries. Our towns continue to decay as Northerners move on to find opportunities elsewhere. Our communities are splintered, and further economic degradation constantly threatens our sense of dignity. We are not alone in this history – we share it with Scotland and Wales. Their answer to deprivation is independence, and it shall be ours too.
The impoverishment of the North and areas in other metropoles was driven by capitalism and accelerated under neoliberalism. NIP's understanding of deprivation, however, is greater than just empty wallets. Poverty has a Northern texture, where public transport is patchy, expensive and infrequent, museums and art galleries few and far between, libraries are closed and town centres have become ghost towns. Poverty is always something lived – not only measured.
Despite intermittent campaigns, the UK has never federalised. Instead, Westminster has kept all the power and wealth for itself. We live in one of the most centralised and regionally unequal countries in Europe, we have no written constitution and our voting system is archaic and unrepresentative. Is it any wonder that so many of us are disillusioned?
History teaches us that if you want meaningful change, do not look to Westminster. The UK remains a former imperial power whose transition to democracy was just a pitiful series of concessions to the working class. The 'UK' is irredeemable, and we will break it.
An economy for the North
The impoverishment of the North demands a political solution. While working-class Londoners suffer at the hands of greedy landlords, Northern deprivation takes on its own particularities, ranging from long term structural unemployment to infrastructural collapse. Given our specificity and centuries of little progress, we believe that the only realistic way to stem the ever southwards flow of capital, people, and resources is to break the union itself.
In building our new country and a modern economy, the North will not begin from ground zero. A vast wealth of practical proposals for a new Northern economy – from the now faltering Powerhouse plans to New Labour regeneration strategies – fill the dusty cabinets of Whitehall. No government has acted on these propositions in good faith. If an administration acted upon them to the letter, they would risk the City of London and Westminster's dominance over the regions. From Northern Investment Banks to a Green Industrial Rebirth (we've already had a revolution), we simply cannot rely on a government hundreds of miles away willfully tilting the balance back to our favour. We must rebuild alone.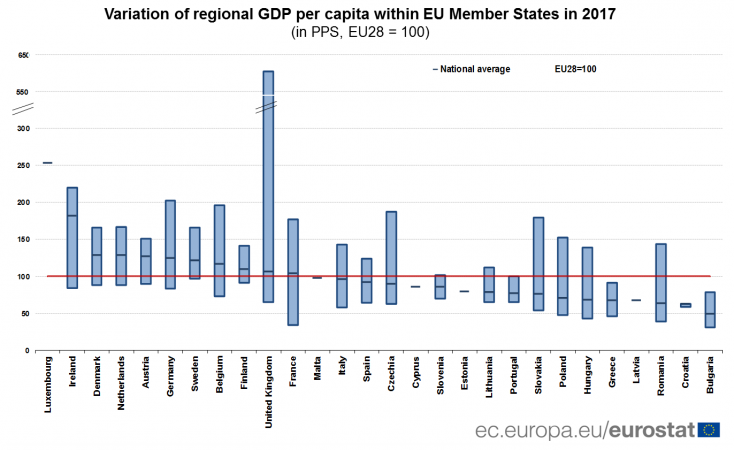 Not only is the UK the most unequal country in Europe, some of the most impoverished areas in Europe are in the North of England. Yet not only do we have some of the largest cities on this island, we're rich in resources from minerals to water. Vast amounts of trade comes into our ports through the Irish and North Seas, as well as along our roads. And we're home to some of the world's leading companies. On current measures, our GDP per capita ought to place Northumbria just below Japan at 35,539 (USD). Yet, somehow, we continue to endure low life expectancies, terrible welfare statistics, low educational achievements and a worsening mental health crisis. The North remains the most deprived region in what is currently called 'England', and this didn't happen by chance. Northern impoverishment is instead the product of an ongoing plundering of Northumbria – a never-ending harrying of the North – that exploits the many for the enrichment of the few.
We don't want to level up; we want to level out. Economic independence will mean we can implement economic democracy. The North will take control of its assets and enable common ownership over the wealth they produce. Just as we are rich in wind and tidal power, we also have the industrial know-how to decarbonise our economy fully. This will see us capture the entire Green-tech supply-chain, employing hundreds and thousands in the process. We will fully insulate our homes and our power supply will be entirely renewable. Our movement's friends in Scotland have already made plans on how to make that vision a reality. We will partner with them to extend those benefits to ourselves.
Our soon-to-be country of over 15 million people – with an economy roughly the size of Sweden – did not become financially reliant on its Southern neighbours by accident. Northumbrians are not inherently incapable, and poverty is not inevitable. Our current economic malaise is the result of profound structural injustices that allowed segments of London and the South East to function as a black hole, pulling everything into their centre and gobbling it up – from investment opportunities to our best and brightest.
A free Northumbria for all
We are not 'Northern England.' We do not need London to orientate ourselves. We are Northumbria. And for our North, only independence will do. NIP demands the right to run our affairs and control our assets, land and borders, for we know what is best for our communities, what is best for our economy and what is best for our future.
Together we will break the chains of Westminster. Together we will create a free and fair Northumbria.
The Northern Independence Party is a new political party. Follow them on Twitter at @FreeNorthNow