Russian law imprisons those who name Putin's invasion of Ukraine as a war, but many Russians refuse to be intimidated and silenced. One such outspoken group is Feminist Anti-War Resistance (Феминистское антивоенное сопротивление). In fact, Russian women have become some of the most active protestors against the 'special operation'.
Feminist Anti-War Resistance (FAR) was founded in February 2022 through Telegram, one of the more secure social media networks, taking the Russian authorities by surprise. This is because FAR is intentionally horizontal, and the authorities know only how to look for leaders to eliminate. They assume organisations are like theirs: hierarchical and centralised.
FAR is a shared space for suggestions, ideas, and gathering information about protests since the beginning of the 'special operation'. It now has more than 25,000 subscribers and even more supporters outside the group. Participants have organised hundreds of decentralised protest actions, including pickets, marches, putting up posters, informational protest against propaganda, silent pickets, installations, and more.
One tactic has been inscribing coins and banknotes with anti-war messages and returning them into circulation: 'Ukrainians are dying from bullets, we will die of hunger', 'We will pay for the war with our future', 'Putin destroyed our future', 'They are killing people for our taxes', 'Peace to the world', 'No to war'.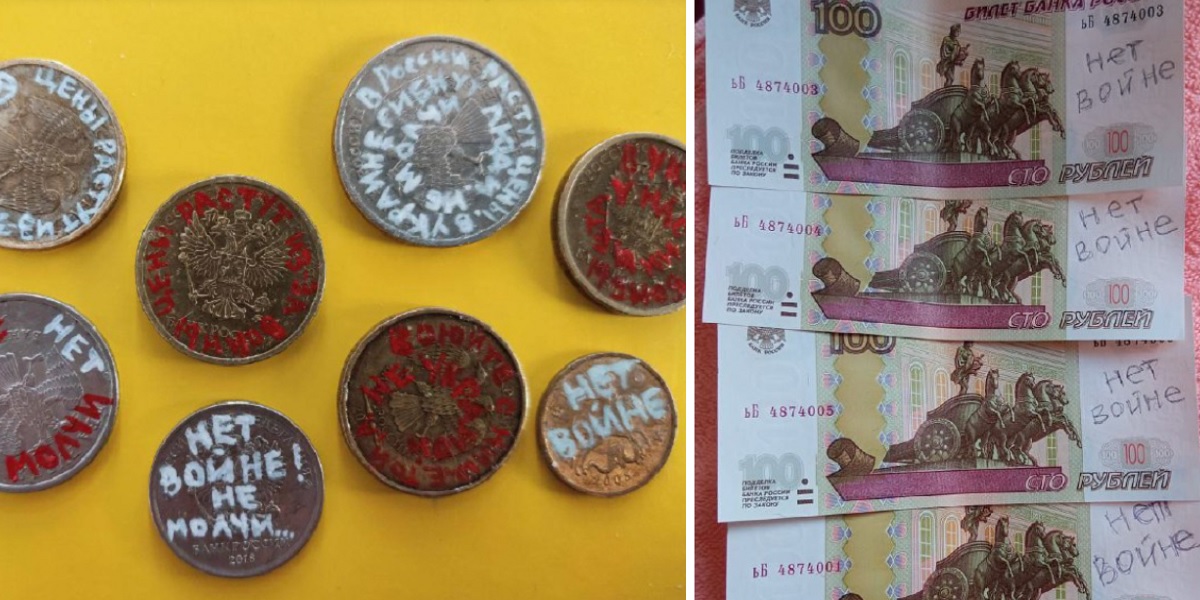 Membership of the movement requires simply to hold an action as an individual or in a group) to send information about it to the organisation's Telegram channel. Through the channel, Russian and Ukrainian women share their emotions, experiences, and also support each other, maintaining interethnic dialogue. This unity of women on such a well networked platform gives protest a great boost of creativity and energy, and it is an important peacebuilding initiative at a time when the violence and brutality of male leaders undermines intercultural dialogue and cooperation.
Old women with brave hearts
It is especially notable that older women are participating in the anti-war resistance, even though they may not be well versed with social media. Older Russians tend to be the main victims of television propaganda, but others actively oppose the special operation, inspiring and setting an example for young people. The most striking figure among them is Elena Osipova, a resident of St Petersburg. Elena is an artist, who takes part in protests almost every day. She draws protest placards and takes them onto the streets as a personal protest. She is arrested every time.
Older Russian women also took part in protests against the 2014 war with Ukraine. One of them was Ludmila Vasilyeva. After being detained following the protest action in February 2022, Vasilyeva said: 'It's just a knife in the back. In 2014, I was the first at the Mariinsky Palace for the peace protest. Then our deputy Milonov poured paint over my new jacket. I couldn't wash it, so I had to throw it away. Then he called me 'banderovka' [a Banderite, Ukrainian nationalist], even though I have lived all my life in St Petersburg.'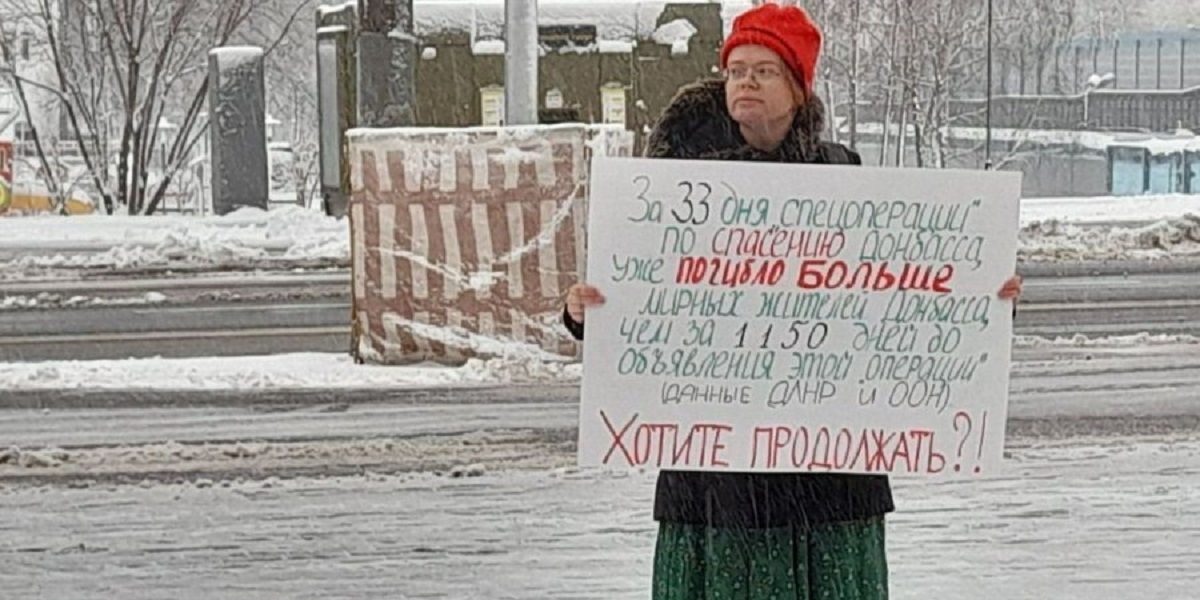 Young heroines
Despite tough restrictions and harsh punishments, young Russian women are actively participating in the protests. They have to be creative and resourceful to dodge the legal restrictions. Since openly anti-war positions are illegal and any support for Ukraine can be considered as treason, punishable by up to 15 years in prison, there is very little space for those who are in favour of ending the military operation. For example, one young woman went out with the poster with the words 'The sixth commandment. Don't kill'. She was arrested.
Another woman, Arina Vakhrushkina, went out with a placard on which was written: 'For this poster, I will receive a fine of 50,000 rubles. I am standing here for your future and the future of Ukraine. People, don't be indifferent. Right now, children in Ukraine are dying, and Russian mothers are losing their sons. It shouldn't be this way.' Vakhrushkina was detained. And it shouldn't be this way.
According to general estimates, about 100 activists faced searches, detentions, fines, and attacks by neo-Nazis, who are supported by the security forces. Some of the activists are still under administrative arrest, some of the arrested women were tortured by representatives of law enforcement agencies who justified their actions with the words 'Putin told us to f*ck them'. Many women have left Russia because of this intense state persecution and threats.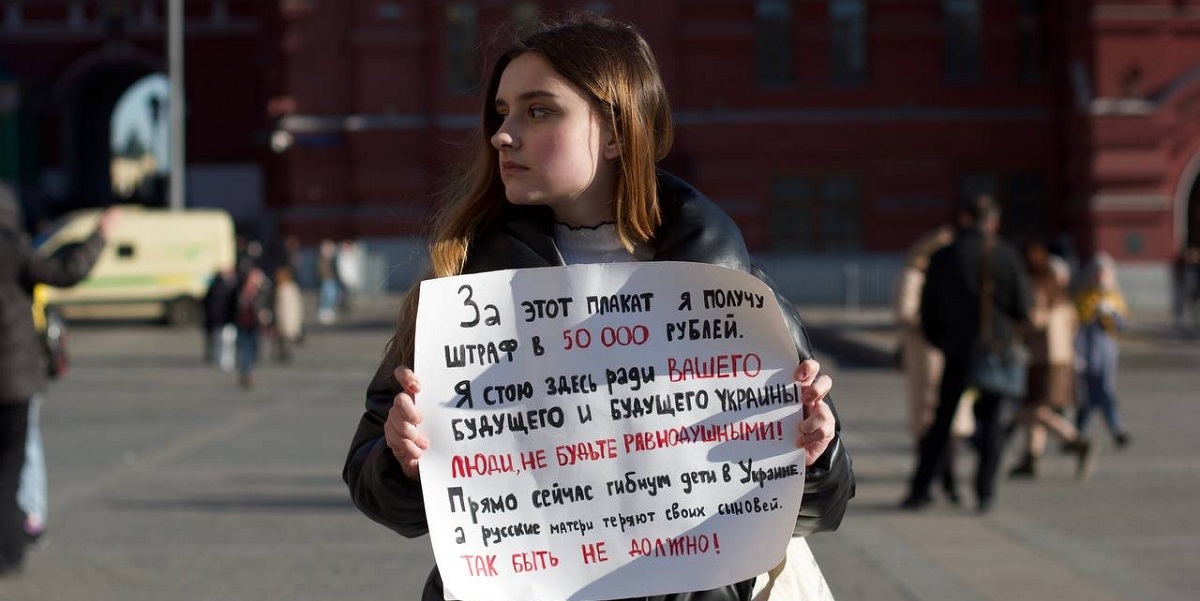 Russian women politicians against the war
Russian women politicians have also expressed their protest against the war in a distinct way. Novosibirsk City Council deputy Helga Pirogova, a member of the Novosibirsk political association Independent Coalition 2020, went to work wearing a wreath and embroidered shirt in the colours of the Ukrainian flag. Her colleagues reacted violently to the action, and the deputy from the United Russia party proposed to remove her mandate. Her coalition partners, however, supported her by wearing 'No to War' badges at work the following day.
Nina Belyaeva, a deputy of the Semiluksky District Council in Voronezh delivered an anti-war speech at the council meeting. She said: 'I am against the decision that was taken by the President of the Russian Federation and against the actions that are being carried out today on the territory of the sovereign state of Ukraine. I consider what is happening a war crime.'
Russian feminist anti-war resistance
Russian feminists have also come out in condemnation of news from Ukraine about rapes and crimes against humanity, and called for punishment of those responsible. Activists from Russia and Belarus also organise psychological assistance and collect support (mainly medication) for affected women.
Despite the harsh repression, many Russian women are involved in helping the Ukrainian people: evacuation, humanitarian aid, psychological help, as well as peacekeeping initiatives. Women's resistance is not yet very effectively organised and is represented as many bright isolated actions in different places. However, every day they inspire more women in and outside of Russia to join the fight against destruction and war, which means that the chances that this madness will soon be stopped are growing.