American independent filmmakers have always fought an unbalanced battle against the major motion picture studios in Hollywood that is only worsening with streaming. In 1948, the supreme court, directed by the Department of Justice (DoJ), sought to bring some balance to the system with a ruling in United States v Paramount Pictures, Inc. Commonly known as the 'Paramount accords', the decision ended the monopolisation of the studio system. However, in August 2020 the federal district court for the southern district of New York started a gradual repeal, again at the recommendation of the DoJ. This could prove significantly detrimental to independent filmmakers today as, historically, the Paramount accords provided much needed equity for the industry.
The Paramount accords originated with a 1938 lawsuit filed by the DoJ against the 'big five' film studios (MGM, Paramount, RKO, 20th Century Fox and Warner Brothers) and the 'little three' (Universal, United Artists and Columbia). According to the DoJ, the supreme court found that these studios 'had engaged in a widespread conspiracy to illegally fix motion picture prices and monopolise both the film distribution and movie theatre markets'. This process, called vertical integration, involved studios owning the processes of creating, marketing and screening a film for audiences in their studio-owned movie theatres.
When the supreme court handed down the Paramount decision in May 1948, the eight studios had to sign consent decrees legally binding them to stop monopolistic practices. These included studio-owned theatres, fixed minimum cinema-ticket prices and block booking, which gave the wealthy studios unfair advantage over competing studios, independent filmmakers and independent theatre owners.
In the 1950s and 1960s, the anti-monopolistic ruling had a significant impact on independent filmmakers and theatre owners – even if there were bumps along the way. For example, a post-war recession meant cinema-ticket sales plummeted while television was becoming an affordable and accessible entertainment option. But it was the effects of the House Committee on Un-American Activities (HUAC) hearings in 1947 and 1952, which sought to root out communists from Hollywood, that shook the film industry for years.
Commies out
The first HUAC hearings in October 1947 saw 'friendly witnesses' cooperating with the committee and naming alleged communists. Testimonies from prominent figures in the motion picture industry – including Walt Disney and Ronald Reagan, then president of the Screen Actors Guild – were the backbone of HUAC's claims to legitimacy. Jack Warner of the Warner Brothers was among the first to cooperate with the committee and declare that there had never been communist ideals in his studio's work.
As a result of the hearings ten directors, producers, and screenwriters – the so-called Hollywood Ten – were sentenced to prison for refusing to answer allegations of communist ties. In November 1947, Hollywood executives met at the Waldorf-Astoria Hotel in New York and created a blacklist of cast and crew suspected of communist sympathies who would be ousted from the industry, despite lacking evidence.
The blacklist and threats of federal investigation led to a number of people leaving the industry, including then head of RKO Pictures Floyd Odlum, who was replaced by the aviation tycoon Howard Hughes. RKO had two former employees in the Hollywood Ten – Edward Dmytryk and Adrian Scott – and in response, Hughes, ardently anti-communist, fired crew members and staff on suspicions of communist associations in 1948. Simultaneously, Hughes made the decision for RKO to settle in the anti-trust suit early – eventually leading to bankruptcy – presumably to gain favour with the federal government at a time of overwhelming oversight in the cultural sector.
Independence
Amidst these challenges, independents began thriving on both sides of production and exhibition. In The Battle for the Bs, film historian Blair Davis says the Paramount accords removed the guaranteed exhibition income studios could receive by limiting releases to their own – often 'first-run' – cinemas where a film debuted before being sent to subsequent-run cinemas that were often independently owned. Independents then had a significant advantage to show major films, and without the block-booking burden could purchase just the licence for that major film and not be burdened with multiple worse-performing films simultaneously. The studios, losing that source of revenue, began remodelling contracts with their actors, directors, and film crews. Traditionally, the studios had issued multi-year or multi-picture contracts, but, after the accords, they opted for recruiting independents on single-film contracts to cut the budget on payroll.
When larger studios can buyup properties or drive competitors out of business, that monopoly over our cultural media is truly dangerous
No studio did this more effectively than United Artists. The studio increased its film releases from four in 1949 to average 38 a year between 1951 and 1958 with continued success through the 'new Hollywood' independent years of the 1960s. According to Hollywood historian Yannis Tzioumakis in American Independent Cinema, 'United Artists' success [in the 1950s] was the adoption of a particular brand of independent production system… to provide complete production finance to independent producers.'
With the economy just starting to recover in the early 1950s and decreased cinema-ticket sales across the country, banks were less likely to take risks on independent filmmakers. United Artists' strategy of providing full funding for sole distribution rights and approval over key production aspects – such as the director, stars and budgets – allowed independents significantly more opportunities than were available before the accords.
Into the unknown
Today, with the gradual repeal of the Paramount accords from 2020 to August 2022, independents are faced with likely adverse effects. If studios can again harness the income from exhibition, we may see a return of traditional vertical integration. However, the primary reason the DoJ gave in its 2019 argument against the accords was the advent of streaming. The industry is entirely different from 1948 not only because the studios that signed consent decrees no longer exist as they did then, but because the accords did not account for streaming, or crucially, whether a streaming service counts as a film studio. With the landscape changed so much, and without new anti-monopoly legislation for streaming services, we cannot know if theatre ownership will be as profitable a venture for studios to reacquire as it once was.
Although there are drastic differences between 1948's Hollywood and today, we can acknowledge that the DoJ's reasoning for the Paramount accords was to provide a more balanced industry for independent filmmakers and theatre owners. Seven decades later, the rationale of the DoJ for repealing the accords was to favour major film studios over the growing streaming services, without emphasised concern for independents.
Significantly, Netflix, for example, previously funded considerable amounts of independently created content. However, in 2022, it cut a substantial portion of its independent features department. Funding for independent films is a crucial issue in the industry and one that led the 2022 Zurich summit, a film festival and conference of filmmakers. Several independent filmmakers at the summit alleged that streaming sites are not interested in original stories unless they can own the film outright as opposed to licensing from an independent producer.
There are many factors weighing on decisions made within the film industry: the economy, the shifting nature of media consumption and the ongoing pandemic affect the production, distribution and exhibition of films. However, it's clear that the 2019 DoJ was not concerned with how independent filmmakers would fare in a post-Paramount accords market and specifically targeted a sector of the motion picture industry offering considerable opportunity to independent creators. In a more equitable system, the government would implement new and updated anti-monopoly legislation for the film industry to incorporate streaming sites and usher in a new resurgence for independent filmmakers and exhibitors.
A 1947 House Committee on Un-American Activities hearing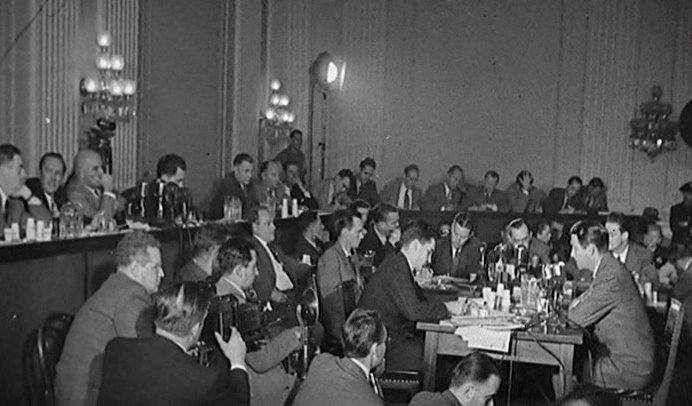 Government reach
Knowing the history of HUAC in Hollywood and that an overrepresented government in the industry is just as dangerous as a corporatised motion picture industry, I am cautious to say we need stronger, updated anti-trust legislation for Hollywood. But it could keep major studios from owning multiple massive properties – such as Marvel, Star Wars, etc under one company – and also implement firmer restrictions on streaming sites.
One current movement to break up monopolies in the entertainment industry is coming from the American Economic Liberties Project (AELP). The AELP recently launched a campaign to encourage the DoJ to unwind the Live Nation-Ticketmaster monopoly that formed in 2010. If this campaign is successful in disbanding the overt live event ticketing monopoly, that decision would set precedent for antitrust review of Hollywood and the current major studios that is sorely needed in this post-Accords film industry.
When larger studios can buy up properties or drive competitors out of business, that monopoly over our cultural media is truly dangerous. Our cultural media is so incredibly important for how we view ourselves in relation to how people are presented on screen, for how we understand interpersonal relationships, political ideas and historical events. Film is an important mirror that reflects back to us our times and our moment, whether it's a film allowing us to escape, a biopic depicting what our contemporaries think about a bygone person, an allegory about politics, a picture of marriage in the 21st century, or a sci-fi adventure allowing us to see ourselves in a futuristic setting just to know we made it through today.
When power over those perspectives is consolidated to a few people's final judgement, we risk so much of our culture. Implementing new anti-trust legislation for the motion picture industry is crucial for allowing independents more opportunities and protecting the cultural sector from consolidated ownership over public ideas and imagination.
This article first appeared in issue #238, Winter 2022, Deluge and Drought. Subscribe today to get your magazine delivered hot off the press!