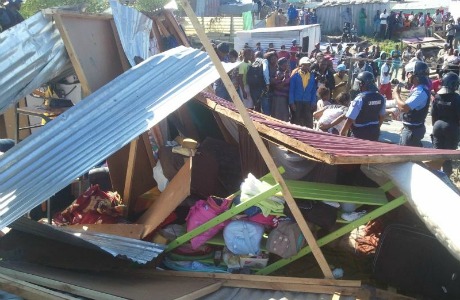 While critics opposed plans to end £19 million assistance to the biggest economy in Africa, the government here shares a skewed judgement. In the same way as UK international development secretary Justine Greening exaggerates South Africa's progress, president Jacob Zuma ignores the one in four South Africans who still face slum conditions, living in informal settlements.
As Cape Town, the country's second most populous city, hosted the World Economic Forum on Africa, hundreds of shack dwellers pledged their determination to occupy land needed for their homes. These homes have been repeatedly destroyed by government agents at a settlement named Marikana, in a growing township between Nyanga, Mitchell's Plain, Khayelitsha and Philippi.
The settlement in Philippi East is called Marikana in tribute to the 44 people shot dead by police – most of them miners working for the UK-registered multinational Lonmin, during a strike for a living wage last summer. It was given the name because the residents are also 'organising ourselves peacefully and are willing to die for our struggle'.
'They pull these people out like dogs'
Since the shacks were built and occupied on vacant land, the authorities must observe South African law which requires a court order to evict them. Yet, despite lacking such documents, day after day police and law enforcement officers arrived and demolished their houses, shot at residents with rubber bullets, dispersed them with pepper spray and arrested four people.
Abahlali (also known as AbM or the red shirts) is a shack-dwellers' movement and campaigner Cindy Ketani says 'When they come to destroy these shacks, they show us no court orders or papers. They just pull these people out like dogs'.
Activists complain the authorities are abusing their power, knowing residents have no access to legal support. So much for progress, with South Africa becoming the world's second most unequal nation since apartheid ended. Its constitution proclaims that every citizen has a right to a house. But millions continue to live in settlements, often denied proper sanitation, water supply or aqueduct, electricity or telephone services.
Testimony to the risks involved without electricity came when three recent shack fires left 83 people homeless in Johannesburg's Alexandra township. Abahlali has campaigned on this issue, demanding, among other things, the electrification of shacks, and connected thousands of people to electricity. Nonetheless, in South Africa, there is a daily average of ten shack fires, with someone dying in a shack blaze every other day. Meantime, the accommodation backlog in Cape Town alone is estimated at between 360,000 and 400,000 homes. Even so, the city's rulers spent half a millon pounds (8 million rand) setting up its Anti-Land Invasion unit to pull down shacks.
White people take home six times more pay than their black compatriots
Forty per cent of South Africa's 50 million population live below the poverty line on less than one pound (13 rand) a day, while more than one in three of the mega-rich earn over £14,000 (200,000 rand) a month. In addition, the TopEnd survey into the country's most affluent individuals found that one in ten boast a household income of at least £35,000 (500,000 rand) a month. The average value of their property with continuing worth is above £443,000 (6.5 million rand). And amid the starkest and most poignant contrast, four in ten own more than one home, and three per cent six or more.
Almost 20 years on from South Africa's first democratic elections, the first census in a decade exposed the disturbing fact that white people still take home six times more pay than their black compatriots. Another report, by Statistics South Africa, warned that two-thirds of the country's youth live in poor households, with a per capita income below £47 (650 rand) a month. More than one in seven South Africans are unemployed, and the young are worst affected, with half of 18-to-25-year-olds jobless. The labour federation, cosatu (Congress of South African Trade Unions), says no other middle income country around the globe suffers from such high unemployment.
Zwelinzima Vavi, Cosatu's general secretary, says: 'We call it a ticking bomb. We think that one day there may be an explosion. Seventy-three percent of people who are unemployed in South Africa are below the age of 35, and a lot of them have been to universities'.
Lack of work, money and secure homes threaten to exact a corrosive effect on South Africa. But the spirit of people that resisted separate development based on colour now confronts the rich-poor divide. One of those forced out of their Marikana housing was Zoe Zulu, a mother of a one-month-old son and a five-year-old daughter. Like the other residents of the 126 destroyed homes, Zoe had nowhere to go, insisting she would rebuild her shack and not leave Marikana until she has been given a home.
Caroline Elliot is international programmes officer at War on Want