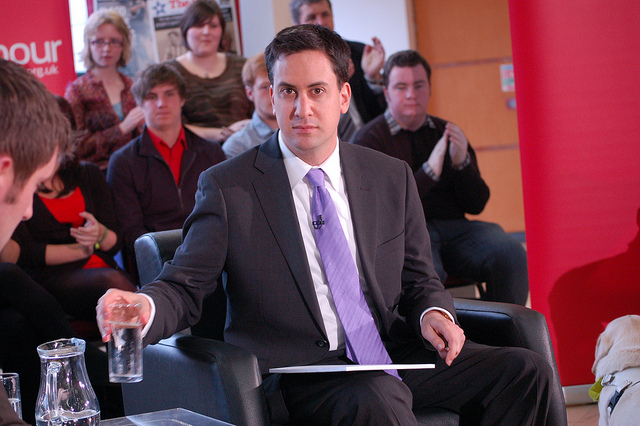 Photo courtesy of Joanna Kiyoné on Flikr.
Shocking but unsurprising. Today's announcement from Ed Miliband that, if elected, the Labour Party will abolish out-of-work benefits for 18-21 year-olds, replacing them with a 'youth allowance' dependent on undertaking training at AS-level or equivalent, is a damning indictment of the opposition's complete lack of identity and political will. With a general election less than one year away the Labour Party's premier actors seem intent on giving performances utterly indistinguishable from their political opponents. Following on from Rachel Reeves' promise to get tougher on benefits, Miliband's speech, delivered at the launch of the Institute of Public Policy Research's (IPPR) 'Condition of Britain' report, is a sure sign that the 'great moving right show' remains firmly in motion.
The paternalistically titled 'youth allowance' is in effect a form of workfare, with access to the meagre level of subsistence provided by the British state (£57 p/w) to be means tested and conditional on training for jobs that, as is now well-established, do not exist.  There is of course a difference between being forced to stack shelves at supermarkets and, if one is lucky, to study, yet this difference is one of degree, not kind. Labour's proposed welfare reform is a product of the austerity laboratory, a potent mix of reactionary values, disciplinary techniques and a belief that, in Miliband's own words, 'the next Labour government won't have money to spend.' The message is overriding and overly familiar: times are hard and those with the least must pay, or be punished. For a party that purports to champion youth, Labour's plans for young adults, the effects of which will be most keenly felt by those from low income families, are nothing short of insulting.
Accompanying the announcement of a 'youth allowance' was the revelation of further plans to change the relationship between the welfare state and the young, restricting the higher rate Jobseeker's Allowance of £71 p/w to those that have paid National Insurance (NI) for a minimum of five years instead of the current two. At the heart of both these proposals is the notion of contributory welfare, or, in other words, the more you pay in the more you get to take out. The contributory principle has enjoyed a resurgence across the political spectrum of late yet Miliband was today clear in laying out his inspiration, namely, the hallowed Beveridge Report.
Mention of Beveridge will no doubt convince some Labour supporters that Miliband has not lost touch with his party's political heritage and the 'spirit of 45,' yet so to is it evidence that Labour is as much burdened by the past as it is by the present austerity consensus. The Beveridge-inspired reforms that followed the Second World War were in many ways remarkable yet they were carried out in the context of a heavily industrialised and gendered economy in which 'full employment' was possible and with it partial parity of contribution.
Yet with accelerating automation and an increasingly globalised labour market, full employment is no longer a realistic possibility. Even Labour's flagship policy of taxpayer-funded jobs for 18-24 year-olds is a direct acknowledgement that without considerable state interference unemployment is likely to remain high. In this contradiction is to be found the most pernicious element of Labour's newly proposed welfare reforms: despite recognising that the market cannot provide a livelihood for all, Labour has chosen to demonise and punish those who already pay the price for this lack of provision—in this case young people dependent on welfare—by coercing them into training for non-existent jobs and, for those who have payed NI for less than five years, reducing financial support. To be unemployed and struggling to get by is depressing and dehumanising; to be forced to undergo pointless training to guarantee this existence is even worse.
Labour, then, has once again chosen not to separate itself from the Conservatives, whose punitive welfare policies have contributed to a stratospheric rise in the number of food bank users and the slide into poverty of an extra 1 million people. Miliband, however, insists that Labour's proposed reforms are what the British people want and, admittedly, there is some truth to his claim: a recent YouGov poll for the IPPR found 78% believe that the welfare system is failing to reward people who have worked and contributed to it. Nonetheless, such figures are hardly surprising when one considers the ferocity of the media and political onslaught that has long been directed at the supposedly feckless, benefit-cheating poor, both young and old, living luxuriously at the expense of the taxpayer.
In reality, however, benefit fraud represents less than 1 per cent of the benefit bill and the Labour Party's proposed 'youth allowance' would save a meagre £65 million, less than 0.001 per cent of the estimated cost of tax avoidance in the UK. Yet Labour seemingly no longer lives in reality and has instead chosen to occupy a world in which the roots of the problems of the poor are to be found amongst the poor themselves, especially the young, for whom the future looks bleaker by the day. For all the talk of being in it together, Miliband and Labour have shown themselves incapable of articulating a collective politics that serves the underprivileged and most insecure, instead pandering to a Tory agenda based on turning employed against unemployed and old against young. Talk of rich and poor is few and far between.
Labour's proposed welfare reform is another step towards political irrelevance; Miliband increasingly resembles a deer in the headlights, and if opinion polls are to be trusted, one very close to being knocked down. The problems facing the British economy and society are very real and run very deep, yet far from offering a bold and innovative solution Miliband and the Labour Party are increasingly part of the problem.