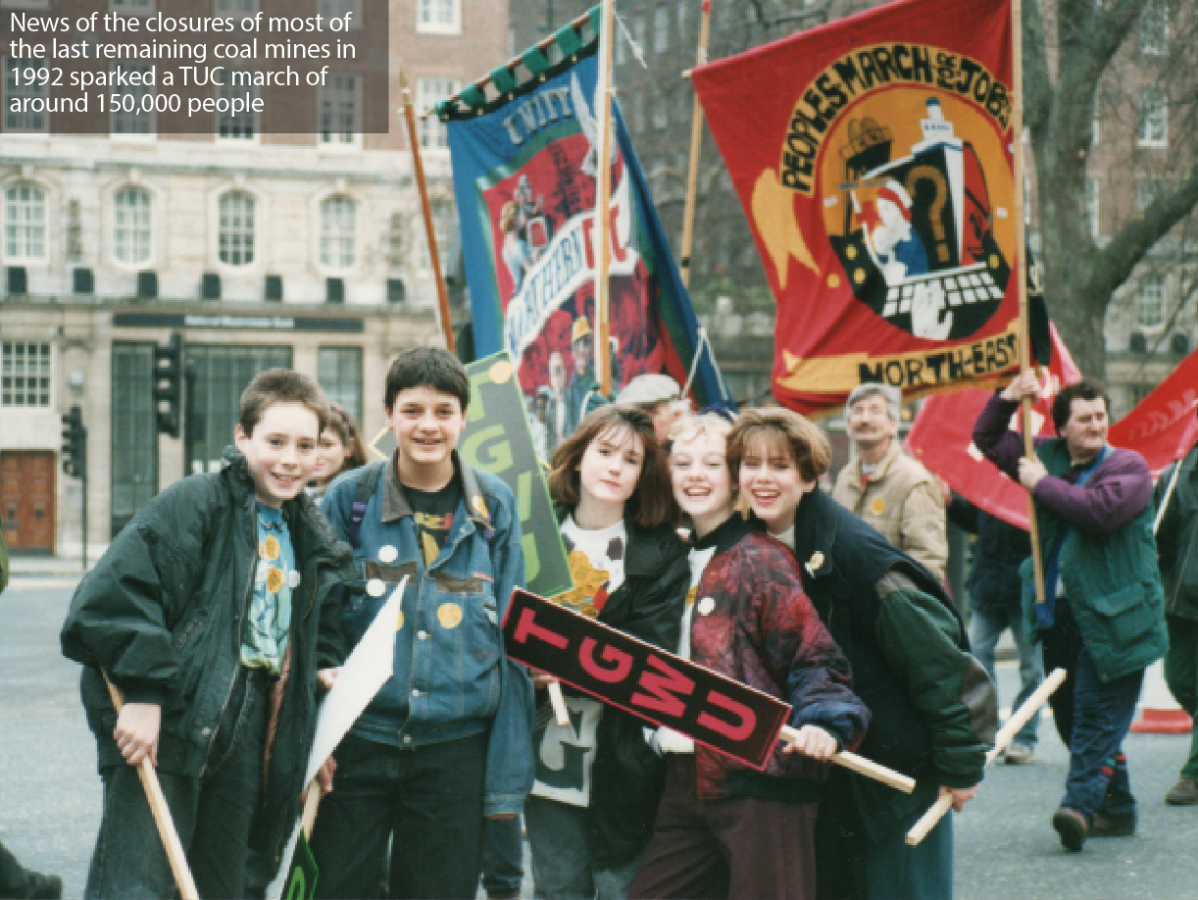 When British miners went on strike against pit closures in 1984, there were 170 collieries in public ownership, employing 175,000 people. The strike received widespread support nationally and internationally but the Conservative government under Margaret Thatcher infamously prevailed.
By 1992 there were only 50 deep mines left. John Major's government announced that 31 of these were to be closed. A poll revealed 67 per cent opposition from the public; a massive TUC demonstration gained widespread support despite a torrential downpour.
In January 1993 women's pit camps were set up at seven of the most threatened mines. In south Yorkshire, as well as Houghton Main, they were at Grimethorpe and Markham Main. Others were Parkside in Lancashire, Rufford in Nottinghamshire, Hem Heath in Stoke-on-Trent and Vane Tempest in the Durham coalfield.
There were two important influences: the memory of the women's role in the 1984-85 Miners' Strike and the example of the Greenham Common women's peace camp from the same period.
The general secretary of the Trades Union Congress, Frances O'Grady, observes in her introduction to You Can't Kill the Spirit: 'Women Against Pit Closures was a life-changing experience for thousands of women who found a voice and strength they never knew existed. Sharing hardship made it easier to bear. Solidarity spread hope far and wide.'
Regardless of defeat, the impact of the 1984–85 strike had left its mark. Dot Rogers recalls: 'The strike was the best 12 months of my life… We were women and had never done 'owt like that before. It changed everything. It changed what women could do.' She became part of the 1992–93 pit camp.
The book's title comes from a song by the Chicana feminist Naomi Littlebear Morena, written in Portland, Oregon, in the 1970s. It was sung at the Greenham women's peace camp in the early 1980s and used by Jill Miller as the title of her book about women in a Welsh mining valley in 1986.
It captures the resolution that galvanised women into action at Houghton Main. Lynne, from Houghton, declared in January 1993: 'The attempt to walk all over us, wipe us, our families and our villages out, has had the opposite effect… We are not bowed, not depressed, not about to admit defeat because we have got everything that is dear to us to fight for and absolutely nothing to lose.'
Their anger was fostered by the knowledge that the closure of Houghton Main and other pits would not just be financially costly but would devastate local economies and the communities that depended on them.
Debbie, a member of the pit camp, reflects: 'Looking back, mining wasn't a great job for human beings to be doing, but it was the way the closures were handled – no thought to people's livelihoods, no thought to their mental and emotional wellbeing, no thought to the long-term future.'
They did not win. Early in May 1993 the Houghton Main National Union of Mineworkers (NUM) branch sent them a letter announcing that the colliery had closed: 'May I, on behalf of the branch, give our sincere thanks to you in your tremendous efforts to reverse British Coal and the government's decision. Without your support the fight would have been lost months ago.'
The defeat was devastating. In Debbie's words, 'It felt like we did a lot and achieved a lot, but in the end, the pits shut and they have been erased from the landscape. These communities have suffered a lot, you go to those areas and it's desperate. There's nothing, they took the heart away.'
You Can't Kill the Spirit is more than an account of tenacious resolve and cruel defeat. It is a precious record of democratic organising.
The authors state: 'We wanted to inform as well as involve as many people as possible. We produced material to provide people with information about pit camps and the reasons we set them up. We wanted control over our message: the campaign was not about pay but people's livelihoods and communities, and our children's future, just as it was in the
1984–85 strike.
'We wanted to organise in a way that involved lots of women… as well as… talking at meetings, going on demonstrations, raising funds for the campaign and producing publicity material. It was challenging. We wanted everyone to feel included, safe and respected. We wanted the children as well as other family members and friends to be involved, so they would understand what we were doing and why.'
They were equal, together and active. Dot remembers: 'Everybody did the same, none of you better than another.'
Jan shivered in the cold in the early months: 'It was freezing in the caravans … We picked the worst winter, it was horrible.' It is not surprising that the brazier filled with coal was so crucial. Even when the weather became warmer the brazier was a focal point.
As Jenny says, 'What I remember is the brazier in the middle, sitting round having a great time, sharing food, making sure there was enough to go round. I just remember listening to stories of everyday lives, of struggles down the pit, my dad did this, my mum did that, this is the way things used to be, how it was important to keep the mines going, because the communities were just going to rubbish if mines disappeared… worry about what was going to happen.'
Debbie explains that 'one of the challenges was keeping people interested… Keeping people motivated was hard – which is why we organised a lot of social events.'
Caroline's diary for 19 January 1993 listed 'lots of ideas for good activities (for publicity/funds/fun etc) – murals, banner making, kids' activities, sponsored bike ride etc.'
Most dramatic was the arrival of a hot air balloon. Debbie says one of her 'fondest memories' was Dot going up in that balloon. 'She really wanted to but once she was in it, you could tell by her face, she wasn't sure.'
At the same time they were organising nationally and locally. As Flis says, 'We needed to make sure we were keeping pressure on the government and British Coal, making the arguments at the same time as maintaining actual presence at the pit camp.'
Jenny explains: 'There was a women's forum in Sheffield. It was a very wide network of women involved in that and a lot supported the pit camp – not just Houghton Main, other pit camps as well.' There were wider solidarities too. Jan states: 'We went to Burnsalls and to support the mushroom pickers, who were on strike, and we went on the picket line with them. Timex – we went to support them too.'
The book ends with a quote from Tony Benn at the 1993 May Day rally in Chesterfield: 'You can't obliterate from the human spirit two things – the flame of anger at injustice and the flame of hope for a better world.' The women resisting pit closures in 1992–93 were bearers of both flames.
Compiled by Sheila Rowbotham from You Can't Kill the Spirit! Houghton Main Pit Camp, South Yorkshire: the untold story of the women who set up camp to stop pit closure.