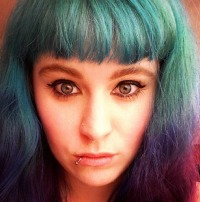 Video: Yarl's Wood sex abuse allegations, 'They are treating us like animals' – This is just absolutely horrendous (Trigger Warning for rape, abuse, exploitation, harassment, attempted suicide)
Claudia is intersex, let's talk about it – Because Western society is obsessed with making people fit the binary.
Why sex positivity is sex critical – It's important that those who are sex positive still remain critical.
Why I won't support Live Below the Line – This global campaign calls for people to practise living on £1 a day. I'm very sceptical about poverty tourism. I generally find it cruel & heartless.
Some women have more than one abortion and we should listen to them – We need to be better at offering a range of birth control options to those who need it.
Can a picture of a banana fight racism? – Many of these campaigns come from a good place but we must question how useful they really are.
Why grammar snobbery has no place in the movement – I've been thinking a lot about this recently and this article sums up my thoughts well.
There is no hierarchy of oppressions – This is an older piece but still very relevant. For a person who experiences many axis of oppression separating them into neat little boxes just isn't doable.
Guest Columnist:  Molli Desi – An honest account of a sex worker being rescued and how it was more detrimental than being allowed to do her work.
The origins of 'privilege' – This is the person who wrote the extensive 'white privilege theory' list.
Portraits of genderqueer nation – This is a beautiful set of photographs. Unfortunately all of the photographs are of white genderqueer people, which doesn't paint an accurate picture of a 'genderqueer generation'.
Liberal dude erotica – This is quite hilarious, sadly I recognised many men I've met in it.
Video: #everyBODYisflawless in this body-positive Beyonce remake – I love a bit of body positivity.
Emma blogs at: www.emmaquitefrankly.blogspot.co.uk and Tweets: @ExtraFT