There are now so many towns and cities wanting to hold rallies for Jeremy Corbyn that he can't physically make it to all of them before election day.
Yesterday hundreds of supporters, young and old, turned out at Warrington's Parr Hall, even though the Labour leader could only speak via video link. It was one of six rallies taking place across the UK that day alone, with other venues including Croydon, Glasgow and Birmingham, and there are more planned today and tomorrow.
'The Labour manifesto doesn't mess about, it doesn't tinker around the edges'
In Warrington, DJ Patrick Topping greeted supporters in an atmosphere resembling a festival more than a political rally. Vocal Labour supporter and acclaimed actor Maxine Peake of Shameless fame introduced indie veterans Reverend and the Makers while young and old danced energetically.
Peake then introduced Sian Cain, a first time voter, who supported Corbyn – particularly his promise to scrap tuition fees.
Rebecca Long Bailey, Labour candidate for Salford and Eccles, didn't speak for long before the crowd erupted with cheers of 'Go Jeremy Corbyn' to the tune of 'Seven Nation Army' by the White Stripes.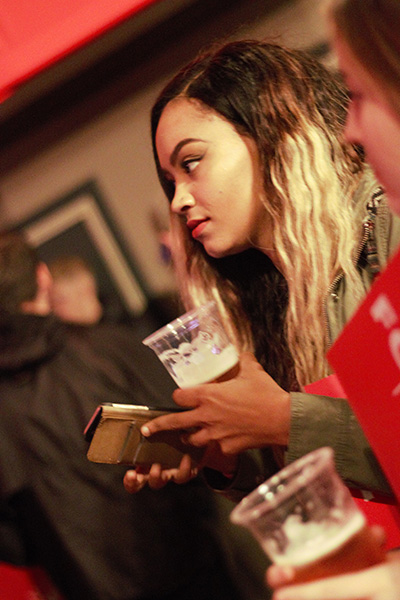 She said: "I've felt like we're not on our own being in Jeremy's team in wanting a better world, because there are hundreds and thousands and millions of people out there. We've seen people who are in work relying on food banks. We've had people, mothers and children, sitting shivering with big coats on, because they can't afford to put on the heating.
"At the same time, this Conservative government told us we needed to pull together and that it would all be alright in a few years' time." Cue an emphatic and loud "Bollocks!" by a woman in the audience.
Long Bailey highlighted the manifesto's message. "The Labour manifesto doesn't mess about, it doesn't tinker around the edges, to make a few things a little bit better. This is a transformative manifesto. It's the most exciting book that I have read in my lifetime. It shows that a fairer world is possible."
What kind of society?
Jeremy Corbyn was then set up via video link: "The Tories and Lib Dems in coalition did what?" he said. "Slashed public services, froze public sector pay, laid off ambulance workers, firefighters, police officers, nurses, every single group lost out. Every community lost services and facilities.
"And do you know what? At the other end of the scale, were the cuts made for the very richest? Were there increased taxes for the big businesses and corporations? Was there any effort to make those at the top end pay for the crisis? No, you know the answer. The answer is the people have suffered whilst inequality has grown in our society.
"We have an opportunity to change the political direction of this country. Ask people what kind of a country, what kind of world, what kind of society they want to live in."
With promises of a £10 per hour minimum wage, scrapping tuition fees and a return to free university education and a re-introduction of EMA for poor college students, re-investment into the NHS and the return of nurses' bursaries, Labour's manifesto was cheered and whooped.
For many in low paid work or zero hours contracts like I am, Labour's manifesto is a message of hope, and hope for our children. These rallies aren't really about one personality – they're about these policies.