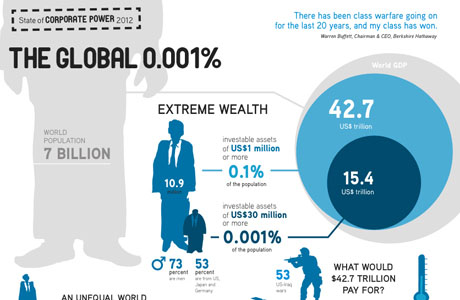 Who are the global 1 per cent? What companies do they run? How do they escape accountability? Check out the Transnational Institute's powerful exposure of the social and environmental costs of global corporate power .
The economic, social and ecological crises humanity face are no accident, but a result of policies pursued by a small  corporate elite that has systematically hijacked political and economic policy throughout the world.
This global elite – best known as the Davos class – meets annually in the Swiss skiing resort in the last week of January to reaffirm their faith in the orthodoxy of pro-corporate economic policies. They continue to do so, even as the costs become ever more clear in debt crises that are never resolved, rising unemployment and inequality, and an ever-pressing ecological crisis.
TNI, as part of its new Corporate Power project, is producing a series of infographics over 2012 that expose the reality of corporate power, and our need to fundamentally change direction. Please download and share these infographics, and watch out for new ones over the coming months.