Shahrzad
How long have you been here?
I spent here 3 nights, but I was here every day since Monday to support.
Why did you take part?
To focus on the big issues like TTIP, NHS, and wars, to show how they are related. We did not decide or vote for any of these things, because in fact we do not have a democracy. This protest has been about bringing everyone together, the movement does not belong to us, it belongs to everybody.
What will happen next?
One of the most popular suggestions is that we should start from local squares, not from Parliament, where the people inside are totally disconnected from the real world.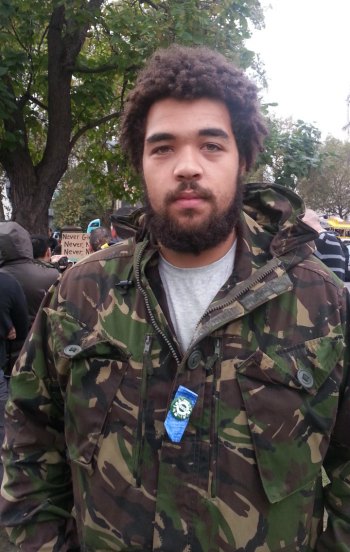 Daniel
How long have you been here?
I slept here 4 nights, but I came every day
What were the high and low points for you?
The best moment was when the police came to clear the square to squash the voice of people, because that was exactly the reason why we were here, to demonstrate that there is no democracy. The fence they raised is a physical representation of the lack of democracy in this country. To me it looks like an art installation. The same moment was also a low point, watching people get hurt for nothing, for sitting on the grass. That made clear that there is no democracy.
What will happen next?
I like the fact that there is so much energy here and I would like to export these ideas away from this area, and maybe engage more people in public spaces.
Lorraine
How long have you been here?
I have been here every day, but not during the nights, I work full time.
How have you found it?
One of the best moments for me was when the police tried to remove everyone from the grass, just because they were sitting there, but solicitors managed to stop them and the police backed down. The next day 140 cops came to remove people from that area, so we moved here to the side of the square. I also really enjoyed Caroline Lucas' speech.
How is the message going to spread?
I feel that the passion we saw here is enough to show how important this was. People need to know more and to understand more about many things, like TTIP, so talking to like-minded people is very important as well as bringing along more people.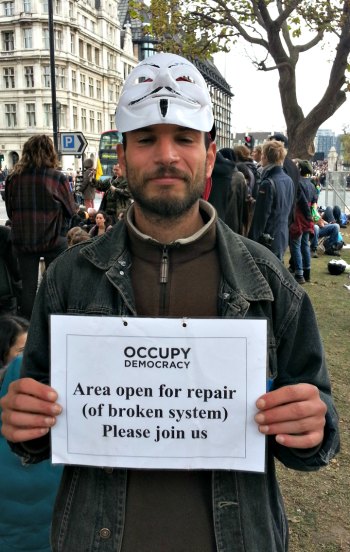 Daniel
How long have you been here?
4 days and 4 nights so far.
What was the high point?
I think that now Parliament Square really is a place for debates and many interesting things have been discussed over the last few days.
How about the low point?
At the beginning the police were threatening us. They said there must be no singing, no sleeping, no music, but these were only excuses to remove people from the square. In the end we did what we wanted to do. Now they have changed their approach and when one of us was sick the police were very helpful.
What will happen next?
I believe our message will continue on social media.
Nina
How long have you been here?
I spent 2 nights here, but I have been here every day
Do you think that the protest was useful?
We created a safe and free space. We had a lot of speeches and learned a lot from each other. We have practiced real democracy so everything has been done here because we chose to do it, everyone is invited and there is no discrimination.
What will happen next?
The good thing is that we are here and this raises questions. This is what democracy is. When we talk about democracy this creates a new vocabulary, now everyone knows the meaning of 'occupy democracy'.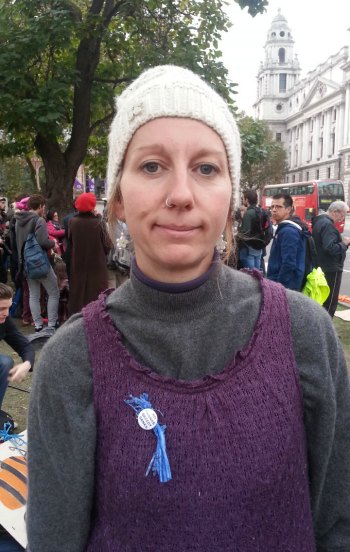 Gail
How long have you been here?
I spent here 2 nights but I have been here every day.
Do you think the protest achieved its goal?
Fencing off the Parliament Square is exactly what we are talking about.
Do you think this message will spread?
There has been a huge use of social media. I think there has been a lack of main stream media coverage, and this is significant. There are lots of discussion about what to do next, but it takes time to decide, it is a participatory way of deciding. I think that democracy is very damaged when you can't talk outside the Parliament.
Read the current demand list for Occupy Democracy and plans to re-occupy the square in November.
Photos by Stefano Fumagalli