The left and labour movement have long recognised that Brexit threatens those workers' rights guaranteed by the EU, and risks igniting a level of economic dislocation so severe it will be harmful to the living standards of working people. Less attention, however, has been paid to how the potential loss of free movement rights might leave workers here in the UK worse off – even if they have no intention of moving to another country to find work.
Where free movement is discussed in these terms at all, it has often been wrongly associated with the undercutting of British workers pays and conditions. In addition, supporters of free movement, like myself, have understandably hesitated to talk about it in self-interested terms given that we see it as a universal right. But the Brexit vote shows a new approach is needed to bring the British public along with us.
In our new report, Brexit and immigration: prioritising the rights of all workers, we attempt to move the debate on. We analyse the likely impact of the alternatives to free movement, particularly use of time-limited work permits tied to specific employers, would have on the British labour market.
The risk of super-exploitation
Our findings show how these systems have a terrible pedigree when it comes to workers' rights with super-exploitative conditions often becoming normalised. By downgrading migrants' immigration status, giving them no security of residence beyond their allocated time, and tying them to specific employers or agents acting on their behalf, they sharply reduce the bargaining power of migrant workers over their pay and conditions. This makes them vulnerable to super-exploitation by unscrupulous employers.
In Britain, given we have a hyper-flexible labour market, a culture of outsourcing where operators compete to provide labour for the lowest cost, a gig economy that imposes 'self-employment' on workers, and some of the most restrictive anti-trade union laws of any democracy in the world, the result of this is likely to be a 'worst of both worlds' system. Migrants will have lost the security of status provided by free movement and exploitation would deepen.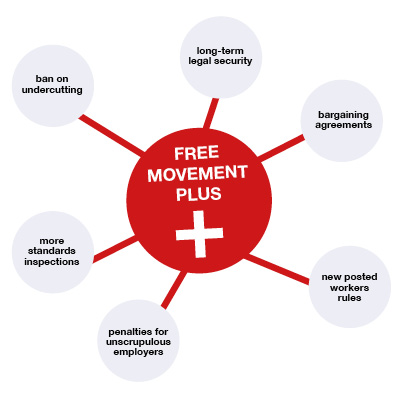 The answer to this is a system we call free movement+, where the plus refers to a new deal of social rights that empowers all workers and ends exploitative employment practices. By tackling the labour market insecurity that blights the lives of working people of all nationalities here in the UK, free movement+ offers a winning formula.
Its key elements are as follows:
A legal position for sector-by-sector bargaining agreements negotiated between unions and employers to establish a minimum rate for the job.
Support moves in the EU to review the 'Posted Workers Directive' to establish an anti-undercutting principle when migrant labour is used.
Uphold the non-discrimination principle at the heart of free movement by banning 'foreign only' recruitment practices by employment agencies.
Greater resources and powers for the inspection of sectors with large numbers of low/un skilled workers to ensure standards are maintained.
A system of strictly enforced penalties for unscrupulous employers failing to maintain the minimum standards of care for their workers.
Protect the rights of EU citizens in the UK (and UK citizens in the EU) by ensuring free movement has the oversight of the European Court of Justice.
Support from Leave voters
These ideas are not hard to formulate in policy terms, or original. Many of them and more already feature in Labour's dramatically popular 2017 election manifesto, but as workers' rights rather than immigration-relevant policies. The challenge is to convey them in a way that pushes back against the rise of anti-immigrant sentiment.
There is some evidence already that this can work. One opinion poll from earlier this year found that a majority of Leave voters support maintaining free movement if it is explained as a set of rights giving UK citizens the chance to live in other EU states.
With the Labour Party set to debate its policy on free movement in Brighton next week, now is the time to back free movement+ as a bold and principled approach.
Luke Cooper is Senior Lecturer in Politics at Anglia Ruskin University, the co-author of Brexit and immigration: prioritising the rights of all workers, and the convenor of the Another Europe Is Possible campaign.