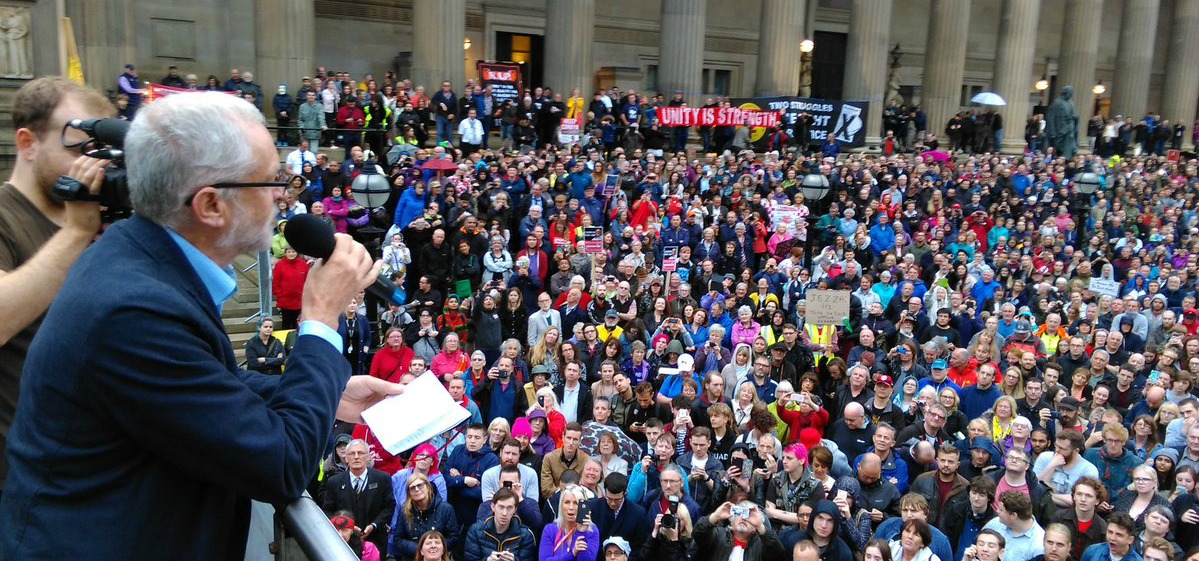 Long before Liverpool became a place of pilgrimage for Beatles fans it has been a convergence point for socialist politics with a rich history of workers' struggles. The Liverpool Transport Strike of 1911 is viewed by some historians as the nearest occasion this country has come to a revolution. From The Unemployed Workers Movement and the hunger marches of the 1920s, to a vibrant radical scene today, while it's no panacea, you might find inspiration in Scousers' countercultural defiance and the militancy of the Merseyside left.
In recent years the city centre has been shifting towards to the new commercial developments of the Liverpool One area, but the older town has much to offer. In addition to official visitors' guides, a selection of alternative places of interest are listed below. You'll find plenty of cultural interest along the waterfront, or across the city for this year's contemporary arts festival, and along the stretch of museums and galleries near St George's Hall (if you want a very quiet escape from the city try the beautiful Picton reading room at Central Library next to St George's Hall).
It's not a place for taking yourself too seriously either, which you'll discover if you visit some of the Irish bars along your way. There's a historic Irish and American influence stemming from maritime links and the region is only beginning to come to terms with its role as a major port for Empire and the slave trade. The International Slavery Museum opened less than ten years ago and current exhibitions include Afro Supa Hero; celebrating positive black role models, plus an exploration of the issues affecting Liverpool's black community. Liverpool Football Club's first black player Howard Gayle turned down an MBE nomination this summer due to the Empire's oppression of black people. He said the support he received from Liverpudlians for his decision was especially pleasing, but not surprising, because "as the world has seen from the Hillsborough campaign, we are a people very alive to issues of injustice".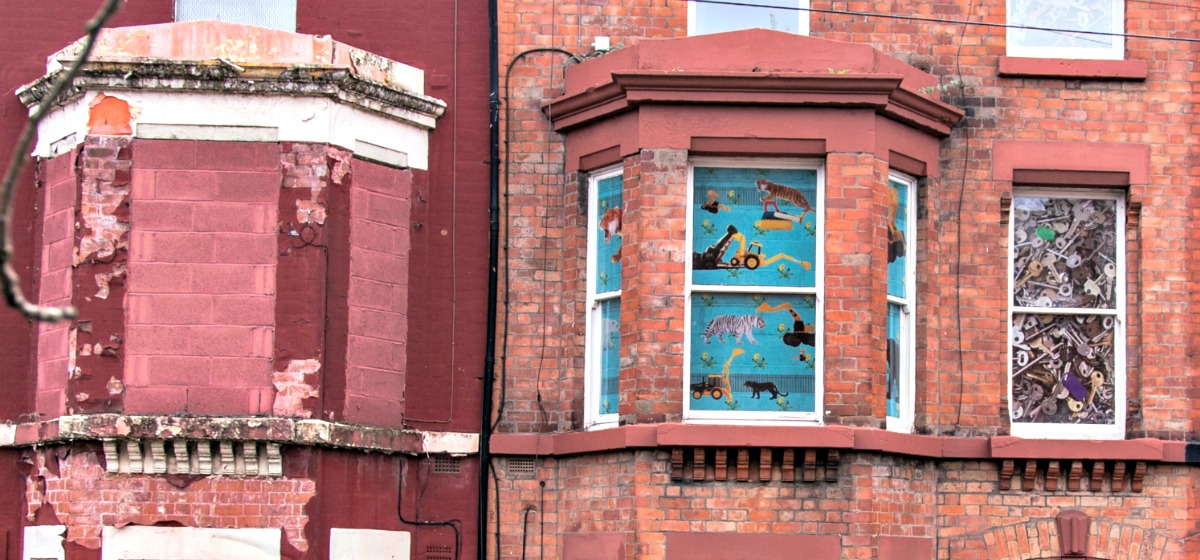 'Contravision: wallpapers for the dispossesed' by Nina Edge showing at 40 Kelvin Grove in Liverpool's Welsh Streets until December 2016. Original photo by Tom Lox
You're unlikely to see the Sun on sale here – since the Hillsborough inquest verdict earlier this year a long standing regional boycott of the newspaper has gathered pace. The organising hub total eclipse of the s*n has over 30,000 members and rising, who take direct action (video below) and build public pressure leading Asda to recently announce that it would stop selling the Sun in eleven of its Merseyside stores. Merseytravel have announced it will ask all vendors across its network to withdraw the paper and Liverpool councillors have unanimously backed a motion calling on retailers in the city to stop selling the paper
The local population has struggled against austerity measures long before it became the national politics of the day. During the 80s one of Margaret Thatcher's closest advisers urged her to abandon Liverpool to 'managed decline', and through the 90s dockers famously fought with the support of workers around the world.
During the 80s a Militant-led Labour council resisted Thatcherite budget restrictions against the grain of rest of the country. They won significant concessions from the government which meant extra funding for housing provision and the council. In an essay about Liverpool's radical heritage, Ian Gwinn describes the council's legacy: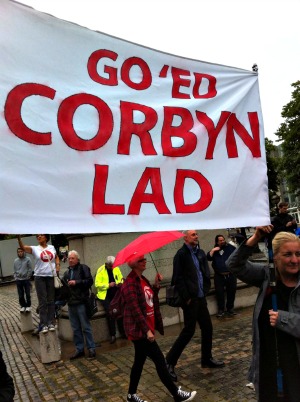 'On the one hand, it was excoriated for being obstinate, rebellious, and for failing to understand the new economic realities of modern Britain; on the other, it captured the sense of injustice and spirit of resistance of the Liverpudlian public, winning a series of elections despite hostile media coverage.'
Merseyside's fiery base of working class power showed itself recently when reports of between five and ten thousand people turned out for a Jeremy Corbyn rally – the largest turnout in the country outside of London. The Tories scraped just 3.2% in the mayoral elections (that's below the Green Party, the Trade Union and Socialist Coalition and an Independent). Also this year around 20,000 amassed to mark the Hillsborough verdict; solemn yet defiant that establishment forces of the police, politicians and the media had messed with the wrong city.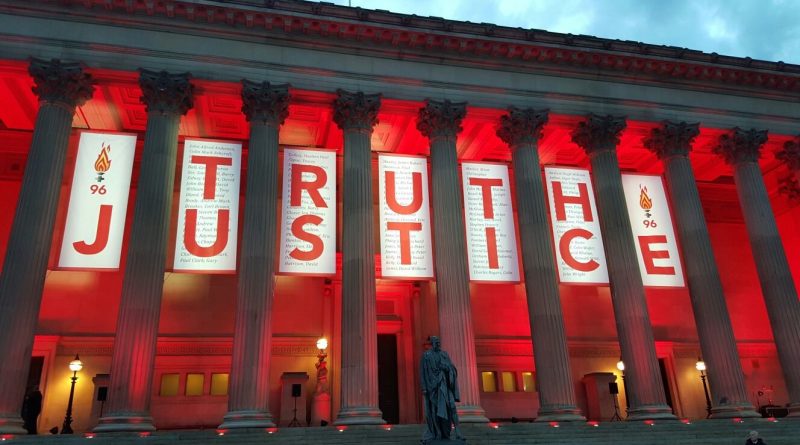 On the streets and across communities residents have fought hard to preserve Welsh Streets, Cairns Street and a number of other sites targeted for demolition and gentrification in the city. Love Activists have occupied buildings to support the homeless; anti-fascists consistently outnumber and resist the far right; and groups have taken an active stand against fracking. Tory Lord Howe was right when he said over thirty years ago, "I fear that Merseyside is going to be much the hardest nut to crack"
Places to visit
News from Nowhere bookshop – Books to empower and inspire – from challenging the power of corporate capitalism to breaking down prejudiced attitudes. This bookshop is run by a women's collective and has a social centre cafe attached. 96 Bold Street, L1 4HY
The Casa bar – When a group of sacked workers featured in a channel four drama, Dockers, they used money raised from the programme to establish the Casa, a community bar with a socialist heart. 29 Hope Street, L1 9BQ
Small Cinema – a volunteer-run cinema space 57-59 Victoria Street, L1 6DE. Disabled Access.
FACT – Independent cinema and creative technology hub with galleries, cafe and a bar. 88 Wood Street, L1 4DQ
Unity Theatre – Originally Merseyside Left Theatre with a tradition of staging radical but accessible work. 1 Hope Place, L1 9BG
The Egg Café – Popular choice for veggies and vegans. Meeting and gallery space. (upstairs, no lift) 16-18 Newington, L1 4ED
(Rita McBride portal 2016 installation, Toxteth Reservoir. Photo by Joel Chester-Fildes)
The Wilfred Owen Story – Visit this war poetry infoshop if you take a ferry across the Mersey. Call ahead for limited opening hours. 34 Argyle St, CH41 6AE
Nerve magazine – an alternative media outlet with articles and reviews of grassroots arts and culture in Liverpool and its surroundings.
Black-E – Contemporary arts and community centre. Venue of The World Transformed, a celebration of politics, art and community, running along side the Labour Party Conference. 1 Great George Street, L1 5EW
This article, pictured below, first appeared in a special edition of Red Pepper magazine that has been produced in collaboration with organisers of The World Transformed. To get your copy visit The World Transformed in Liverpool or order online while stocks last.
Thanks to Dave Whyte for contributing to this article.