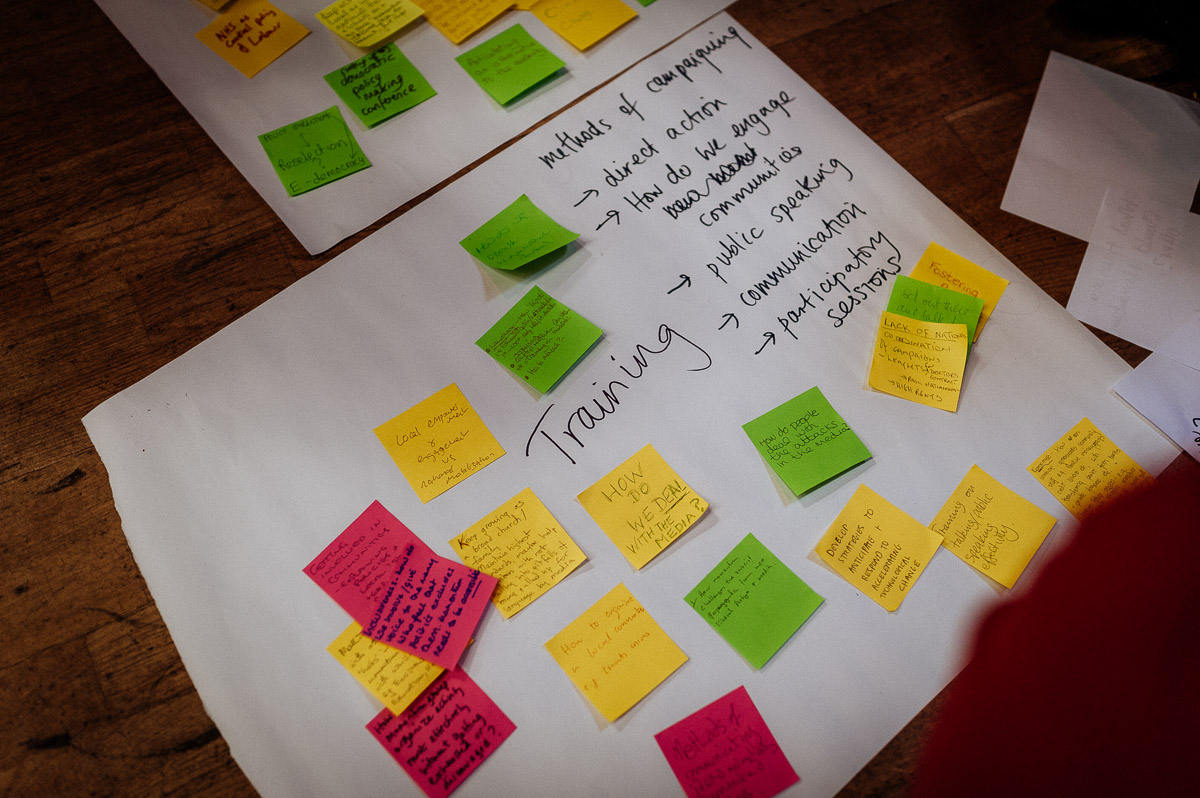 Photo: Dave Walters. From a 'What is Momentum for' workshop at The World Transformed.
This article is taken from the forthcoming issue of Red Pepper – get a subscription now.
Nationally, in Momentum, the debate between decision-making via delegates and one member, one vote (OMOV) has been framed as an oppositional struggle for the movement's soul. One 'side' presents itself as saving Momentum from the 'hard left' and irrelevance, and the other 'side' from centrally-based authoritarians who will alienate its activist base.
At first glance, the recent decision of the Momentum Steering Committee to introduce a new constitution, justified in terms of OMOV, appears to have put the issue to rest. Yet legitimate opposition to its content—including increased centralisation and the stipulation that members of Momentum must also be members of the Labour Party—and the heavy-handed manner in which it was introduced mean debates on Momentum's structures should continue for some time. Whilst this is necessary, it is vital that focus is also directed at a wider transformation in the organisation's political culture and towards an idea of Momentum as a space of difference and negotiation, in which people can grow individually and collectively. In making this case we draw on our experiences in Momentum Hackney.
Our local group
When we talk to people about these national debates we find that their positions are shaped by experiences of their local Momentum group and their wider political backstory. That's also true for us. We've been Momentum Hackney activists for the past year, almost since its inception in November 2015. We've had a lot of autonomy, which – as people with little organising experience – has been challenging, but it's also been an incredibly exciting and creative process.
There was very little guidance on how to organise a local Momentum group. Nationally, this has meant that each group has developed its own culture – sometimes their meetings are filled with policy motions, sometimes they are filled with rousing speeches. Momentum Hackney, while less than perfect, has been grounded in pedagogy. That is, in the idea that politics – like everything else – is a space of learning.
'For politics to be transformative, it means that through engaging in meetings and actions, you become something else'
This doesn't mean treating people like empty vessels to be filled with knowledge. Rather, it means creating a political environment where the primary aims are self-transformation and relationship building. We've attempted to embed participatory education within all our activities and to use and grow our own understandings through them: from street stalls to socials, from public meetings to phone-banks, from political education sessions to filmmaking.
The 'new politics' is not just a slogan. It means taking the best from the labour movements, the liberation movements of the 1960s, 70s and 80s, and from contemporary social movements. We're lucky to have activists from all these backgrounds. There needs to be a way for these different cultures not to clash, not even simply to co-exist, but to cross-fertilise.
Transformation
For politics to be transformative, it means that through engaging in meetings and actions, you become something else. You do things you didn't think you could do; you understand things you didn't previously understand; you feel differently about your capabilities, about your own power.
Power is no longer 'over there' but right here. This draws on Jeremy Corbyn's project of democratising society so we all feel able to speak and act politically. In Hackney we've tried – not always successfully – to make our meetings (whether they're about the concept of class, or housing issues) as participatory as possible. We structure them to ensure that privilege and experience aren't the main determinants of whose voice is heard.
For example, a good portion of our meetings are given over to 'break-out' groups, with the return general discussion aimed at turning their sometimes-rambling conversations into actions. From this, we've learnt the importance of good facilitation that works with a meeting, driving but not controlling it. However, we're aware that there's a place for specific expertise, and that people want to hear and learn from this. In order to maintain a balance we've tended not to advertise speakers (to make the meeting about the group rather than well-known individuals) and to allot them only five minutes, orienting the meeting towards debate and action.
Both face-to-face meetings (with or without delegates) and online discussions (with or without voting) can enable transformation, but equally they can have the opposite effect. Those supporting delegate structures focus on the passivity of 'clicktivism' and argue that it makes people less likely to go to physical meetings. They ignore how online participation can create a sense of community for isolated individuals, and provide people who struggle to speak in public meetings a safer and freer space. For parents, carers and the overworked, it increases their capacity to participate, relocating power within their own space.
Alongside this, the experience of being in the same room with others and the shared feelings generated have enormous potential. This potential is wasted in meetings dominated by 'big' speakers, people hogging the floor and bureaucratic procedures. People too frequently emerge from political meetings feeling like they don't belong. We must create meetings where people leave feeling hopeful not frustrated, that offer multiple ways of engaging and that use the full power of bringing people together.
Relationships
We often see politics as about issues and ignore how central relationships are to any political movement. Perhaps our most engaging Momentum Hackney meeting, definitely our biggest, was an emergency gathering called at 48 hours notice following the failed coup against Corbyn. Its main function turned out to be to provide solidarity, emotional support and a chance to meet and talk to others who shared feelings of anger, disappointment and anxiety.
More generally, the relationships we've built through a series of formal and informal events and our social media, have been critical in getting Momentum Hackney members and supporters more involved in the Labour Party. Meetups before canvassing, or being introduced via email to someone in your branch, make engaging with Labour easier and more comfortable.
Again, face-to-face meetings and online engagement can help relationships develop or they can block them and – as we're painfully seeing now – create enemies. Our main experience of the failure of face-to-face meetings has been the (now defunct) London regional committee, which has been dominated by factional politics and bureaucratic procedures, rather than using consensus to reach decisions and develop shared understandings. Only one of our eight Hackney delegates has attended a second meeting, and then only out of a sense of duty.
OMOV, by itself, will not solve these problems. But it means that there is less at stake in meetings so attending them carries less power. Meetings based on delegate structures set up value hierarchies that can produce feelings of shame and inadequacy in others. Online relationships tend to be more horizontal. Those critical of OMOV suggest that it atomises people. This position presents offline relationships as more authentic, and ignores how nearly all relationships today mix online and offline elements. 21st-century socialism has to acknowledge this and see not only its problems but its potential.
Key questions
The introduction of a new constitution may offer some resolution to a debate that has arguably directed attention away from much-needed campaigning, though it is already creating new problems. For us, the key questions for Momentum have never been about whether to adopt a delegate structure, OMOV structure, or a mixture of the two. They are: which aspects of delegate structures and/or online democracies are transformative for individuals and support deep relationships, and which aspects destroy these possibilities? And, where do we need to create new structures for our new politics – what beyond OMOV and delegates can support transformation and relationship building?
It is vital to keep the tensions in Momentum, to work with them and not resolve them in a final sense: to continue to be both 'inside' and 'outside' of Labour; to embody both 'old' and 'new' politics and political actors; to acknowledge our differences together with what we share. Momentum is an unprecedented attempt to organise across these tensions. It is fragile and precious. Nobody can claim with absolute authority to know how best to negotiate these tensions. We're all learning.