When I was younger and more naive, I really believed that there would be a 'wake-up call' moment about climate change – a spell-breaking flash where everyone would suddenly realise that climate change – which is set to kill 100 million people by 2030 – was the biggest issue the human family has ever had to face.
First I believed that the Stern Review in 2006 would be that moment. Being a sober study about the seriousness of the issue, conducted by a straight-laced government economist, I thought that was the point that everyone would 'wake up'.
That was hopelessly naive and misguided. By the time Hurricane Sandy hit America in 2012, I was older and wiser (or just cynical), but still almost allowed myself to believe that 'the moment' was about to arrive.
Now, as we wake up every day to more catastrophic news of flooding across the UK, today could have been that 'wake-up' moment too. And I think a lot of other people are still waiting for it.
Of course, I now know that a moment like that might never come. Because that concept suggests that all we have to do is make people realise this is a 'big deal' – and that's it. But the picture is more complicated than that. There are many people that don't want to make it that simple.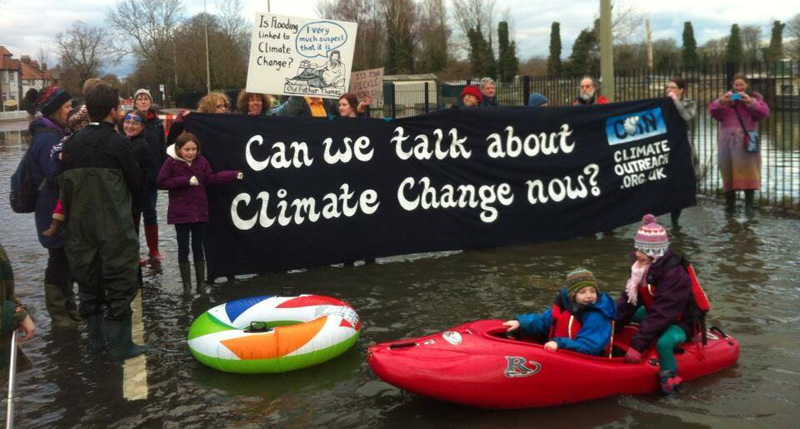 We do have an enemy
Naomi Klein encapsulates this perfectly when she says, 'For a long time the environmental movement behaved as if climate change was the one cause that didn't have an enemy. But here's the thing. We do have an enemy. And we know exactly who they are.'
And we do. They are everywhere. For example, yesterday we had the spectacle of Tory MP Adam Afriyie standing in the flood water during a Channel 4 interview, telling Jon Snow that today was not the day to talk about climate change. The debate across the media is about whether the Environment Agency or the government is to blame, despite the Met Office dropping the bombshell that there is a link between these particular floods and climate change.
I now know that this isn't about people suddenly coming to their senses, as if waking from a false consciousness. There won't be a magic moment of realisation. We have enemies – right-wing politicians, organised climate deniers, fossil fuel companies well-funded, shady think tanks – who are actively destroying our future.
And now, we have an opportunity to show everyone the horrifying results of what they are doing. We must shout loud to link what's happening in the UK to climate change. For so long, an immaterial, intangible issue, we need to explain to everyone that this is what climate change looks like. Through disruption, shaming, divestment and every other tactic – we have to make them everyone's enemy.
If we can do that, then that would be a magic moment.