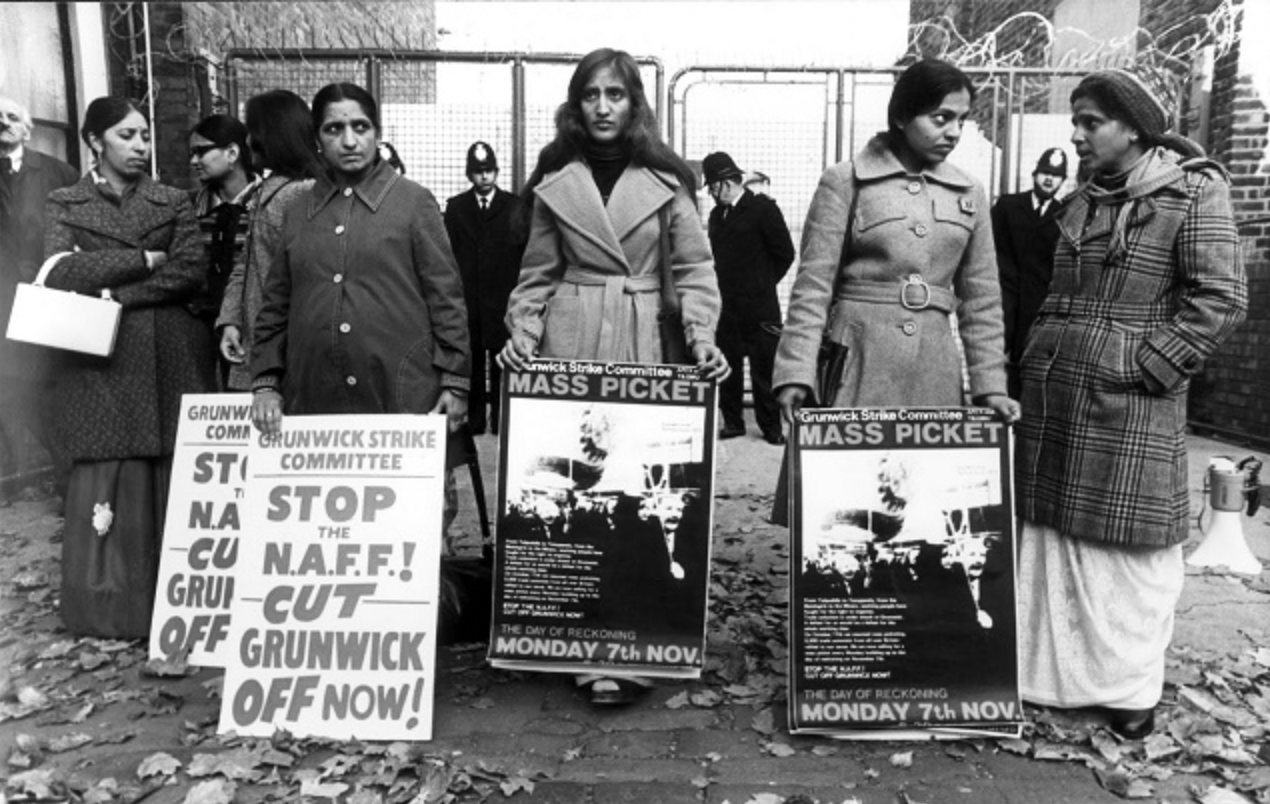 The play "We are the Lions, Mr Manager!" charts the history of the 1976-78 Grunwick Film Processing Factory Strike and its equally brilliant leader Jayaben Desai.
As Linda McDowell and colleagues explain, "after a long day's work in the cramped and poorly ventilated space where the photographs were collated and packed", Desai, in response to a "demand to work beyond her core hours with no notice" walked out of the Grunwick factory in protest. By the following Monday morning, "an additional 132 workers failed to show up for work, all of whom were sacked when they demanded union recognition".
As I watched the play in Coventry, I was struck by the similarities to a struggle recently waged in the city between Coventry University and its University and College Union (UCU) branch, over the right of staff in one of the University's wholly-owned subsidiaries – CU Coventry – to be collectively recognised by the union.
A large proportion of its staff come from black, Asian and minority ethnic groups and are on precarious contracts. Indeed, the working conditions more accurately resemble a factory floor than a typical vision of a college or university, with staff working long hours with a heavy teaching load – what Desai described in her context as 'forced overtime'. Un-unionised staff receive low pay relative to unionised colleagues in universities, and experience high levels of management bullying and intimidation.
In response to staff in the University's subsidiaries self-organising with the help of UCU, demanding their legal right to union recognition, the University is trying by any means necessary to prevent these workers from having collective representation.
After walking out, Desai and colleagues realised that having a trade union would help them move beyond protest to changing and improving the working conditions at the factory for everyone working there.
They joined APEX – the Association of Professional, Executive, Clerical and Computer Staff – and began to demand that management should recognise the rights of Grunwick workers to join a trade union and be collectively represented to raise workplace issues with the factory owners.
While management refused to recognise APEX for collective bargaining, the cause of the Grunwick strikers was taken up by the wider trade union movement, with tens of thousands of trade unionists supporting marches and protests called by the union, and the Union of Postal Workers boycotting postal services to and from the factory.
Three years ago, Coventry University UCU began fighting for recognition in the University's subsidiaries, after pre-sessional English teachers were outsourced to a professional training subsidiary, CU Services. After two years of campaigning, the union successfully balloted these teachers, gaining statutory recognition with an impressive 100% yes vote on a 76% turnout.
However, just two weeks later, the University sacked these teachers, forcing them to re-apply for their jobs via another subsidiary, the student temping agency 'thefutureworks'. After a painful and highly-public campaign by the UCU – with the University's employment practices being compared by Aditya Chakrabortty in The Guardian to that of Sports Direct – these teachers were reinstated on their original contracts and with their recognition agreement in place.
Meanwhile, the local UCU branch also began campaigning in other Coventry University subsidiaries, particularly CU Coventry. CU Coventry was one of the first 'alternative providers' set up in the wake of market reforms introduced in 2010 by the Conservative-Liberal Democratic coalition UK Government.
Alongside the introduction of £9000 student fees, the expansion of the 'income-contingent' student loan system and swingeing cuts to university teaching grants, the coalition radically deregulated the sector. making it much easier for profit-making colleges and universities to be set up and to eventually access funding through the student fees and loans system.
Coventry is one of a few 'post-92' universities – ex-polytechnics granted university status as part of the 1992 Further and Higher Education Act – which have experimented with its corporate form, exploiting a clause in charity law that allows non-profit organisations to set up profit-making subsidiaries to engage in secondary business activities to further their primary, charitable purpose.
Coventry University's subsidiaries are 100% owned by the University as sole shareholder, and have members of the Coventry University senior management team as directors and board members. All profits of these subsidiary colleges – which have proved to be very lucrative, with CU Coventry registering a post-tax profit of £3.8 million in 2016 – are then 'gift-aided' to the University at the end of the financial year.
All of this is perfectly legal, although ethically questionable. In the case of the Coventry University, its for-profit subsidiaries are engaging in the charity's primary purpose. CU Coventry, CU London and CU Scarborough – recently brought together within what could be called a 'super-subsidiary', the CU Group – offer 'no frills' further and higher education at a reduced price by pressing down on the terms and conditions of staff.
CU Group is able to press down so hard on these terms and conditions, extracting the maximum labour and value from its 'tutors', because it refuses to recognise any (independent) trade unions. Such subsidiaries were arguably set up to circumvent existing collective bargaining agreements, and the national framework agreements that determine the relatively high pay of traditional academic staff. By outsourcing and sacking pre-sessional English teachers in 2016, Coventry University made it clear how crucial this exploitation is for the 'no frills' business model, and how far it is willing to go to fight union recognition in the subsidiaries.
Coventry's aggressive anti-union tactics – which have already damaged the University's reputation, calling into question how successfully its trustees have fulfilled their duty of making sure the senior management team "avoids exposing the charity's assets, beneficiaries or reputation to undue risk" – were evidenced yet again earlier this year.
UCU members found out at a meeting with CU Coventry management to discuss union recognition on 8 March that the employer had six months previously registered its own staff consultative forum, set up at the beginning of the union's recognition campaign to undermine the union's growing influence in the subsidiary, as a trade union and voluntarily recognised it for the purposes of collective bargaining.
UCU once again launched a national campaign to shame the University into de-recognising its staff consultative forum – under the hashtag banner #CovUniShame – and to grant its employees their legitimate and legal right to be collectively represented by whatever union they wish.
Like Desai and the Grunwick strikers, the brave and determined education workers at CU Coventry enjoyed fantastic support from local politicians, with local MP Jim Cunningham slamming the University' behaviour in a public statement and submitting an Early Day Motion in Parliament. Over the next few weeks 29 MPs signed the EDM, including Jack Dromey, MP for Erdington, Birmingham, who played such a pivotal role in the Grunwick campaign forty years ago.  
However, unlike the Grunwick dispute – which ended after two long years of struggle in defeat for the strikers – UCU won its battle for recognition, reaching on 17 May an agreement "in principle" for the union to have voluntary recognition, allowing it to formally represent academic staff across all the CU group of campuses on key issues including pay and working conditions.
The Grunwick strike is remembered for not only for Jayaben Desai's selfless dedication and steadfast resolve in standing up for her own rights and those of her colleagues to be treated with respect and represented by a trade union – like any other worker in the UK – but also how she turned this struggle into a national movement for equal rights for migrant workers to inspire future generations.
As I watched the play, I felt a deep respect for the Grunwick strikers and for Desai's strength and dignity. It re-affirmed the importance of such struggle in making work fair and safe for all – and renewed in me a sense of determination to see the fight for recognition at Coventry University through to the end, despite having recently resigned from the role of UCU branch secretary after three years. I also understood, through the uncanny similarities between the two struggles, that the experience at Coventry needed to be shared.
Recognition campaigns are becoming an important area of trade union activity, especially in the private sector, with other unions achieving important victories in recent weeks. After six years, the Pharmacists' Defence Association (PDA) established through a central arbitration committee (CAC) ballot that a majority of workers (88%) supported the proposal that Boots' 'sham-union' – the Boots Pharmacy Association – "should be de-recognised by the employer and the bargaining arrangements ended".
The fight for union recognition
Unite the Union this month signed a "historic agreement" with budget airline, Ryanair, whose 650 directly employed cabin crew will "for first time ever have a union on their side providing representation and negotiating pay, hours and holidays". Editorial staff at BuzzFeed's UK office have now requested union recognition by the National Union of Journalists (NUJ) following a set of editorial redundancies made at the beginning of the year.
While the recent strike by UCU over proposed changes to the Universities Superannuation Scheme (USS), which saw academic staff at 65 pre-92 universities walkout for a total 14 days during February and March this year, took everyone by surprise due to its militancy, it is important to remember that this struggle concerned only a small proportion of tertiary education workers and UCU members. Not only did it exclude academic staff at post-92 universities like Coventry University – who are mostly members of the state-backed Teachers' Pension Scheme (TPS) – but also those education workers cut out of UCU's existing recognition agreements like at CU Coventry through union-busting experiments in corporate form.
As higher education is increasingly marketised by a Tory government hell-bent on shifting the consequences of the 2008 Financial Crisis onto the next generation – with graduates now leaving university with up to £40,000 of debt and likely looking forward to employment on precarious contracts – more and more potential UCU members will be found in non-traditional workplaces and will come from non-traditional backgrounds.
Unions need to get used to organising in these workplaces, and find new ways of connecting with workers who may have never been part of, or even heard of, a union before. What recognition struggles like that at CU Coventry – and at Boots, Ryanair and Buzzfeed – show is that these workers are prepared to fight for their right to a union.
As more and more of these campaigns see success, unscrupulous employers will also have to get used to seeing these workers standing up for their rights, and will start to think twice about basing their "no frills", often digitally-mediated business models on the unequal treatment and hyper-exploitation of their employees.
Vice-chancellors thinking about following in the footsteps of Coventry University should also think twice, and heed the words of Jayaben Desai: "What you are running here is not a factory, it is a zoo. But in a zoo there are many types of animals. Some are monkeys who dance on your fingertips, others are lions who can bite your head off. We are the lions, Mr. Manager!"
Update: Since this article was written, CU Group has now agreed to recognise UCU for the purposes of collective bargaining.