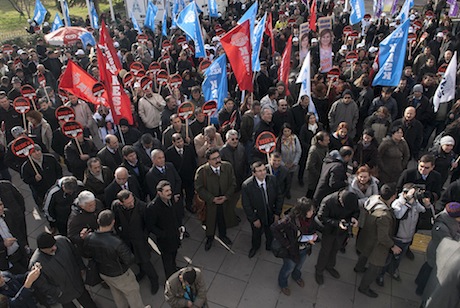 A solidarity demonstration outside the court in Ankara. Photo: Isabelle Merminod.
At five in the morning on 19 February, police raided homes across Turkey arresting 169 trade unionists, all members of KESK, the independent confederation of public service unions in Turkey.
The police said this operation was related to DHKP, a banned left wing party which claimed responsibility for the bombing of the American Embassy on 1 February. But Lami Özgen, president of KESK, pointed out that those arrested were members or officials, of unions affiliated to KESK. He stated that this is: '…a new operation to blockade and defeat KESK.'
This is the third operation against KESK trade unionists in 12 months. Police took 73 members in two previous operations in February and June 2012. These trade unionists were charged with involvement in the KCK (the Union of Kurdish Communities) alleged to be an urban wing of the PKK (Kurdistan Workers Party) the armed Kurdish movement fighting for autonomy.
Between 7,000 and 10,000 people are in prison in Turkey facing terrorism trials. On 22 February, Amnesty International issued a statement calling on the Turkish government to: '…amend the vague and overly broad definition of terrorism in Turkish law, to bring it into line with international standards regarding legal clarity and legal certainty.' Amnesty International reports that terrorism convictions are obtained solely: '…on the basis of people's writings, association with certain recognised political groups or participation in peaceful demonstrations.'
Tim and Isabelle will report in greater depth on the repression the AKP is unleashing on the left and Kurdish groups in the April/May print issue of Red Pepper. Get a trial subscription for just £5.