'The first step towards building an alternative world has to be a refusal of the world picture implanted in our minds … In the culture of globalisation, as in … hell, there is no glimpse of an elsewhere or an otherwise. The given is a prison.

'For from a different vantage point, the variety of resistance – individual and collective, single and multiply-issued, organised and disorganised, visible and fugitive, loud and quiet, ordinary and extraordinary – is what's remarkable, that is, what ought to solicit more than the mere remark. And among some quarters it does.' – John Berger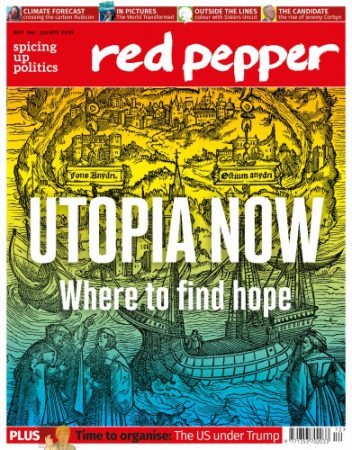 As John Berger reminds us, the first step towards an alternative world is refusing to accept that what we have is the best we can do. Utopians have been dismissed as foolish and naïve dreamers, but they are central to human flourishing. The belief that the world could be fairer, and life better, spurs us on and creates the space in which change is possible. In the modern world, a restrictive notion of progress has muffled our imagination with deleterious consequences for all of us.
Utopian dreams are a catalyst for the oppressed and marginalised. They remind us that other worlds are possible, and give us the hope, which, in the words of the author and activist Rebecca Solnit, makes action possible. Utopia is immediate and polemical – a prompt to dream and to act. It effects immediate changes in the real world, now.
Recent thinking in anthropology suggests that it was the development of our imaginations, and then consequently our ability to construct social structures and institutions, that allowed complex societies to evolve. Large societies and the glue that holds them together are all made up: nations, tribes, religion, money and the law-enforcing powers of a judge are arbitrary products of our collective creative thought. There are times, speculates London-based anthropologist Maurice Bloch, when the arbitrariness of those systems becomes apparent. Examining some of the changes currently taking place in the world, he believes that we are developing 'an awareness of the imaginary nature of the institutions that we live in'.
Thomas More's Utopia, first published 500 years ago this December, provides a timely reminder of the enduring power of imagination and its ability to shape the world we live in. More's utopia followed a well-known trope: the traveller who recounts their experience of a land in which a range of problems have been solved. It's a format that exists or has existed in every culture in some form. Plato's Republic, which More had read and was influenced by, is often cited as one of the earliest utopian works.
There are also germs of utopian fiction in ancient descriptions of paradise, in the Epic of Gilgamesh, the Odyssey, the Elysian Fields or the lost city of Atlantis. We glimpse utopia in classical Greek and Latin literature, the Old Testament, Buddhism, Confucianism, and Hinduism. Tao Hua Yuan, or Peach Blossom Spring, a fable by T'ao Yuan-Ming (365-427) set its utopian world in a hidden grove behind peach blossom trees. There are oral utopian traditions among Aboriginal people in Australia, the first nations in Canada, the Maori in New Zealand, and Native Americans. What More did was not new, but by naming his imaginary world he gave the concept form, shape and an irresistible ambiguity (meaning both no place and good place) that has captured the human imagination ever since.
Contemporary feel
Utopia is one of those books that almost everyone thinks they know, but few have actually read. Re‑reading it today, what is striking is just how contemporary it feels. From concerns over access to land, to the corruption of an out-of-touch elite and the unscrupulous behavior of kings in starting aggressive wars and dishonestly raising money, it is striking how the conspiracy of the wealthy endures. In Utopia, More attacks the irrational barbarity of capital punishment for theft. For Hythlodaeus, the traveller who tells of life on the island of Utopia, the only way to reduce the number of thieves is to reduce the number of people who must steal or face starvation.
By contrast, More offers an alternative vision of European society rooted in the humanist tradition. On the Island of Utopia there is no private property; houses are allocated by lot and people move home every ten years. The doors of houses swing open so that people may come and go as they please, gardens are shared, meals are communal and age is respected. The working day lasts just six hours, which is enough to provide for everyone's needs. Time after meals is spent reading or making music. There are public lectures every morning and manual labour is valued. Society is equal, and gold and silver have no more respect than their intrinsic value deserves, 'which is obviously far less than that of iron'.
[related]
Utopia has increased in popularity in times of great flux. Publications of Utopia increased around the time of the French revolution, and again at the turn of the 20th century. In his 1930s treatise on hope, the philosopher Ernst Bloch explored the ways we both hide and express our hopes in dreams and fairy tales, music, love and even sport. All of these, Bloch argues, are expressions of hopes that cannot yet be realised. His central idea was that of the 'not yet', the universal feature that makes us human. Alternative visions in their myriad forms are really ways that we embarrass the present, making the familiar seem strange and revealing possibility.
Just beyond reach
Because utopia is located 'elsewhere', it could be argued that utopian visions are necessarily disempowering. The utopian world is always just beyond reach, and unattainable. But what if that is its point? In the words of the Argentinian filmmaker Fernando Birri, recounted by the author Eduardo Galeano: 'Utopia is on the horizon. Every step I take towards her, she takes a step back and the horizon runs ten steps further away. So what purpose does Utopia serve, then? Well, it serves the purpose of making us move forward.'
To take those steps towards utopia we also need to recognise and celebrate the fragments of utopia that are all around us – the myriad of ways people are organising together to create a better, more humane, world. For Rebecca Solnit, whose Hope in the Dark was reissued in 2016: 'The grounds for hope are in the shadows, in the people who are inventing the world while no one looks, who themselves don't know yet whether they will have any effect.'
If utopianism begins by thinking imaginatively about how we want to live, it can begin with the everyday and the particular. In the words of Ruth Levitas, co‑founder of the Utopian Studies Society Europe, utopia is 'the expression of the desire for a better way of being or living.' It is 'a quest for wholeness, for being at home in the world'.
All this means that we can, and we must, be bolder in imagining how the world could be. What we have, is, after all, the product of our imaginations. Which is not to discount power, oppression and vested interest, but to recognise the subversive and practical power of imagination. There is rich territory for us to occupy with bigger, brighter, more confident vision.