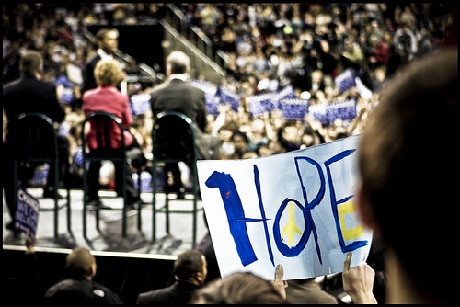 Photo: _joshuaBENTLEY/Flickr
In 2008, Obama largely defined himself in contrast to Bush, especially in terms of foreign policy. While the latter remained under the spell of the Project for a New American Century's neocons, Obama seemed to want to nurture the dispersed, de-centred forms of power Hardt and Negri had described in Empire, embrace America's role in the world as one-pole-among-many, while trying to stem the steady decline in its hegemony.
This year, in contrast, revealed little distance between Obama and Romney's foreign policy proposals. Distinction was mainly to be found in their economic ideas. Romney and his vice-presidential candidate, Paul Ryan – an Ayn Rand devotee – were committed de-regulators, willing only to invest in austerity. They offered few specifics, but famously promised to cull Big Bird. (Sesame Street is produced by the Public Broadcasting Service). Obama, in contrast, has proven himself more open to deficit spending – although Keynesian economists like Paul Krugman and Joseph Stiglitz argue he needs to go much further. (While this distinction holds, it is worth noting Obama has his own plan to reduce the deficit by $4 trillion over the next 12 years.)
Of course, globalisation and the nature of the current crisis pose a challenge for traditional Keynesian solutions. Yet it is hard to imagine even a short-term alleviation in the crisis without boosting aggregate demand and dealing with the over-accumulation produced by decades of deregulation and financialisation. Romney/Ryan's rejection of anything even leaning in this direction surely secured Obama his endorsement from the FT and the Economist, as well as support from many poor voters.
November 6, however, was an unambiguous victory for progressives, liberals and the left mainly for reasons beyond the presidential election. Firstly, it saw the misogyny of many Republican congressional campaigns roundly rejected. Senate candidate Todd Aiken had justified opposition to all abortion by insisting, in cases of what he called 'legitimate rape', women's bodies tend to shut down and prevent pregnancy anyway. Republican Richard Mourdock argued pregnancy from rape was 'something God intended to happen'. Both were defeated. Meanwhile, after months of male-dominated discussion of women's reproductive rights in Congress, record numbers of women were elected (including Elizabeth Warren, one of the most prominent left-leaning Democrats, and the first openly-LGBT senator, Tammy Baldwin.)
Secondly, a series of referendum victories were secured. Maryland passed the DREAM Act, enabling financial support for students without a legal immigration status. It also approved same-sex marriage, as did Maine and Washington; and Minnesota defeated a constitutional amendment outlawing it. Montana and Massachusetts legalised marijuana for medical purposes – and Washington and Colorado legalised it just 'for the lulz'! California reformed its three-strikes law, which has seen mandatory life sentences handed down for crimes as petty as stealing a pair of socks.
The election night results were also heavily shaped by the contempt shown by many Republicans for those beyond their immediate social base. Romney himself famously dismissed 47% of the population as structurally dependent on big government. As if to prove their isolation, some conservatives tried shifting the terrain of the culture wars: taking on not only abortion, but contraception. Predictably, the party did well with a shrinking demographic of older, white, men. Obama won 93% of African American voters, 90% of gays and lesbians, 71% of Latinos, 60% of young people, and 53% of women.
Some conservatives will certainly now go on the offensive. In the medium term, however – to secure the party's survival – Republican strategists will presumably try and restore centrist control. They know this will not only mean addressing the xenophobia prolific among its base, but radically rethinking its economic, social, and immigration policy. This will be a major challenge, yet they have few other options. As a spoof Big Bird account tweeted on election night: 'Hey Romney, this election was brought to you by the number 47 and the letters F and U.'