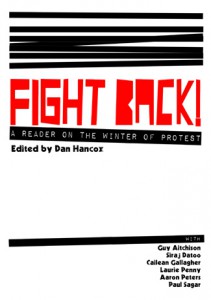 As with the upsurge of UK student resistance at the end of 2010, Fight Back! is unruly, immensely creative, inconsistent and a freestyle of accounts from the movement. A collage of essays and articles from social, alternative and mainstream print media, it offers a whirlwind tour of the demonstrations that took the UK by storm. The book, produced by openDemocracy's UK section OurKingdom, reads like a collection of short stories and fresh first-hand reports interwoven with in‑depth and theoretical deconstruction.
In the foreword, 'Fight for the Future', author Anthony Barnett states that 'the most important question' of the book 'is whether something new started that will last'. The protests have only recently subsided and the white paper on higher education funding is yet to be released. Issues of fees, funding and fightback remain live, which makes answering such a question in a compilation of this kind all but impossible. Rather, Fight Back! contains a handful of exceptionally well thought-out pieces born out of struggle. It is not comprehensive and doesn't claim to be, and that's what makes it so attractive.
However, the book fails to reflect the diversity of the movement. The editors, when not focusing on UK Uncut and social media in a rather self-congratulatory way, attempt to be the 'voice of the voiceless'. The other networks, groups and actions in the movement are parcelled into the nameless/faceless/voiceless 'other networks, groups and actions' category. What remains is the angst of largely white, middle class and university-educated voices whose emotions explode from every page. Reading Fight Back! one could easily assume that the movement was sparked by a Facebook event and thrived exclusively through the conduit of a university occupation, and not necessarily as a consequence of courageous school students walking out at the risk of arrest and loss of their education maintenance allowance (EMA).
Allowing for these deficiencies, the book reads rather effortlessly. It is clear to anyone involved in the protests that Fight Back! still comes closer than any other reports to capturing the ups, the downs and the exhilaration that marked the period between 10 November and 9 December 2010.