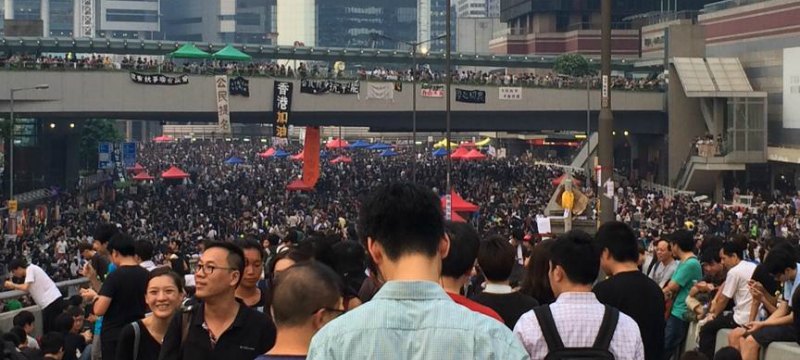 This weekend saw serious unrest breaking out across Hong Kong. A student-driven movement drew tens of thousands on to the streets of Hong Kong Island and Kowloon, calling for a truly free election for the Chief Executive of the territory in 2017. The police used considerable amounts of tear gas on the peaceful protesters, in an attempt to disperse them. Sadly, it appears that some of the tear gas used in the attempt to crush the pro-democracy protests was licensed for export by the UK Government.
Images circulated by people on the ground in Hong Kong suggest that at least some of the gas used was provided by UK arms company Chemring, which has subsequently confirmed that it is a long term provider of tear gas to Hong Kong.
This isn't the first time Chemring weapons have been associated with oppression against pro-democracy protesters. There is evidence that they were used in Egypt during the uprising. There is also evidence of plastic bullets made by Haley and Weller (owned by Chemring since 1992) being used in Kuwait.
Bearing in mind the UK's colonial past, the symbolism couldn't be much worse. When, after 99 years of British rule, Hong Kong was returned to China in 1997 it was agreed that 'the previous capitalist system and way of life shall remain unchanged for 50 years'. In practice this means the people of the Hong Kong Special Administrative Region (SAR) enjoy far greater civil liberties than those in Communist-run China, including, for example, unhindered internet access and freedom of speech. Further, the rule of law of prevails, and corruption is not nearly as widespread as in mainland China.
The Chinese Government had previously promised that universal suffrage would be used in the election of Hong Kong's Chief Executive in 2017 and in the election of all legislators in 2020. But, in August, the Chinese Government decided that all candidates in the election for Chief Executive had to be approved by Beijing. In other words, Hong Kong's citizens would no longer have a free choice to elect who they want.
UK tear gas exports to Hong Kong are nothing new. The UK has allowed six licences for tear gas to Hong Kong since 2010, the most recent one was awarded in January 2014. The total value of these licences was £180,000. Overall the UK has sold £8.5 million worth of arms to Hong Kong since 2010. This has also included anti-riot shields, rifles and small arms ammunition. A full list is available on the Campaign Against Arms Trade website.
It is difficult to see how the current unrest can end happily. The Chinese Government in Beijing is highly unlikely to back down, as doing so would mean Hong Kong remaining a democratic beacon within China, which might encourage a pro-democracy movement on the mainland. Furthermore, the Chinese Government showed by the Tiananmen Square massacre in 1989 their ruthlessness in dealing with pro-democracy protests. Already the pressure from Beijing on the Hong Kong authorities to suppress the Occupy Central movement must be intense.
The people of Hong Kong are demanding a truly democratic future. The UK should not be a party to the repression of such hopes by licensing to the Hong Kong Government equipment, such as tear gas, which could be used in internal repression.
The UK Government's own export licensing criteria is based on risk assessment. Plainly there are high risks, now and in the future, that equipment that could be used for internal repression might be used in Hong Kong to suppress protesters who merely demand the democratic rights that we in the UK take for granted.
Other countries that the UK has licensed the sale of tear gas to include United Arab Emirates, Saudi Arabia, Oman, Jordan and Pakistan, but the issue goes wider than that. The UK arms trade is worth billions and the government routinely supports and promotes arms exports to oppressive and authoritarian states around the world. Unfortunately this is only one of many examples that disprove the official line that the UK has a 'rigorous' arms control policy.
Parliament's Committees on Arms Export Controls has recently been highly critical of the UK Government's tendency to approve exports which might be used for internal repression to countries where the Foreign and Commonwealth Office has serious human rights concerns (one of these being China). The UK Government should announce a full investigation into whether UK weapons have been used in Hong Kong, and a ban on the export of all such equipment from the UK to the territory for the foreseeable future.
Andrew is a spokesperson for CAAT. You can follow CAAT at @wwwcaatorguk Nicholas Gilby is the author of Deception in High Places: A History of Bribery in Britain's Arms Trade (Pluto Press, 2014).
Photo by @jessiegiblet