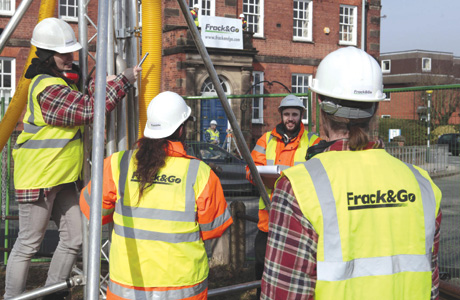 Activists take on fracking by turning the Tory club in George Osborne's constituency into 'Frack & Go' HQ. Photo: Steve Morgan
To listen to its advocates, there's little shale gas won't do: bring down energy prices, cut carbon emissions, support renewables and bring us out of recession. The 'climate-sceptic' Global Warming Policy Foundation even claimed that 'because of shale gas, wealth and health will be distributed more equitably over the planet'. Add to this newspaper stories with misunderstood numbers saying that we have enough shale gas to heat UK homes for 1,500 years and you can see why some people are getting excited.
In the UK, the initial activity has been in Lancashire, where test drilling in 2011 caused earthquakes that led to a de facto moratorium on further fracking. Energy secretary Ed Davey lifted this ban in December 2012 and interest is now on the rise again. Many areas are already covered by licences giving companies the first option on oil and gas exploration. A few companies have got planning permission for test drilling. Among the areas being eyed up in this current round are Lancashire, Sussex, Kent, South Wales and the East Midlands. And the government is planning more licensing, potentially opening up more areas for drilling.
Do the claims made for shale gas stand up to scrutiny? Green groups and local community organisations think not.
We believe that large-scale shale gas extraction is unnecessary and unwanted.
Environmental experiment
Fracking is rightly a controversial technology. In conventional gas production, the gas flows freely up a well. Shale gas is held within shale rocks thousands of feet underground, which have to be fractured (or 'fracked') to allow the gas to flow. This is done by pumping millions of gallons of water – mixed with potentially toxic chemicals to help the gas flow more freely – down the well at extremely high pressure. Only maybe half of this water comes back to the surface – the rest remains underground.
It's an experiment with the local environment. The European Commission has said the cumulative impacts of fracking at several sites pose high risks of problems for water resources, water contamination and air pollution. There is clear evidence of problems in the US: water supplies contaminated by fracking chemicals and by the gas itself, increased air pollution, communities blighted by traffic.
Nor will shale gas help to tackle climate change. The industry says the UK should go for shale gas as a 'companion fuel' for renewables as it's a 'clean' fossil fuel. But tackling climate change means getting off the fossil fuel hook as quickly as possible and exploiting the UK's abundant potential for renewables – wind, wave and solar. Shale gas will be a dangerous distraction and could hit investment in real low-carbon solutions.
Globally, exploiting shale gas reserves could be disastrous. The International Energy Agency's so-called 'golden age of gas' scenario, with use of unconventional gas such as shale tripling by 2035, would set us on course for a global temperature rise of 3.5 degrees Celsius – well above the threshold for triggering catastrophic climate change. The IEA did admit that a golden age of gas might not be a golden age for humanity.
US expansion
Bills are the public's top current concern about energy. George Osborne points to the US where natural gas prices fell as a result of fracking and says he doesn't want the UK to be left behind. Would shale gas deliver lower gas prices in the UK? At best it seems unlikely. Operating costs in Europe could be 30-50 per cent higher than in the US as a result of factors such as higher population density. And claims of cheaper gas prices ignore fast rising global demand for gas, particularly from China and India.
The US shale gas industry is looking to expand internationally, with Europe a key focus. But it is meeting strong resistance. France and Bulgaria have banned the technology, following grassroots protests. And many other countries are concerned about the environmental impacts and want to know more before making any firm decisions.
Despite his welcome commitment to action on climate change, President Obama's state of the union address reaffirmed his support for shale gas as a way of promoting US energy independence. And the planned free trade agreement between the US and the EU is a real concern, with the EU possibly having to accept US environmental standards on issues such as GMOs and fracking. This is particularly worrying as fracking is excluded from some key US federal environmental regulations, thanks to ex-vice president Dick Cheney – a former CEO of Halliburton, one of the leading fracking companies.
Fracking could be an electoral liability for the government in key constituencies. Seven of Labour's target Tory seats are in Lancashire, and fracking in the south east could cause uproar in the Tory heartlands. Not that Labour can claim a clearly better policy. It supports tougher environmental regulation, but concerns about climate change don't seem to feature highly with regard to shale gas.
The message from green groups is simple: we should leave the shale gas in the ground. It's a gamble we don't need to take in the UK. The priority is to get our broader energy policy right, and the government's energy bill offers the chance to do this. We must make sure there is a clear commitment to cut carbon almost entirely from our electricity system by 2030. That won't just help stop fracking – it will also set us on the right path to tackle climate change, and reap the economic and social benefits of a green energy revolution.
Tony Bosworth is an energy campaigner at Friends of the Earth and Helen Rimmer is Friends of the Earth's North West campaigner. For more information, see www.foe.co.uk/fracking
---
The view from the ground
by Eve McNamara, Ribble Estuary Against Fracking
The first I knew about it was when a rig appeared in a field near where I live in Banks, a small village in West Lancashire. I made inquiries and soon found out that the rig was for shale gas exploration – and a company, Cuadrilla, had permission to frack. No one I spoke to in our community knew about it – there had been no community consent.
We called a public meeting and 40 people turned up – Ribble Estuary Against Fracking was born. We started as a small group and our purpose has been to give people more information about the risks to our environment and community. Our area has a thriving market gardening industry – salad crops and root vegetables provide not only local markets but many of the UK's supermarkets. The beautiful Ribble estuary, an internationally important site for wildlife, is on our doorstep. We're worried that fracking could devastate our agricultural economy and our environment.
Since we started, our group has grown and several new anti-fracking groups have formed across the county – we're networking and supporting each other. Now politicians and the local council are listening to us. Together we've got hundreds of objections to planning applications from concerned residents and Cuadrilla's plans have been delayed. We're also countering the spin from the shale gas industry that they're going to create thousands of jobs and boost our economy. They're even taking their PR into our local schools. We know their claims are exaggerated and the real future for our economy and energy security is in renewables.
We often get accused of being Nimbys. We don't want fracking in our community – but we don't want it anywhere else either. And we're not against development. Our county needs jobs and investment – but shale gas in not the answer.
What happens in Lancashire this year is crucial for the development of the shale gas industry across the UK. We'll be keeping up the fight against Cuadrilla and the shale gas lobby. Our region has the potential to be a leader in green energy with huge offshore wind and tidal resources and a strong manufacturing heritage. Instead of risky shale gas we want investment in a green future.